Off The Record is a recurring feature here on the Drunkard that marries two of my greatest interests; music and travel. Having a locals perspective when visiting a new locale is the difference between experiencing it through the lens of a tourist and of that of a native.
Off The Record gathers some of my favorite artists, asks them to reflect on their city of residence, and choose a handful of places they could not live without – be them bookstores, bars, restaurants or vistas.
Below, Scott McCaughey of The Minus 5 takes us on a tour of some of his favorite spots in his adopted city of Portland, OR.   Truly a musician's musician McCaughey seemingly knows and has played with just about everyone, and when it comes time to record, consistently enlists his buddies to contribute; including, but not limited to, Peter Buck, Wilco, Colin Melloy, Kelly Hogan and Ken Stringfellow.   To be a fly on the wall.
The group just released their latest LP, Killingsworth, on July 7th, their sixth release on the Yep Roc label – a relationship that began in 2003 with The Minus 5's Down With Wilco LP.
* * * * * * * * * * * * * * * * * * * * * * * * * * * * * * * * * * * * * * * * * * * * * * * * * * * * * * * * * * * * * * *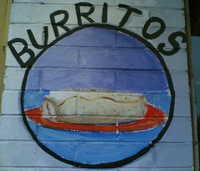 Alberta Street :: I spent my first four years or so in Portland in this northeast neighborhood.   A lot (but not all) of the gunshot Nachtmusik faded in my time there.   Lots of the boarded up buildings on Alberta Street have become boutiques, restaurants, or watering holes, and the housing prices have skyrocketed with the infiltration of WHITEY, yet the hood is still diverse and retains a fair amount of grit.     My girlfriend Mary's three-story (slightly crumbling) duplex was $450 a month, which really fit my soon-to-be-divorced-ass's budget.   I could go on about the fish'n'chips (and incredibly intimate live blues performances) at Halibut's II, the many intrepidly different independent coffee shops (not a Starbuck's to be seen), or the juke boxes and welcoming edifices of Bink's and The Know.   But the most insidiously wondrous element of Alberta Street for me has to be the taqueria vortex of Don Pancho, La Sirenita, and La Bonita.   Don Pancho has a $3 veggie burrito (no sales tax), scorchin' condiment bar with the best spicy pickled carrots, carne asada that Mary swears by, plus a great mercado with the most excellent fresh salsas and crisp tortillas (together, we call them "downfall").   Plus the manager of the place always addresses me as "Chief".   La Bonita is the friendliest establishment imaginable, run by a large latino Christian family — and for once I say "Christian" without a trace of sarcasm or ill will.   This is the home of The Hangover Breakfast (our name, not theirs!), huevos a la mexicana with tortillas and liberal doses of fantastic squeeze-bottle red chile and tomatillo salsas.   And the green enchilada plate is heaven on earth, thank you Jesus!     La Sirenita has a slightly less buoyant personality, but the food is stellar, with the bargain vegetarian tostada (it's a burrito, they just call it that for some reason) my typical go-to choice, and perfect grilled jalapeî±os and onions can be ladled on to your heart's content (if not your digestive system's).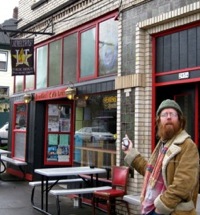 Laurelthirst Public House :: This place usually has two shows a night, not much of a stage, not much of a PA, some challenging sight lines, and is totally awesome.   I like the happy hour shows, 6 – 8 p.m. — the band will play two sets, people will dance, beer is consumed, and there's no cover (but don't neglect the musicians' tip jar!).   The sound is usually surprisingly good; the bands sort of mix themselves (the board is basically on the stage) and a lot of them are good at it.   Bands/artists tend to do monthly residencies here, say every Thursday in April or whatever.   Or residencies that last forever.   You can see old-time crazed genius folkies like Michael Hurley or the Freak Mountain Ramblers, and somewhat younger dedicated lifers like Pete Krebs, Laura Veirs, James Low, Delorean, Little Sue and Lynn Conover, or Laurelthirst lynchpin guitar great Lewi Longmire.   Elliott Smith played pool there, and you might see James Mercer or Steve Malkmus wedged into the crowd admiring some brilliant local talent.   It's a friendly place that is all about music, beer, and fun.   (They finally started serving up booze too, at midnight last New Year's Eve — I was there for one of the first Jameson's poured.)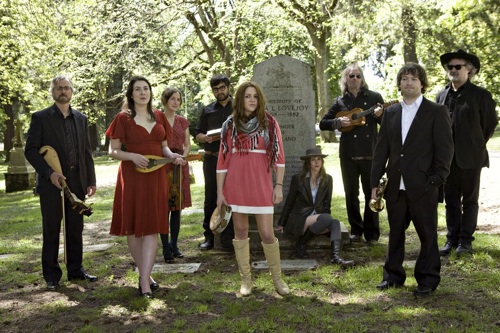 Lone Fir Pioneer Cemetary :: Everybody knows that cemeteries are GO!, just like Thunderbirds.   Well, Portland's finest is the most conveniently located, right in the heart of bustling southeast neighborhoods filled with the curious mix of hipsters, heshers, old-timers and yuppies that is quintessentially Portland.   It's called Lone Fir because when it started there was indeed a lonely fir tree, goin' it solo on the big ol' tract of farmland.   That tree is still there, but surrounded by so many more in this beautiful, peaceful oasis.   It's a virtual arboretum!   The Minus 5 (well, that day's version of us) posed for our latest promo photo in front of the gravestone of co-founding father Asa Lovejoy, who famously won the coin toss that resulted in the city being named Portland instead of Boston.   (And yes, Lovejoy is also the namesake of the Reverend of Simpsons fame.)   Other highlights of Lone Fir include the mausoleum where Madonna and Willem Dafoe went at it with hot wax in the "never-needed-to-see-that" sex scene of the never-needed-to-be-made film Body of Evidence, and the many scattered tree-like "Woodsman of the World" markers for fallen lumberjacks.   There has even been a CD made of songs inspired by those buried here (Dearly Departed – True Lies In Song ), featuring a great cross-section of local talent, and top chanteuse/living legend Storm Large, whose song is sung from the point of view of Charity Lamb, the area's first (of many?) convicted ax-murderess.   For me, Lone Fir is just a fine place to saunter, reflect and look forward to the future!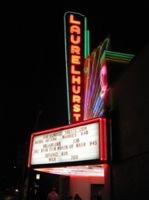 St. John's Twin Cinema & Pub :: I'm not going to hold it against this place that I saw the travesty of Public Enemies there last night.   (Couldn't that 100 million have been spent on something more constructive, like, for example, anything?)   Or that in some rows of seats your feet can't touch the floor, which gives you a sort of distubing child-like sensation.   Portland has a plethora of what we like to call "drinking movies" — theaters that sell beer and wine and in some cases have a full bar.   Now I can't say I recommend watching movies drunk.   I believe you might miss a lot of the nuances that a good film offers, or will at least have forgotten them the next day.   (By that criteria, see Public Enemies completely shit-faced.)   Anyway, this theater in the majestic, dive-bar-laced St. John's neighborhood (which used to be its own city, and still feels like it), has two screens (upstairs and downstairs), cheesy slide-show adverts of local businesses (which have actually worked on us), and pizza, popcorn and a bunch of beers on tap (from Portland's adopted stand-by PBR to Lagunitas IPA to imported Pilsner Urquell — it'll cost you a buck extra to go international), and really nice people (like, two) manning the fort.   Unlike most of the local "drinking movies", the Twin Cinema shows first-run movies, and at a much lower price than the mall mega-plexes.   The first run thing can be a plus or a bust (see Public Enemies, above), but it's nice to have the option in the rare event there is actually a brand new movie that you really want to see.   There are other great "drinking movies" in Portland, with the Laurelhurst Theater (usually eight or nine movies to choose from, admission $3!) and McMenamins Kennedy School (full bar, cool old couches and chairs to slump in) being other favorites destination to lose oneself for an evening of transportation and relaxation.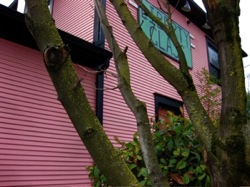 The Liberty Glass :: Since I moved to North Portland last fall this has become my "local", and in this case my local is actually local.   I only say that because Robyn Hitchcock's local is a $40 cab ride from his home.   Whereas I can get to the Liberty Glass, on foot, in about five minutes.   On my bike in about 45 seconds.   Coming home takes longer — it's, uh, uphill.   This bar is in an old pink house, slightly off the beaten track, and it has all the comforts of home (or better…).   Brother/sister Jason and Rose cheerfully run the place, cooking up mac'n'cheese and trademark Triscuit nachos when you need them, while the water jars on your table are constantly refilled, to be quaffed in blue metal camping cups in an ever-vain attempt to battle the dehydration that will inevitably be caused by the alcohol you are swilling more rapidly than water.   Quintessentially friendly bartenders/servers James and Jemina keep the drinks coming, stopping to chat about music or whatever as time allows.   And the music… there's no juke box, but whatever iPod is providing the soundtrack seems inexorably drawn to the Kinks, Small Faces and girl group sounds.   And it's hardly rare to run into one or both of the Adams, Selzer and/or Shearer, fresh from a session at nearby Type Foundry Studios, where Norfolk & Western, Weinland, M. Ward, The Builders and the Butchers, Tara Jane O'Neil or any number of other most excellent Portland indie-rock sensations might be conniving a new opus or twelve.   The Liberty Glass has also become my default setting for interviews: nothing like discussing the mastery of your craft over a Broker's with a micro-brew back in the oft-deserted upstairs, which also offers a bathroom with a claw-foot tub.   I only hope I don't end up spending the night in that tub one day.   And if tunes, spirits and manna are not enough, you may scratch the ample belly of Otis the three-legged dog.   He greatly appreciates it. words/photos Scott McCaughey
Download:
MP3: The Minus 5 :: The Long Hall
———–
Amazon: The Minus 5 – Killingsworth
+ Download The Minus 5 DRM free via eMusic's 25 free MP3 no risk trial offer
——————————————————————————————————————————