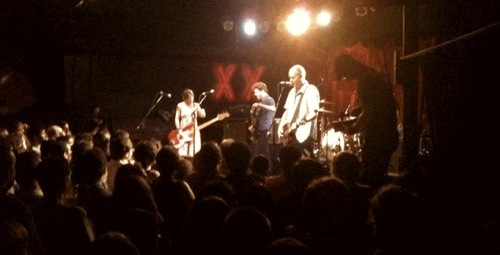 J Neas here, back from the weekend-long Merge XX anniversary party. With the exception of four months of my college career, I've spent my entire life living in the land of my birth, North Carolina. To this day it seems perverse that it took me until late high school and into college to begin to know about and truly appreciate the homegrown music within my state. It took Matt Pinfield and MTV's 120 Minutes, a show I could honestly never give enough credit to for shaping my musical identity, to introduce me to a spunky little band from Chapel Hill with an awesome song called "Driveway to Driveway." That was my gateway to Superchunk and, subsequently, Merge Records.
Merge is, as the title of a forthcoming oral history about the label calls it, a label that got big and stayed small. Fiercely independent and supportive of its artists, it has fought and scrounged for every inch of its impressive turf, all while crafting an identity that is as respectable as it is dependable. I can think of only a handful of labels in existence that I will give an automatic listen to any of its releases and Merge tops that list with ease.
My older compatriots at WQFS have regaled me with stories of Merge anniversary celebrations past – the great performances, the surprise visits, the amazing feel. So it was with great anticipation that I went to nights three and four of the Merge XX anniversary last week at the Cat's Cradle in Carborro, North Carolina. The Cradle is as venerable and as important an institution for indie-rock in North Carolina as Merge, and it was only fitting that the majority of the celebration took place within its walls.
It speaks to the overall celebration vibe of the event that, unlike a lot of concerts where artists seem more hesitant to venture out through the audience prior to their set, members of bands were frequently watching the shows from the floor with the audience or just walking back to the bar, talking with people and mingling in general – even on nights they weren't performing. Members of Spoon, a band that played the Friday night show, were hanging out at the Cradle as early as Wednesday night. Even though I missed their Wednesday night performance, I was still able to catch up with Pat Sullivan of Oakley Hall when he was around on Friday. This wasn't some sort of elitist celebration – the artists seemed as genuinely excited to be there as the audience.
While I lamented missing the Broken West, the Clientele, Oakley Hall, Richard Buckner, Superchunk and others on the first two nights, it was more than made up for by the highlights of Friday and Saturday. Spoon, Friday's headliner, were as tight and as engaging as always. The Essex Green, like an indie-rock version of the Mamas and the Papas, made the most of the opening 7:30 slot by bringing a gorgeous performance of pop perfection. Pipe, one of Merge's early out and out punk bands, put on a beer-can-throw-inducing performance of snotty attitude and great rock and roll. Polvo, Erectus Monotone and Spent all were worth the price of admission as well. Not a single band was disappointing in a sense of being ill prepared (for the bands who were reuniting for the first time in decades) or in being underwhelming. All of them coming to stage, obviously happy to be celebrating 20 years for the label that meant a lot for their relative success.
For me there were some genuine surprises and they came in form of Lambchop, Imperial Teen and M. Ward. I've never had the pleasure of seeing any of these bands live, and my perception of what the shows would be like was based off of their recorded material. Lambchop, a band that I have long loved, came out with a walloping 10 member band and stole the night out from under the headliners. Bracing through some amazing versions of recent songs, and one absolutely breathtaking cover of "Once in a Lifetime," the crowd gave one of its longest and fullest ovations for Kurt Wagner and company. Seated the entire time on a piano bench, and with a stage so full that movement by band members was limited, it would take one hell of a performance to move a crowd. Lambchop brought that and more. It truly was a performance for the ages.
Imperial Teen, a band I knew solely from singles, I expected to be fun, but not nearly as fun or uplifting as they turned out to be. Racing through songs from soundtracks, recent records and old, they turned out to be a surprisingly great choice for headlining the Saturday night show. It might easily have been assumed (and was, by me) that either M. Ward or Destroyer would be the night cap, but Imperial Teen came to the stage armed with its cool, detached and completely infectious sound and took the crowd by the throat.
M. Ward was the true shocker for me. With his demure recordings of full, but hazy and sometimes lulling music, the last thing I expected was a barreling rock show. But that's what I got. Ward and band plowed, almost without stopping, through forty minutes worth of material from his recent records and a couple of covers – "Roll Over Beethoven" being the biggest surprise – an old chestnut that surprises with its vibrancy and spirit even in the modern age. Earning one of the fest's few encores (it helps that they wrapped up early), Ward brought out She and Him partner Zooey Deschanel and took a turn through the Beatles' "Birthday" in tribute to the label.
Any label with the prestige of Merge could have thrown a series of concerts with artists off limits and I don't know that anyone would bat an eyelash. But it was the truly involved nature of the shows, and really of the label itself, that let you know that this is a label run, first and foremost, by people who are just as geeky about music as you are. And while the record industry crumbles around them, it's nice to see the good guys still standing and going strong. words/ j neas photo/ ross flournoy

+ Download MERGE artists via eMusic's 25 free MP3 no risk trial offer
——————————————————————————————————————————