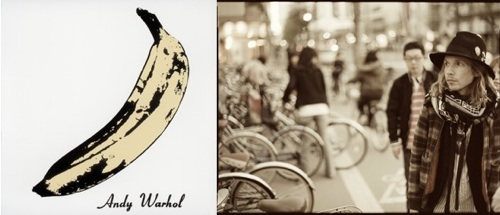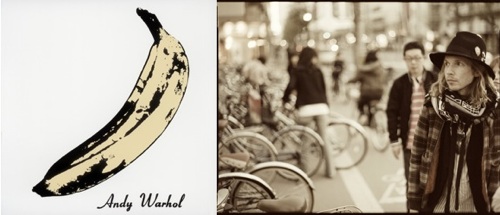 One of the more interesting online novelties to pop up this summer has been the kickoff of Beck's ongoing Record Club.   If you have yet to check it out: in a nutshell, Beck invites a bunch of his musician friends over to jam for a day covering an album track-by-track, then releases the results piecemeal via his website.   The first foray into the series tackles one of my all-time favorite LPs of any genre/era — 1967's The Velvet Underground & Nico.   So far they have posted the album's covers up to "Heroin." The music blog We All Want Someone To Shout For has been ripping/posting these tracks as mp3s the past few weeks – below are a couple of his audio rips to sample.
Reportedly, future installments of the Record Club involve the Wilco gang who decamped in Los Angeles earlier this summer to join Beck in covering Skip Spence's Oar. Bring it on.
Beck's Notes: For this first edition, after lengthy deliberation and coming close to covering Digital Underground's Sex Packets, all present voted in favor of the 'other' Underground's The Velvet Underground & Nico. Participants included this time around are Nigel Godrich, Joey Waronker, Brian Lebarton, Bram Inscore, Yo, Giovanni Ribisi, Chris Holmes, and from Iceland, special guest Thorunn Magnusdottir, and myself.
I'm Waiting For The Man: The second song from 'The Velvet Underground & Nico', in which everyone untunes their instruments and nigel thrashes a dx-7, coaxing sounds hitherto unheard from the 80's power ballad beast.
MP3: Beck :: I'm Waiting For The Man
Venus In Furs: Possibly one of the first, if not the first goth song ever? For the occasion, we dragged out the sitar, Nigel took a bow to his white SG and Joey played a flute bought on the street in Japan fondly referred to as 'The Dying Goose.'
MP3: Beck :: Venus In Furs
————-
+ Download DRM free digital music via eMusic's 25 free MP3 no risk trial offer
——————————————————————————————————————————