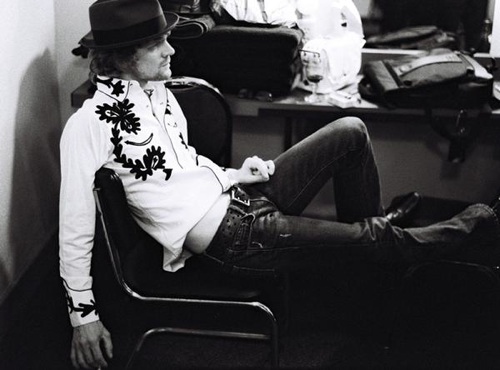 Brendan Benson has had quite the time the last few years. After releasing three critically heralded solo records, he joined long time friends Jack White, of the White Stripes, and Patrick Keeler and Jack Lawrence of the Greenhornes, to form the Raconteurs. Releasing two records as a band-mate to the high-profile Jack White did wonders for boosting Benson's presence, and with the band on hiatus, he has returned to his solo work with his first record since 2005, My Old Familiar Friend, released last week. It recalls the best of Benson's sharp power-pop sensibilities while channeling them through soul and r&b stylings on occasional tracks. AD caught up with Benson via phone, while he's on the road, to discuss landing on his sixth record label, working with the "grueling" Gil Norton and how one actually defines 'a supergroup.'
* * * * * * * * * * * * * * * * * * * * * * * * * * * * * * * * * * * * * * * * * * * * * * * * * * * * * * * * * * * * * * * *
Aquarium Drunkard: If you count the Raconteurs' records, this is the sixth different label you've released an album with – can you tell me a bit about how you hooked up with ATO for this record?
Brendan Benson: I think we gave the record to a few different labels. It was more kind of a management thing. But they were interested and I guess what kind of sold me was that they seemed like a really hard working and dedicated group of people. Based on their roster – they stick with things until the bitter end and a lot of times it paid off. Which isn't surprising – that's how you do it. They're very into developing artists and letting them develop. Sometimes it takes longer for some artists than others. Not everyone is an instant overnight success. It takes time.
AD: Do you think some of that comes from the label's co-founder, Dave Matthews, and how long it took for the Dave Matthews Band to build their brand over time?
BB: I don't know too much about the Dave Matthews Band, but there's a better example – David Gray – they worked that record for forever and ever with not much of a reaction. They believed in it so strongly and it finally just busted it. That's not surprising – it just takes time. That's what labels are supposed to do and it's really kind of weird – sometimes I think people who work at some labels aren't necessarily passionate a lot of the time. They could be selling real estate or prescription drugs – their heart's not in it. It shouldn't be like that. You can't ask for everyone to be so passionate, but one or two would be nice. Someone who believes in something – wants to stand behind it. They always get credited for that kind of shit after the fact – when something is popular, everyone steps in and says 'yeah, I believed in that from day one,' but everyone's full of shit.
AD: You worked with a pretty legendary producer on the new album – Gil Norton. What was the process like with him?
BB: Oh, my God. Grueling. [laughs] It was exactly what I wanted. I wanted someone to dominate – to make a lot of the decisions for me, really, and tell me what to do. After being in the Raconteurs and having such a great time making a record with a bunch of people with whom I was sharing the responsibility, the load, everything – I couldn't bear the thought of just going back into my room and making a record by myself. So that's why I say it was grueling. I got what I asked for. It was tough. He cracked the whip.
I remember talking to Dave Grohl, too. I was making the record in London and the Foo Fighters played, so I went to the show to say hi. At that point I felt beat-up by Gil. I was even a little down on the whole process and his methods. He had just done the Foo Fighters record, so it was great to talk about it with Dave. I said, 'Oh, I'm working on the record with Gil,' and he said cool. We were being polite and somebody said something and all of sudden it was 'Holy shit, that dude.' Dave was in agreement. He said 'He's hardcore, man,' and he said 'you might really hate it at times, but I guarantee you in the end, he'll get something great out of you.' And he did.
AD: Your last solo record was in 2005, so you've been writing in the band environment of the Raconteurs since. Have you been writing as heavily as you had been as a solo artist? Were there times you'd write something and kind of set it aside as a solo song as opposed to taking it to the band?
BB: Yeah, sometimes. There were a few songs where I thought I'd keep it for myself. Maybe I thought it'd be fun for me to do or for whatever reason. Maybe I thought I had a pretty good idea about where I wanted to go with the song. But I didn't write for either thing. I just wrote. And I would give them any song. I never even considered which it was – if they got it, if they understood it well, then it was a Raconteurs song. If they didn't, if no one got it, which happened a few times – no big deal. I'd just do it myself. Most of the time they got it.
AD: You're going out on tour for the album, but exposure wise, this is a very different time for you than the last time you went out to support a solo record. Has that changed the venues and crowds for you this time around?
BB: No one seems to know. We're playing some smaller venues. I need to get re-assimilated back into the work force. [laughs] You know, doing my solo stuff, so I wanted to keep it kind of small to start with. Of course our first show is at the Bowery Ballroom in New York. [laughs] But we wanted to keep it small at first. But I think no one knows – I mean, I guess they have ways of knowing that stuff – the booking agent. I don't know how they figure that shit out. But I'm curious to find out myself – if I am more popular. I wonder sometimes whether I am. Because that Raconteurs stuff was always Jack [White]. The headlines were usually 'Jack and his band' or 'Jack and company.' I don't know if I got noticed very much.
AD: In the press, you'd often hear the band referred to as a supergroup, but I often wondered – I knew who you were, but I always wondered if most people looked at the 'supergroup' tag and wondered 'who is this guy?'
BB: [laughs] Yeah, 'who is this guy?' Right. I think the critics or the press or whatever you guys call yourself..[laughs]..I think the press understood that or were more likely to be familiar with my stuff or the Greenhornes' stuff than the average listener who, understandably, wouldn't know it. So people were exactly how you described. 'Well, what makes it a supergroup? It's Jack White and some other dude.' In our mind it was a supergroup – it was the ultimate supergroup. We've all been friends for so long and fans of each other's music. We always felt it was a long time coming and really perfect.
AD: One of the genre tags your solo music was always tagged with was power-pop. Back on your first solo record you worked with Jason Falkner, sort of a major figure in power-pop in his own right. But is power-pop a genre that can actually go anywhere anymore or is it sort of a classicist exercise?
BB: It's the age-old question, really. Are the labels accurate and what do they mean exactly? Everyone has a different idea of what power-pop is, or even what pop is. You could be talking about the Buzzcocks or Weezer or even Cheap Trick. But then they also say it's retro. If you play music in any sort of traditional way, you're retro or you're pop. I don't like a lot of the sound of the stuff on the radio. I still just love the way a guitar through an amp sounds and how real drums sound. And it's funny that people want to make a big deal about that.
AD: I guess I was approaching it just from an idea of art either moving forward or being in a holding pattern.
BB: Well, no, I don't want that. That sounds depressing. If there's nowhere to go – well, in my case, I don't feel that way at all. So maybe I'm not playing power-pop. If what you're saying is true, then count me out. I still feel very much energized and motivated to play music. It's compulsive for me.   words/ j. neas

Download:
MP3: Brendan Benson :: A Whole Lot Better
MP3: Brendan Benson :: Garbage Day
————-
Amazon: Brendan Benson – My Old Familiar Friend
+ Download Brendan Benson via eMusic's 25 free MP3 no risk trial offer
——————————————————————————————————————————