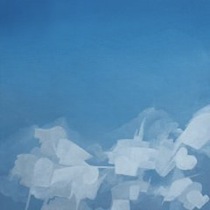 A few months back, in June, Aquarium Drunkard teamed up with Team Clermont to throw a joint champagne jam in Athens, GA during this year's Athfest. It went down at Nuci's — we booked Liz Durrett, Modern Skirts and the newly reformed Circulatory System with all donations benefiting the space. The lineup was (note inherent bias) my favorite of the weekend, and as a longtime fan of Will Cullen Hart's work with The Olivia Tremor Control, seeing Circulatory System live, reformed, and firing on all pistons, was everything you hope a 'reunion' show will be: better than you remember.
Yesterday Circulatory System released their second album, Signal Morning; their first since 2001's twenty-two track self-titled LP – which in the Internet-age truly seems like an eternity. There are a myriad of reasons for this, not least of which has been Hart's diagnosis with Multiple Sclerosis (for more on this, see our interview with Hart here).
Reportedly recorded in upwards of seven studios during the past eight years, Signal Morning is at once both a familiar Will Cullen Hart project as well as a departure. While the same tendencies from the OTC and the self-titled debut remain (namely the floating collage aspect of the work), Signal Morning is a darker affair, perhaps a reflection of both Hart's inner struggles and the times we as a society now live in: post 911, post Bush, still fighting two wars, recession, etc.   While the psychedelia, always a facet of Hart's muse, is still intact, Signal Morning finds itself existing in an universe more Tim Burton than Yellow Submarine.   And yes, it was worth the wait.
+ The group is heading out on a short east coast tour this month including a slot at All Tomorrow's Parties in New York. Check myspace for dates/locations.
Further Reading: Aquarium Drunkard interview with   Circulatory System's Will Cullen Hart
Download:
MP3: Circulatory System :: Overjoyed
MP3: Circulatory System :: Round Again
————
Amazon: Circulatory System – Signal Morning
Photos from the Aquarium Drunkard/Team Clermont Athfest party by steve/alyssa
+ Download Circulatory System via eMusic's 25 free MP3 no risk trial offer
——————————————————————————————————————————