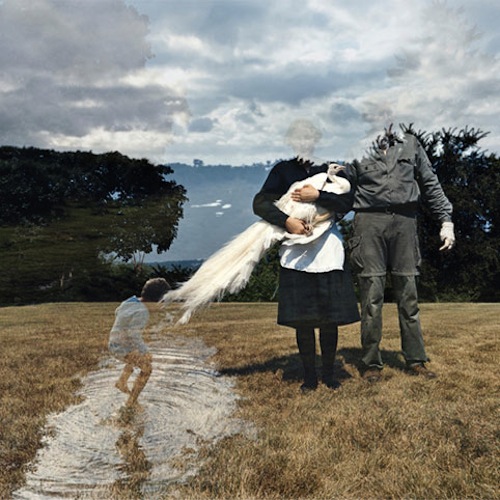 Off The Record is a recurring feature here on the Drunkard that marries two of my greatest interests; music and travel. Having a locals perspective when visiting a new locale is the difference between experiencing it through the lens of a tourist and of that of a native.
Off The Record gathers some of my favorite artists, asks them to reflect on their city of residence, and choose a handful of places they could not live without — be them bookstores, bars, restaurants or vistas.
Until this week I knew two things about Bloomington, IN, 1) it's where Breaking Away (AKA Cutters) — one of the finest movies constantly on cable during the '80s — was filmed, and 2) it's where one of my favorite label collectives is based: Secretly Canadian/Jagjaguwar.   Bloomington's Early Day Miners have a new LP, entitled The Treatment, dropping next week via, whadda ya know, the Secretly Canadian label. Today, to educate all of us non-hoosiers, the band takes us on a tour of their hometown
___________________________________________________________________________
WFHB :: The art form of radio broadcast has been targeted for destruction as heavy wattage emanates across the Midwest from automated giants built by the cell phone cabals.   Bloomington bravely forges an independent reality with it's community radio station.   Visit this space via it's atmospheric vibrations, or come down to the station house in person and roll up your sleeves. Volunteer DJ's actually choose what music they play. Programs like "The Melody Unasked For" and "Unfound Sounds"   send transformative waveforms from the likes of The Red Krayola and Arthur Doyle out into the southern Indiana night, like a lighthouse guiding whatever mutant life lurks in the cultural sea safely to its shore.
The Runcible Spoon :: A real neighborhood business is a rarity in a transient college town.   The scene at the Runcible Spoon has a funky Irish pagan-hippie vibe. Breakfast all day,   Amazing home fries and the type of coffee you can drink A LOT of. At times the mornings there can hum with barely controlled chaos .Conversely, sitting on the porch in the evening for a beer is a particularly chill break from the street action filled with sports bar overflow.   Maybe the Fatted Calf String Band will be playing, or DJ Spikes will be spinning on the patio.   If your there, head next door to Boxcar Books and get a copy of Penny Rimbaud's poetry book.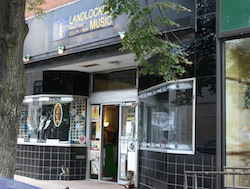 Landlocked Music :: This isn't Bloomington's only record store but it far and beyond the best. Opened over 3 years ago by two music obsessed townies, it is a recorded music lover's paradise. There is a great mix of new and used records and CDs, though it is obvious when you walk in the door that vinyl recordings are their passion. Cozy chairs are scattered around the store and a fresh pot of coffee is always brewing.
Rose Hill Cemetery :: Rose Hill Cemetery sits on one the highest hills in Bloomington. Just due west of the square its old limestone mausoleums and headstones make for good photos and quiet contemplation. There are rows and rows of headstones, some dating back as early as the 1820s. Many of Bloomington's founding fathers are buried here, recognizable because of streets that have been named after them. Bloomington son Hoagy Carmichael is buried here as well as Alfred Kinsey, the famous sex researcher. On the 4th of July the cemetery is the place to be, to drink and set off smoke bombs while watching the big firework displays at Indiana University as well as in neighboring town Ellettsville.
Soma Coffee House :: Excellent and very strong coffee / espresso bar served in the basement of an old mansion. the baristas here actually know how to make coffee drinks, they take pride in their work and the results are awesome. Bloomington has a ridiculous amount of coffeeshops and many are good, but this place is top notch. Try one of their signature drinks like the Swamp Thing or the Oahu.
Russian Recordings :: Mike Bridavsky is a local engineer who's done a ton of work with bands from everywhere. He's recently opened this studio in downtown Bloomington and everyone is impressed. The live room doubles as a venue for bands on some nights and he has a nice lounge to grab a drink and catch the band on closed-circuit tv.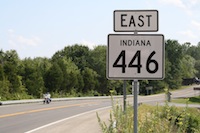 Highway 446 :: A great stretch of country driving, with a long straightaway to see how fast your ride can really go. Featuring such sites as the abandoned observatory, the abandoned waterslide, John Mellencamp's mansion, and the causeway over the lake (which you can jump off if you're in search of another adrenaline rush after driving 120 mph). Keep going past the lake and you'll eventually make it the Deam Wilderness, which has a firetower you can climb to watch the sunset.
The Curiodrome :: A store that feels more like a museum. Contains relics from your youth, toys you either forgot existed or never knew existed, weird Japanese candy, vintage clothing, hand-made underwear, and…. bananaise. They show movies in a small viewing room complete with theater chairs, and once in a while they have live music too!
Download:
MP3: Early Day Miners :: So Slowly
—————-
Amazon: Early Day Miners – The Treatment
+ Download Early Day Miners via eMusic's 25 free MP3 no risk trial offer
——————————————————————————————————————————