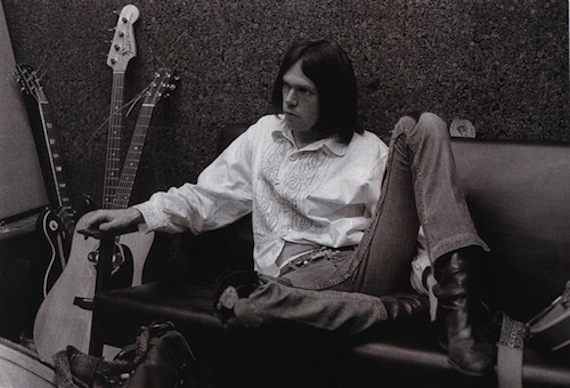 (Diversions, a recurring feature on Aquarium Drunkard, catches up with our favorite artists as they wax on subjects other than recording and performing.)
Last year Everest found themselves on tour with Neil Young. If you are familiar with their debut LP, Ghost Notes, or their live show for that matter, then the pairing makes absolute sense.   In the wake of the Archives: Volume I box set, Everest's Joel Graves runs down, and shares his thoughts, on some of his favorite lesser known tracks in the Shakey catalog.   As a card-carrying Neil freak, this has personally been one of my favorite Diversions entries thus far.
Everest plays an all ages show at the Troubadour, tomorrow night, with Parson Redheads and These United States.
* * * * * * * * * * * * * * * * * * * * * * * * * * * * * * * * * * * * * * * * * * * * * * * * * * * * * * * * * * * * * * *
Here is a list of 9 lesser known Neil Young songs that are worth diving into.   The classics are classics, and for good reason, but these songs show that even on the overlooked records, "hello ruby in the dust…."
"Kahuna Sunset" :: (Archives Vol. 1,   Disc 01 Early Years) – Featuring kitschy (and awesome) surf sound effects and classic Buffalo Springfield era Stills/Young guitar interplay, this song has a rhythm like no other Neil Young song.   A long time Hank Marvin fan (guitarist of surf icons The Shadows), you can really hear how Neil's melodic lead guitar style developed out of aching surf tunes.
"Revolution Blues" :: (On The Beach) – This song cooks, and fixes it's glare on the overblown Laurel Canyon scene that precipitated the Charles Manson killings.   A rare Young song where he lets the rhythm section (The Band's Rick Danko and Levon Helm) loose with no leash and no governor.   Say no more.
"Love/Art Blues" :: (Unreleased) –   As a band, Everest went to go see Neil play at The Nokia Theatre shortly after it opened, and he played this little-known fan favorite.   Classic Neil Young in that he recognizes his own contradictions, and the fine balance between love and art in his life.   "My songs are all so long, And my words are all so sad, Why must I choose, Between the best things I ever had."
"Music Arcade" :: (Broken Arrow) – This song's another hidden bone crusher from an overlooked album.   "Music Arcade" features one of Neil's most intimate vocals.   The lyrics put you in the same lonely state of mind as the narrator.   You can almost feel his breath blow in your face when you listen to it, and you don't have to listen too hard to hear what dry-mouth sounds like.   The album also includes "This Town", a classic Crazy Horse pace song that is worth searching out on its own.   Be sure to track down its wry video as well.
"Ambulance Blues" :: (On The Beach) – The lyrics and guitar of this song shake me and I will never be able to explain how or why.   They just do.   They just do.   Neil has admitted that the guitar part for this song was unconsciously based on Bert Jansch's "Needle of Death."   "Ambulance Blues" is the flip side to the raw and wild spirit of "Revolution Blues."   On The Beach is my favorite Neil Young record so I chose two songs off it.   For me, this album has it all.   Elements include acoustic folk, electric rock, boozy country, sad introspection, fictional characters, humor, and honey slides. It contains career-spanning contributions from Crazy Horse, CSN, The Band, and The Stray Gators.   The sleeve design is artist Gary Burden's favorite of all the classic albums he's worked on, to boot.
"Lost In Space" :: (Hawks & Doves) – "I got to lose, the deep sea blues."   When I heard Neil playing this at soundcheck last year, I wasn't familiar with it.   The song opens and closes with the plaintive plea "Live with me… Live with me…"   I'd listened to Hawks & Doves in the past, but the album never really sank in.   Hearing Neil work through the first ever live performance of this song in St. John's, Newfoundland really opened my ears.   The album version has a low-key feel and even includes the "Marine Munchkin" tripping out on backup vocals. Check it out.   "Breakers crash on the beach, I count them in my sleep, They come at me steady, They know I'm not ready, They pound on my mattress door, Have they got a big one in store."
"Don't Spook The Horse" :: (Ragged Glory B-side) – Neil's got a great sense of humor and wit. It can be surgically sharp or it can be bluntly droll.   This is the sound of four guys in a barn blowing off steam. To most Neil fans, "The Horse" is a eight-legged animal that's as powerful as it is confounding.   Crazy Horse.   Don't think too much.   Don't do too much.   "Don't Spook The Horse."
"Change Your Mind" :: (Sleeps With Angels) – Sleeps With Angels was a dark and nuanced record that reportedly dealt with the loss of Kurt Cobain and the death of a Young family friend gunned down in a drive by shooting.   It's one of the most diverse Crazy Horse records musically.   Vibes, flute, tack piano, hushed harmonies, distorted mouth organ, and pump organ are butted up against muscular and trance-y electric guitar meditations. This album was Young's last collaboration with producer David Briggs.     I'd love to hear Neil make another record as deeply personal and sonically inspired as this one.   This year, while opening for Neil, he surprised us by adding "Change Your Mind" to the setlist.   We were honored as a band to get up and sing it with him on 5 occasions during the tour.   I can't imagine I'll ever hear better guitar playing than he put into this song live.   Gives me chills to think about getting into his cage on those special nights.
"Bandit" :: (Greendale) – My friend was telling me the other day about how he used to hate Neil's voice when he was younger.   Now, he loves it.   Neil has a funny way of doing that.   I think at this point, everybody knows that his music is not about clinical perfection.   Who wants that?   He's about honesty and framing the songs with integrity.   That's why they ring true.   "Bandit" opens with a guitar tuned down from the standard low E, all the way to B flat.   The rattling and wheezing low note that this tuning produces is a perfect example of Young shaping his instrument's voice to suit the song.   It's fucked up … to perfection.
I could make another Neil song list tomorrow and it would look completely different. It's like having the wind in your record collection.   words/ joel graves
Download:
MP3: Everest :: Black Covers (live)
MP3: Everest :: Trees
—————-
Amazon: Everest – Ghost Notes
+ Download Everest DRM free via eMusic's 25 free MP3 no risk trial offer
——————————————————————————————————————————–