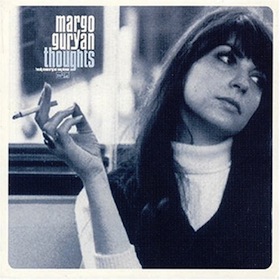 When Margo Guryan heard "God Only Knows" for the first time, she dropped everything. Raised on classical music and steeped in theory and composition, by the time she graduated college Margo seemed prepared for a serious career in Jazz music. But a friend played her Pet Sounds, that spiritual hymn, and her interests suddenly changed direction. Inspired, and working in the glow of Brian Wilson's masterpiece, Margo released Take a Picture through Bell Records in 1968. It's a beautiful, wistful, lost little gem that was too good to stay hidden long.
The first thing you'd notice is Margo's voice, a unique upper register whisper. More unexpected is the opening clatter of the record, when "Sunday Morning" bucks and tumbles in a strange stew of fine-tuned garage funk. Her fragile soprano trembles in and takes hold, coasting over dense chord changes. This is some serious pop. Chamber orchestra arrangements, session players not averse to psych touches, a Bach melody even graces the chorus of the adorable "Someone I Know." The production is expert but not showy; it's got an easy, relaxed feel, a marvel when you consider the complexity of the music.
Margo didn't support her record with performance and it fell to obscurity. Vinyl copies today are ridiculous. But at the turn of the century, Margo's music was reissued by Franklin Castle. The renewed interest generated by the reissue sparked several further releases of Margo's demo cuts and unreleased songs. Whether this collection is called Thoughts, 25 Demos, or included on the new Take a Picture (and More Songs) by Beatball (Korea), the recordings are all the same, and just as essential as Take a Picture. Driven by Margo's Wurlitzer but cut with a full band, vocal overdubs, and plenty of decoration these recordings are hardly demos. Tracks not only includes most of those from Take A Picture, but also several unreleased outtakes and gems recorded for a potential second album. Several of these concern the Watergate scandal (foreshadowing Margo's more current political involvement), including one of my choice cuts "The Hum," a lovely melodic tribute to the blank sections of Nixon's infamous tapes.
Along with Colin Blunstone's "One Year" this record is a Sunday morning staple. It's comforting, barely psychedelic soft pop, with all the ornaments and grace of the Pet Sounds orchestra. Brilliant and beautiful. words/ b. mcgrath
Download:
MP3: Margo Guryan :: Someone I Know
MP3: Margo Guryan :: The Hum
—————
+ Download DRM free digital music via eMusic's 25 free MP3 no risk trial offer
——————————————————————————————————————————