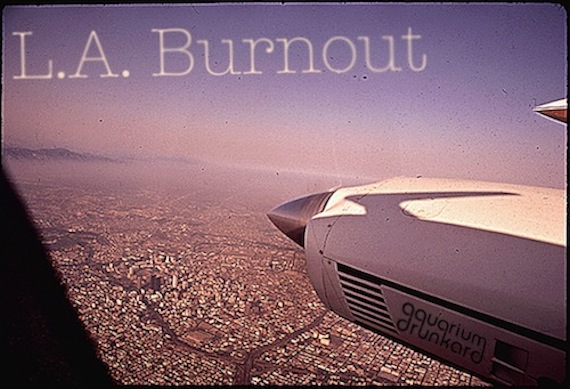 The genesis of this post goes back to the end of 2006 via a longtime AD reader (Sean Howe). If you've been around a minute you may remember L.A. Burnout from January of 2007.   As I mentioned a couple of years ago, these are the tunes I was spinning while reading both Laurel Canyon: The Inside Story of Rock-and-Roll's Legendary Neighborhood and Hotel California: The True-Life Adventures of CSN, etc.
L.A. Burnout is made up of the sounds floating around Los Angeles in the late '60s and '70s; a faded aural imprint of the canyons, beaches, wildfires, neighborhoods, late-nights and early mornings of a bygone L.A.
Play this mix around dusk while driving through Topanga with the windows rolled down – it's the next best thing to time travel.   Grab it after the jump….

Download: L.A. Burnout :: A Compilation Zipped folder (167 kbps)

Loudon Wainwright III :: Hollywood Hopeful
Johnny Darrell :: Mae Jean Goes To Hollywood
The Mamas & The Papas :: Safe In My Garden
Standells :: Riot On Sunset Strip
Jackie DeShannon :: Laurel Canyon
The Fun & Games :: Topanga Canyon Road
John Mayall :: Laurel Canyon Home
Spirit :: Topanga Windows
Mama Cass Eliott :: California Earthquake
The Birds :: Precious Kate
Albert Hammond :: It Never Rains In California
Jack Nitzsche :: Lower California
Guy Clark :: L.A. Freeway
Thomas Jefferson Kaye :: L.A.
The Beau Brummels :: Bless You California
LOVE :: Maybe The People Would Be
Gene Clark :: Los Angeles
The Byrds :: Bad Night At The Whiskey
David Soul :: Topanga
Neil Young :: L.A.
The Mamas & The Papas :: Twelve Thirty
Neil Young :: Sweet Joni
Joni Mitchell :: For The Roses
Jackie DeShannon :: L.A.
Mickey Dolenz :: Beverly Hills
Flying Burrito Brothers :: Sin City
Dennis Wilson :: Pacific Ocean Blue
Gene Clark :: From A Silver Phial
Jackson Brown :: Before The Deluge
Neil Young :: Revolution Blues
Warren Zevon :: Desperadoes Under the Eaves
Phil Ochs :: The World Began In Eden And Ended In Los Angeles [Live]
Flo & Eddie :: Keep It Warm
Steely Dan :: Babylon Sisters
John Phillips :: Topanga Canyon
John Phillips :: Malibu People
Also: We (Mondo Boys) are working on the follow-up to the WEIRD SUMMER mixtape – look for it next month.  In the meantime WS is still live on the blog and available here.