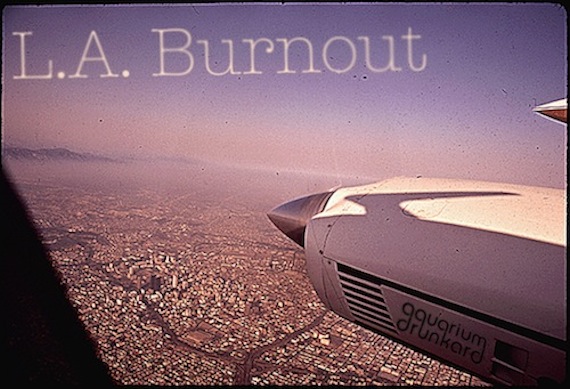 L.A. Burnout is made up of the sounds floating around Los Angeles in the late '60s and '70s; a faded aural imprint of the canyons, beaches, wildfires, neighborhoods, late-nights and early mornings of a bygone L.A.
Play this mix around dusk while driving through Topanga with the windows rolled down – it's the next best thing to time travel.   Grab it after the jump….

Download: L.A. Burnout :: A Compilation Zipped folder (167 kbps)

Loudon Wainwright III :: Hollywood Hopeful
Johnny Darrell :: Mae Jean Goes To Hollywood
The Mamas & The Papas :: Safe In My Garden
Standells :: Riot On Sunset Strip
Jackie DeShannon :: Laurel Canyon
The Fun & Games :: Topanga Canyon Road
John Mayall :: Laurel Canyon Home
Spirit :: Topanga Windows
Mama Cass Eliott :: California Earthquake
The Birds :: Precious Kate
Albert Hammond :: It Never Rains In California
Jack Nitzsche :: Lower California
Guy Clark :: L.A. Freeway
Thomas Jefferson Kaye :: L.A.
The Beau Brummels :: Bless You California
LOVE :: Maybe The People Would Be
Gene Clark :: Los Angeles
The Byrds :: Bad Night At The Whiskey
David Soul :: Topanga
Neil Young :: L.A.
The Mamas & The Papas :: Twelve Thirty
Neil Young :: Sweet Joni
Joni Mitchell :: For The Roses
Jackie DeShannon :: L.A.
Mickey Dolenz :: Beverly Hills
Flying Burrito Brothers :: Sin City
Dennis Wilson :: Pacific Ocean Blue
Gene Clark :: From A Silver Phial
Jackson Brown :: Before The Deluge
Neil Young :: Revolution Blues
Warren Zevon :: Desperadoes Under the Eaves
Phil Ochs :: The World Began In Eden And Ended In Los Angeles [Live]
Flo & Eddie :: Keep It Warm
Steely Dan :: Babylon Sisters
John Phillips :: Topanga Canyon
John Phillips :: Malibu People
For heads, by heads. Aquarium Drunkard is powered by its patrons. Keep the servers humming and help us continue doing it by pledging your support via our Patreon page.