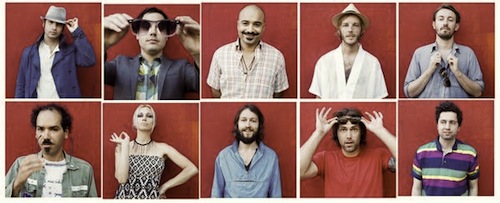 "At first listen, it might be tempting to label Fool's Gold as 'world music,' but the band is, in its essence, a Los Angeles band." Or so says Fool's Gold's label, I Am Sound. And indeed, in some ways at least, that description is apt. You certainly can't say that Fool's Gold's debut (Sept. 29) doesn't unleash immense helpings of international musical dialect that would make any xenophobe scramble for apple pie and baseball. It does. But for a city that's so constantly in search of a "sound," Los Angeles might've found its latest, and possibly best, representative. The testaments to that are many.
First, Fool's Gold's sun-dappled instrumentation befits the perpetually warm, clear and rainless Mediterranean climes of Los Angeles. Israel-born vocalist/co-frontman Luke Top embodies the broad ethnic L.A. landscape–an Iraqi mother, a Russian father, bilingual (two that we know of, anyway). And co-frontman and multi-instrumentalist Lewis Pesacov plays in another, L.A.'s excellent Foreign Born, as do three other Fool's Gold members.
Still, it isn't just "tempting" to call Fool's Gold "world music." Because it is, undeniably and without argument, world music. Top and Pesacov make no secret of their African influences, namely Congolese, Ethiopian, Eritrean and Malian. (The band claim the subtler, but oft recognizable eccentricity of a krautrock influence.) Top and childhood friend Amir Keenan from Isreal create Hebrew harmonies that permeate a poly-national percussion rendering. Percussionists' contributions come from a roving supporting cast whose ethnicity includes, but is not limited to, Argentina, Brazil and Mexico, and instruments range from familiar skinned drums like the djembe, to the less familiar kashishi, goat-toe rattles and Axtase shell gourds (none of which are immediately identifiable in name, shape or sound to this less-worldly writer).
The sound itself covers as much territory as do the band's collective lineage. To identify its parts exactly would take a trained ear or extreme familiarity with the otherwise convoluted and multi-faceted tribal texture of African music forebears. At that point, the aforementioned influences do possibly come to bear. But without immediate reference points for the casual listener, Fool's Gold lacks defining borders. It is a hodgepodge of world–a delightfully upbeat, at times meditative, highly social and collective musical and cultural journey, best suited for sunny skies and slightly baked air. Not unlike Los Angeles.     words/ j crosby
Download:
MP3: Fool's Gold :: Surprise Hotel
MP3: Fool's Gold :: Nadine
—————
Pre-order: Fool's Gold – S/T
+ Download Fool's Gold September 29th via eMusic's 25 free MP3 no risk trial offer
——————————————————————————————————————————