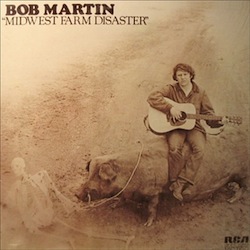 A highly talented singer-songwriter from Lowell, Massachusetts, Bob Martin released Midwest Farm Disaster in 1972 — a record that is generally acknowledged as his masterpiece and a genre benchmark.
Martin's voice is gravelly, weathered, soulful and honest. Think of a strange Kevin Coyne, Van Morrison, or Bob Lind blend and you're right on target. The lyrics are top shelf too, the equal or better of most of his critically acclaimed contemporaries. The sound of the LP is very close to Gene Clark's White Light or Bob Lind's Since There Were Circles, a stark, beautiful blend of folk and country that truly reveals its depth with repeated listens. With every song, Bob candidly brings the listener into his working class world spinning great American tales of local drunks, small town farm life, prison convicts, and hard times working on the mill.
Midwest Farm Disaster is laced with would-be classics, including"Blind Marie", a moving track that happens to be the album's most accessible song; a song that should have gained Martin commercial notoriety. Tracks like the Woody Guthrie influenced "Third War Rag" and "Frog Dick, South Dakota" are colored by Martin's distinct sense of humor but also packed with good, catchy melodies and wonderfully sarcastic lyrics. Other songs like the intense "Mill Town", and title track, are dark tales that relate to Bob's earlier life on the farm and are superb examples of real Americana. The album ends with "Deer Island Prison," which might be thought of as the album's cornerstone. Martin turns in a stunning vocal and lyrical performance that must surely rank as one of the great, unsung confessionals.
Excellent and unforgettable, Midwest Farm Disaster is full of rich drifter music and should be mandatory listening for those who are into deep, rustic Americana.
Only The Good Shit. Aquarium Drunkard is powered by our patrons. Keep the servers humming and help us continue doing it by pledging your support via our Patreon page.