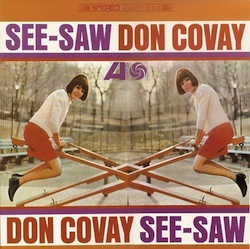 I'll forever be indebted to British R&B bands like the Rolling Stones, the Pretty Things and the Downliner's Sect for not only changing my life with their incredible music, but for also infecting me with an incurable obsession with American roots music. Noticing that their early albums were almost entirely comprised of cover songs sent me scrambling all over the place to track down the raw blues of Howlin' Wolf and Slim Harpo, the trailblazing country of Hank Snow and Buck Owens, and lots of Southern soul.
Mick Jagger was no Solomon Burke. Well aware of his limitations, he found a way to make it work by studying less technically accomplished singers like Don Covay. One listen to those falsetto notes he hits and you'll know what I'm talking about.
Covay was a prolific songwriter who penned an impressive string of hits for the likes of Aretha Franklin, Burke and Wilson Pickett. He was also one of the most overlooked soul singers of his generation. His first single, "Bip Bop Bip," is a frantic '50s shouter wild enough to make Little Richard (who he once chauffeured for) sound like Fabian. After releasing a few more sides that were a bit derivative but great nonetheless, Covay finally hit his stride in 64' with the genre blurring cut "Mercy, Mercy." A solid R&B groove was intact, but the prominent raw guitars (rumored to have been played by a young Hendrix) and crashing drums gave it a strong rock 'n roll edge, anticipating the garage boom that was just on the horizon. His pleading vocals convey a sense of desperation that even surpasses Pickett's stellar rendition of the song.
This single along with some equally crude tracks from the same era were collected on the 1966 LP See-Saw. "Everything Gonna Be Everything" is an all-out stomper that'll make you to wonder if he's not being backed by the Pretties. Also included are some more straight-ahead soul songs he cut at Stax, featuring the tight, horn dominated sound and Steve Cropper licks that made the label famous. On the title cut and "Iron Out the Rough Spots" we find Covay neck and neck with best talent on the formidable Stax roster.
See-Saw is the epitome of a great mid-'60s Southern soul album, perfectly balanced with the right amount of dance tunes and ballads. It was reissued on CD as a twofer with his terrific first LP Mercy. Razor and Tie released a decent anthology, which includes some of his earlier and later efforts. words/ j bonanno
Download:
MP3: Don Covay :: Mercy Mercy
MP3: Don Covay :: Everything Gonna Be Everything
Only the good shit. Aquarium Drunkard is powered by our patrons. Keep the servers humming and help us continue doing it by pledging your support via our Patreon page.