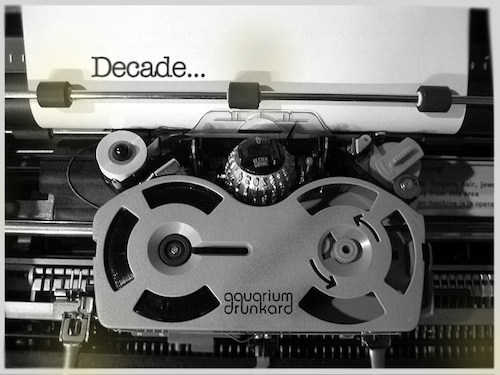 What is it that makes us want to deconstruct art by units of time? Lists. We love making them. We love arguing over them. And here, on the verge of a new decade, we're in a position to do the same again. What were the best albums of the past ten years?
Here at AD, we started talking it through and decided we weren't going to add to the cacophony of lists being put out by various music pubs. There are enough of those. Rather, we elected to let our four main writers have a chance to write about any and all of the albums they felt shaped the last decade.
From now through the end of December, Monday through Thursday, AD will feature a post, or posts, from a particular writer detailing their favorite albums of the decade. On a given week there might be one album a writer talks about, there might be six, but they'll get a chance to have their say on everything that comes to mind. Our hope for you, the reader, is that you'll jump in with your comments on the album selections — tell us why you agree or disagree — and also be exposed to some albums that you may have missed over the last ten years. Now, as the decade starts to wind down, let's celebrate.
___________________________________________________________________________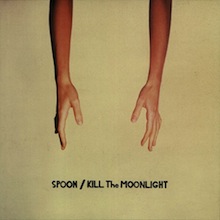 Given Spoon's somewhat tepid reception in the '90s, the band could've floundered as just another almost-but-not-quite-there outfit that dwelled in relative obscurity. Instead, Spoon used the aughts to refine their sound and put together one of the stronger outputs of the decade.
Girls Can Tell laid the foundation for Spoon's success in the 2000s, and Ga Ga Ga Ga Ga finally and firmly positioned the band in the mainstream, a realm that had eluded them despite previous flirtations. Though Girls' revitalizing groundwork and Ga's commercial success bolster their respective claims for "Best of Spoon"–and their place in this decade's long list of great music–2002's Kill the Moonlight is arguably the band's most complete representation, perfecting their now-epitomizing credo of, "Let's do more, without sounding like we're trying to do more."
Our introduction to this is "Small Stakes", leaning on a brawny organ surf-beat that persists throughout. This was an aggressive move, as keys figured less prominently in Spoon's previous work, as did the sturdier texture they create when given equal billing. It isn't the least bit cluttered, though, as clutter is something Spoon seems to despise (probably due to their near-miss, Telephono.) As importantly, "Small Stakes" is also a setup piece ahead of the album's uber-catchy (and popular) pop ballad, the also-keys-supported "The Way We Get By". Moments later, "Stay Don't Go" serves a similar position, as its rhythmic breathing is met with various and brief accompaniment (a synthesized flutter, a tambourine), lulling you into its meditative trance before "Jonathon Fisk" "speaks with his fists."
Each song stands marvelously alone, while serving the dual responsibility of segueing into the next. All the while, the album feels as tidy and calculated in composition as ever before (or after). In fact, Kill the Moonlight's most remarkable quality is its ability to create a fuller experience–be it a chord, a song or an album of songs–within the confines of the sound that the band had established for itself years before, the sound to which it has remained more or less honest.
Spoon have, at turns, been described as spare, minimalist, even restrained. Indeed, those probably are defining qualities, but they might overlook the fairly intricate production contained within a document like Kill the Moonlight. Because to make something seem so clean, methodical and uncomplicated can be an astonishingly complicated process. But the result can be astonishingly excellent.   words/ j. crosby
Download:
MP3: Spoon :: Small Stakes
MP3: Spoon :: The Way We Get By
—————
+ Download Spoon via eMusic's 25 free MP3 no risk trial offer
——————————————————————————————————————————