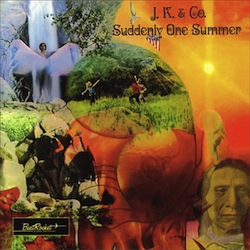 You'd be hard pressed to find many 60s psych enthusiasts that dislike J.K. & Co.'s Suddenly One Summer; incidentally the only album the group ever released.
Recorded in 1968, leader Jay Kaye was only 15 at the time, and for someone so inexperienced in the studio, the lyrics, vocals and musicianship are remarkably advanced. Traveling from his home of Las Vegas to Vancouver, Kaye worked with some of the areas top session players (including members of the popular local outfit, Mother Truckers Yellow Duck). Inspired by the Beatles recent psychedelic landmarks, and LSD itself, the album is lush with orchestral flair with a spiritual slant. Robert Buckley, himself a teenager, assisted Kaye with many of the albums arrangements and psychedelic effects. It was Buckley who created the decaying, backward effects that punctuate the masterful "Fly" — a track which sounds well of its time, familiar in feel to prime-era Radiohead.
Conceived as a concept album, upon its release Billboard claimed Suddenly's intent was "to depict musically a man's life from birth to death." At least half of the record is full of quintessentially great psychedelia, see: "O.D.", with its drug-addled madness, wild guitar playing and soaring vocals and"Magical Fingers of Minerva", a sitar based rocker that ends with trippy complications. The gorgeous acoustic track "Nobody," the pop rocker "Christine," and the dramatic finale, "Dead," are just a few of the standout compositions. The album plays from strength to strength — never falling off the deep end.
Suddenly achieved decent underground appreciation, with contemporary, Los Angeles based White Whale Records to release a single in an attempt to capitalize on the groups burgeoning popularity. Choosing the album opening, 36-second "Break of Dawn" was seen, and was, a major marketing disaster. This management blunder would halter the marketability of the group and, further, the career of Jay Kaye. In an attempt to promote the record, Kaye formed a live group with his cousin John (on bass) and his friend Rick Dean (on drums) — but success eluded them. It was not until 2001 that Sundazed Records released this great, conceptual acid album through their Beat Rocket label. And we're all the better for it.   words/ j nardelli
Download:
MP3: J.K. & Co. :: Fly
MP3: J.K. & Co. :: Christine
Only the good shit. Aquarium Drunkard is powered by our patrons. Keep the servers humming and help us continue doing it by pledging your support via our Patreon page.