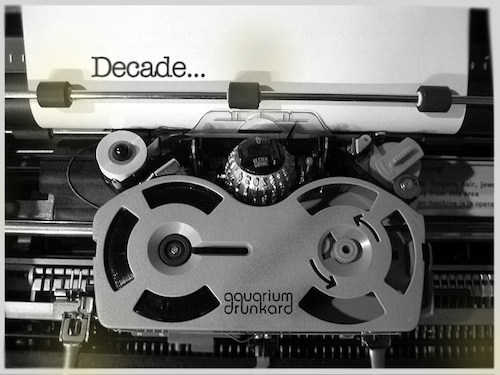 What is it that makes us want to deconstruct art by units of time? Lists. We love making them. We love arguing over them. And here, on the verge of a new decade, we're in a position to do the same again. What were the best albums of the past ten years?
Here at AD, we started talking it through and decided we weren't going to add to the cacophony of lists being put out by various music pubs. There are enough of those. Rather, we elected to let our four main writers have a chance to write about any and all of the albums they felt shaped the last decade.
From now through the end of December, Monday through Thursday, AD will feature a post, or posts, from a particular writer detailing their favorite albums of the decade. On a given week there might be one album a writer talks about, there might be six, but they'll get a chance to have their say on everything that comes to mind. Our hope for you, the reader, is that you'll jump in with your comments on the album selections — tell us why you agree or disagree — and also be exposed to some albums that you may have missed over the last ten years. Now, as the decade starts to wind down, let's celebrate.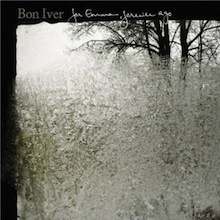 There are two things that make Bon Iver's For Emma, Forever Ago a significant album of the 2000s. One, it's good. Very good. Great even. Two, it spawned from the Internet, largely the blogosphere.
The latter is important, because the last decade has seen the birth, growth and burgeoning adolescence (still awkward, to be sure) of the digital age of music. Lest we digress too heavily into the finer points of both file-sharing's impact on the music industry and the impending demise of print media, the short of it is that we're now listening primarily to a digital music format that we discovered online, probably from a blog like this one. (You're welcome for the revelation.) And while thousands of artists had been establishing an online presence for years prior to 2007, few had been met with the sensational explosion of the Bon Iver kind.
Justin Vernon recorded an album, without really intending to at first, and in mid-2007, he decided to self-release the rough cuts (you know, just to see if they would take). By February 2008, after a wealth of good press and a few '07 year-end list sightings (Pitchfork, et al), For Emma, Forever Ago was re-released by Jagjaguwar with a pro bono marketing campaign that Madison Avenue's finest couldn't replicate, courtesy of every music blogger on both coasts and in between. And there's a wonderful irony in that:
An album recorded in spartan conditions in the frigid boreal forests of northern Wisconsin amidst a lingering existential crisis–the least 21st-century, least digital experience imaginable–owes no small part of its immense success to a bunch of music nerds tapping away at their MacBooks on something called the Internet — most likely in an air conditioned room. That alone makes Bon Iver's contribution to this decade important. But then there's that first part to consider, as well: The record is great.
We've talked many times about folk music and its relationship to landscape. At its core, that's what folk is. And Vernon's brand of soul-folk masterfully evokes the cold, distant isolation of its environs. So intrinsically linked it is, that if you knew nothing of For Emma, Forever Ago's creative circumstances, you might still be able to guess it was recorded somewhere desperately quiet and cold. But the record itself isn't desperately cold. The cold is all around it, while inside it feels warm, much like you might imagine Vernon's cabin to be.
That's not to say the subject matter is inviting, though. While the warmth often comes from the flickering timbre of Vernon's voice, the heat of it is just as often the impassioned response of emotional upheaval. The record's flagship, "Skinny Love," is rife with that very sentiment. In dire and dreary circumstances, the story is furnaced by a frenzied search for catharsis. It's the sweaty frustration of love-scorned futility. The song, like the album, fights for answers at a time when answers don't matter, or even exist. Like we so often do, it fights until it runs ragged into desolate exhaustion.
For Emma, Forever Ago is fiery catharsis. It's panicked frustration. It's subdued resignation. It is a heart exploding amid such cold circumstances, but it's better off for it. words/ j. crosby
Download:
MP3: Bon Iver :: Flume
MP3: Bon Iver :: Skinny Love
—————