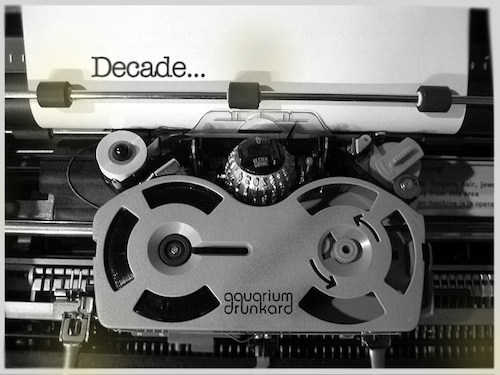 What is it that makes us want to deconstruct art by units of time? Lists. We love making them. We love arguing over them. And here, on the verge of a new decade, we're in a position to do the same again. What were the best albums of the past ten years?
Here at AD, we started talking it through and decided we weren't going to add to the cacophony of lists being put out by various music pubs. There are enough of those. Rather, we elected to let our four main writers have a chance to write about any and all of the albums they felt shaped the last decade.
From now through the end of December, Monday through Thursday, AD will feature a post, or posts, from a particular writer detailing their favorite albums of the decade. On a given week there might be one album a writer talks about, there might be six, but they'll get a chance to have their say on everything that comes to mind. Our hope for you, the reader, is that you'll jump in with your comments on the album selections — tell us why you agree or disagree — and also be exposed to some albums that you may have missed over the last ten years. Now, as the decade starts to wind down, let's celebrate.
___________________________________________________________________________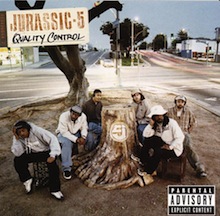 Underground hip-hop in the 00s was as fruitful as it has ever been. And one of the earliest examples of that, in 2000, was the second full-length from Jurassic 5. This album was seven years in the making, the group having formed in 1993, but was only a couple of years on the heels of their highly lauded self-titled debut.
What makes the album so engaging is its seeming existence in two time frames. One foot is planted firmly in the past, and if there is anything that Jurassic 5 was often praised (and damned) for, it was their old-school artistic styles. The particular beats of their twin producers, Cut Chemist and DJ Nu-Mark, were often planted deeply in bebop jazz and funk samples and helped to create songs like the album's title track, a conscious slow-down of some of the band's raps. It swaggers and lopes along at a slower speed, purposefully creating a classic sound, not just in beat but in delivery, and eschewing the speed that rap had taken on following the early 90s. Which is not to say they couldn't blitz. "Great Expectations" flies through its lyrical look-back at the group's origins and "Jurass Finish First," with its reliance on a wandering cello line, seems to almost speed up as it goes along.
The old-school leanings reveal themselves lyrically as well. Songs like "Lausd," with its allusion to MC Shan's "The Bridge," or "Monkey Bars" and its references to a whole bevy of classic hip-hop groups (the Cold Crush Brothers, the Furious Five, the Force M.D.'s, and the Treacherous Three, specifically) draw out the obvious influences on the sound of the group, but they also never sound anything less than completely planted in their own time as well. That's where the other foot resides, whether it's in "Contribution"'s dissection of social woes or "The Game"'s now somewhat-dated but still ridiculously fun rap-as-basketball metaphor (complete with references to Jerry Stackhouse, Bill Laimbeer and NBA Jam).
The album is peppered with a party atmosphere, even when it is immersed in its more serious moments. When you have four skilled MCs taking part – whether harmonizing together, a skill that truly gave them a stand-out sound, or dropping their own independent verses – you're bound to feel surrounded by energy, which helps to explain the lack of guest spots, something that can sometimes overwhelm a hip-hop album and throw off the unity. The lone exception is "The Game," and though they would do it one better on their next album (by bringing in Percy P and Big Daddy Kane), it's still a winning moment that adds to the joyous feel. Random shout-outs by Sean Lennon and Sherman Hemsley don't hurt, either.
Jurassic 5 (along with a whole handful of other artists) continued a winning tradition of underground hip hop that was reverential without being slavish, fun without being gaudy and insightful without being preachy — all exemplified by Quality Control. Great expectations, indeed.   words/ j. neas
Download:
MP3: Jurassic 5 :: Great Expectations
MP3: Jurassic 5 :: Lausd
—————
+ Download DRM free digital music via eMusic's 25 free MP3 no risk trial offer
——————————————————————————————————————————