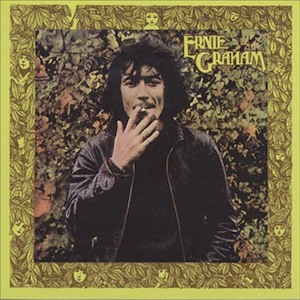 Ernie Graham was a member of Eire Apparent, whose claim to fame was their Sunrise album, produced by Jimi Hendrix. His brilliant 1971 solo record often gets the 'pub rock' tag, but sounds closer to genuine Americana, like The Band record that never was. It doesn't feel like most pub rock (even considering Nick Lowe's Brinsley Schwarz filled out the backing band); it may just be because Graham hailed from England that we call it pub rock. Labels aside, this is a pretty much perfect record.
"Sebastian" is a wonderful folksy opener, but overtly dylanesque. "Belfast," the closer, is the other anomaly on this disc, definitely a good number but drastic in its divergent Irish style. All the tunes in between are delicately produced gems and true lost classics. Thankfully, the Dylan impersonation tones down as Ernie lets his natural voice shine through. "So Lonely" kicks in with that mellow groove and tunes like "Girl That Turned The Lever" etch their melody into your mind. A laid-back combo: acoustic guitar, touch of organ, the bass and drums sound warm and wooden, with doubled electric guitar punching it up. Even the harmonies are low key, just barely there, lending to the album's lovely, lulling mood. The "la la" refrains to "For A Little While" and "Don't Want Me Round You" are positively anthemic and the psyched-out shuffle of "Blues To Snowy" and dreamy feel to "Sea Fever" seal the deal. It's hard to believe this record could fall so far through the cracks.
Beautiful growing melodies with choruses that resonate before you even know the song. Bruce Eder calls this "perhaps the greatest unknown album of the 1970s" and I tend to agree.
The bonus tracks included on the Hux Records reissue are worth the purchase but severely out of place, sounding like Springsteen jams. After this record, Graham would play guitar and pen tunes for Help Yourself, who released their own Cali-flavored gem from the pub rock scene, and would later form his own band, Clancy, who released two albums in 1975. words/ b mcgrath
Download:
MP3: Ernie Graham :: So Lonely
MP3: Ernie Graham :: For A Little While
Only the good shit. Aquarium Drunkard is powered by our patrons. Keep the servers humming and help us continue doing it by pledging your support via our Patreon page.