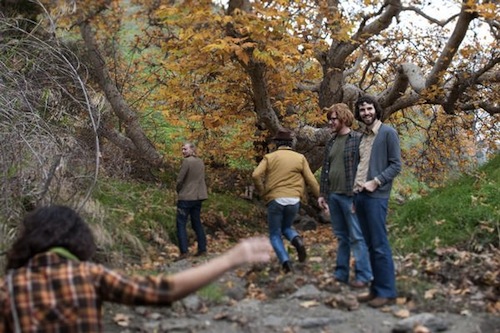 (Diversions, a recurring feature on Aquarium Drunkard, catches up with our favorite artists as they wax on subjects other than recording and performing.)
As the decade begins to wrap itself up, today's Diversions catches up with Port O'Brien's Van Pierszalowski as he runs down some of his favorite albums of the past ten years. The bay-area band released their sophomore album, Threadbare, on the TBD imprint earlier this month and can soon be found touring Europe beginning in November though mid-December. Do see this band live.
___________________________________________________________________________
Modest   Mouse :: The Moon And Antartica – This record came out when I was just getting into music other than Green Day and Rancid.   A friend of mine gave me a Fugazi CD and   The Lonesome Crowded West when I just started high school, and I immediately was obsessed with MM.   When this record came out, it was the record of my life for a long, long time, and still is in a lot of ways.
Lil Wayne :: Tha Carter III – This is my favorite record of the last couple years, by far.   Its one of the most emotionally driven records in a long time.   Weezy is the best thing to happen to music since Kurt Cobain.
Little Wings :: Magic Wand – From Lil' Wayne to Little Wings.   Two records that are equally amazing, but couldn't me more different.   This is the best record to come from that whole "freak folk" or whatever kind of thing….   Every song is so different melodically, lyrically, and the album flows like no other.
Continue Reading After The Jump….
Cat Power :: You Are Free –   Although I would have picked Moon Pix except for its 1998 nature, You Are Free is still easily on this list.   I haven't been a fan of much since this album, but this record is so beautiful and haunting.   I love all the different arrangements and Chan's voice is more beautiful here than it ever was.
Bon Iver :: For Emma, Forever Ago – This record is just so gorgeous, but it really doesn't hit you until you see Justin and the boys play it live.   Once they kick your ass into the ground with their show and you are a True Believer, the record sounds even better.

Beck :: Sea Change – The last great Beck record (hopefully not forever) might be my all time favorite.   A few of my friends in high school thought is was super "cheezy" when it came out, but they are so wrong.   Everything about it is intense and gorgeous.   I love the drums on this record.
Songs: Ohia :: Didn't It Rain – As corny as it sounds, this record got me through college.
Bonnie 'Prince' Billy :: Master And Everyone – So did this one, actually – a great one-two punch.
Radiohead :: Kid A – This is an obvious one, obviously… but I'd more lying if I didn't include it.   By far my favorite Radiohead record, it still sounds so amazing.   I hated it at first, but I let it sink in slowly and I remember walking to high school with it on my headphones and by the time "Idioteque" comes on, the game is over.
The Strokes :: This Is It – Another obvious one to finish it off.   This record made me believe in rock and roll again when I was in high school, for a little while anyway.
Download:
MP3: Port O'Brien :: My Will Is Good
———————
+ Download Port O'Brien via eMusic's 25 free MP3 no risk trial offer
——————————————————————————————————————————