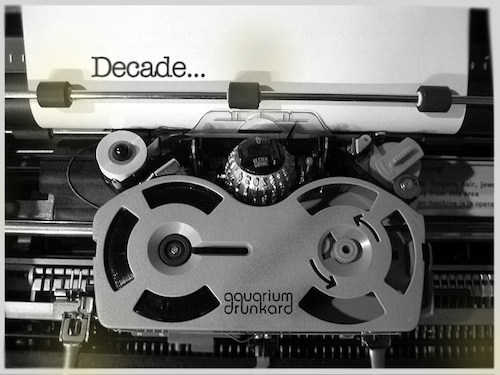 What is it that makes us want to deconstruct art by units of time? Lists. We love making them. We love arguing over them. And here, on the verge of a new decade, we're in a position to do the same again. What were the best albums of the past ten years?
Here at AD, we started talking it through and decided we weren't going to add to the cacophony of lists being put out by various music pubs. There are enough of those. Rather, we elected to let our four main writers have a chance to write about any and all of the albums they felt shaped the last decade.
From now through the end of December, Monday through Thursday, AD will feature a post, or posts, from a particular writer detailing their favorite albums of the decade. On a given week there might be one album a writer talks about, there might be six, but they'll get a chance to have their say on everything that comes to mind. Our hope for you, the reader, is that you'll jump in with your comments on the album selections — tell us why you agree or disagree — and also be exposed to some albums that you may have missed over the last ten years. Now, as the decade starts to wind down, let's celebrate.
___________________________________________________________________________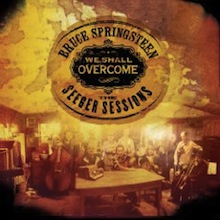 It may seem a bit ridiculous to call a Bruce Springsteen record low-profile–we're talking about a guy who sold thirteen million copies of a box set here–but it's hard to see The Seeger Sessions as anything but.   Released in 2006, it was his second-consecutive release without the re-formed E Street Band (the first being 2005's Devils and Dust) and its subsequent tour saw a (for Springsteen) paltry twenty-five American dates scattered throughout the northeast and Midwest, and a life-changing engagement at New Orleans' first post-Katrina Jazz Fest.   The Seeger Sessions sold 700,000 copies in the States, as compared to the two million plus sold by The Rising in 2002.   So, okay, low-profile for Springsteen is anyone else's banner year, but on the Springsteen scale, it wasn't much.
It was a simple enough concept: take a bunch of folk songs popularized by Pete Seeger; assemble a crackerjack band of guitarists, organists, accordion players, fiddlers, and a horn section that included Conan O'Brien trombonist Richie "La Bamba" Rosenberg; get together in Bruce's barn; run through the tracks once or twice to get the feel; hit record.   The result, though, is hardly simple.   Rocking and ambling like a tent revival, The Seeger Sessions is easily Springsteen's most raucous record since–dare I say it–The Wild, the Innocent, the E Street Shuffle, and his best record since Born in the U.S.A.
Though a consummate album artist, Springsteen made his bread on the back of his live shows, sweating across the stage and barking out sermons to his audience with a reverence and love that still seems genuine every time you see him do it.   The live-in-studio feel of Seeger Sessions is at least half of the album's success–you can hear the band trying to keep up with Bruce, feeling their way through the skeletons of songs they'd learned an hour before.   "Alright now, B flat!" Springsteen hollers away from the mic during "Pay Me My Money Down", and the big band downshifts right with him; when he barks out "Everybody solo!" everybody does, and the bony old song turns into some sort of klezmer stomp-along.   This record feels sweaty, all the way down to its warped and stained cover.
It's that mix of Eastern Europe and New Orleans that does it for me every time.   The drop-dead stunning "O Mary Don't You Weep" begins with a lilting fiddle intro before the band, led by drummer Larry Eagle, falls into a swaggering second-line and goes all 9th Ward on the old spiritual.   Springsteen spits the lyrics out, his voice cracking while declaring, "Old Mr. Satan, he got mad", a cabal of backup singers wooing out about Pharoah's army being drownded over the chorus.   This is "Rosalita" on acoustic instruments.   He even sings the completely ludicrous "Froggie Went A Courtin'" with earnest bombast, as if the entire world depended on Uncle Rat giving his consent to Froggie and Miss Mouse's marriage.
But here's the thing–it's not hokey, either.   Though he's singing ancient Negro spirituals in the 21st Century, it never feels irreverent.   If anything, "Keep Your Eyes on the Prize" benefits from Springsteen's dark delivery; he stretches himself deep into his register, practically whispering the story of Paul and Silas over a cranking banjo before lifting the veil over the chorus and letting the sunshine in.
It's been a good set of years for Bruce.   He re-formed the greatest rock 'n' roll band in the world, sang the soul of post-9/11 America on The Rising, got serious props from earnest indie rockers, took over Bonnaroo this summer, and generally cemented himself as the most relevant aging legend we've got.   But it's here, on an album of songs he didn't even write, that The Boss got the most work done. words/ m garner
Download:
MP3: Bruce Springsteen :: O Mary Don't You Weep
MP3: Bruce Springsteen :: Eyes on the Prize
——————
+ Download Bruce Springsteen via eMusic's 25 free MP3 no risk trial offer
——————————————————————————————————————————