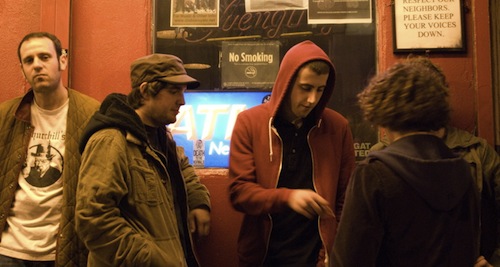 (Diversions, a recurring feature on Aquarium Drunkard, catches up with our favorite artists as they wax on subjects other than recording and performing.)
Beginning last week with Port O'Brein's entry, a number of the Diversions features leading up to December 31st will focus on artists personal lists of favorite albums of the Decade. Today we catch up with Cymbals Eat Guitars' Joseph D'Agostino as he runs down his top ten. I caught the band a couple of times last month at CMJ and can tell you they just continue to improve their live game. Don't miss CEG's Why They Are Mountains LP – available now.
___________________________________________________________________________
1.   Wilco :: Yankee Hotel Foxtrot –   I've always said this is my favorite record ever, so naturally it gets the top spot of the decade.   Perfect songs perfectly sequenced, perfectly mixed, a staggering classic that never, ever gets old for me.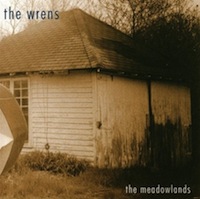 2.   The Wrens :: The Meadowlands –   Immeasurably important record in my life.   These songs are impossibly profound expressions of resignation and disappointment and disillusionment   and just a dash of hope growing ever dimmer around the margins of life, man.   This record is true life.   The lyrics, especially on songs like "Ex-girl Collection" and "Thirteen Months in Six Minutes" and "Everyone Chooses Sides" are so knotty and complex and wordy and clever.   So many gut punches to be had– "I've walked away from more than you imagine/ and sleep just fine".
3. …And You Will Know Us By The Trail Of Dead :: Source Tags and Codes –   I'm listening to "Another Morning Stoner" as I write this and it's chilling the shit out of me.   You know how many times I've heard this song in my life?   And how recently I've listened to it?   Floors me every time, especially the end, so fucking brilliant.
4. Arcade Fire :: Funeral – "Sometimes/ We remember bedrooms/ and our parents bedrooms/ and the bedrooms of our friends/ then we think of our parents/ what ever happened to them?"   "The power's out/ in the heart of man/ take it from your heart/ put it in your hand".   God fucking damn it does this record KILL me.   Pick a song, any song, I cannot listen without weeping in awe.   I can feel their grief, their sorrow, and this defiant, orchestral yet spontaneous joy that bubbles up from their songs in the face of all this crushing tragedy.   And bear in mind, I wouldn't have to know shit about their back story to feel everything.
5.   Radiohead :: Kid A – This record has helped me through some dark times, and was the CEG tour record of Fall '09, after almost a decade of solid listening.   It's like… infinite?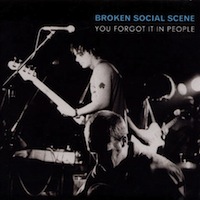 6.   Broken Social Scene :: You Forgot It In People – I hope to some day express in song the emotion and warmth and humanity that they capture without a single fucking word in "Shampoo Suicide".
7.   The Clientele :: Strange Geometry – This surreal, melancholic, totally haunting pop record has informed everything I've written since I heard it in high school.
8.   Frog Eyes :: The Golden River by Frog Eyes –   Spencer who?   Sunset what?
9.   Ghostface Killah :: Fishscale – It was really important that I discovered hip hop when I did… it was a time in my life when I found it impossible to listen to contemporary indie rock or pop records because I was scared shitless of failure and mediocrity and no one giving a good god damn about the record I was making.   What it really was, I guess, was pettiness and a very childish envy of others' successes.   I found peace in hip hop because of its complete otherness.   This record was a pure pleasure center assault for eight months of my life, and it opened the door for all the other Wu and solo records and Illmatic and Black On Both Sidesand… well, a lot I would have missed out on.   I can recite this record end to end, and it sounds pretty lame coming out of a white dude's mouth so I rarely spit it without a whole lot of cajoling in the presence of true friends.   I didn't know hip hop could give me chills like rock until the second verse of "The Champ".   It's not even what he's saying, it's the voice, man.   I think that's the truest lesson that anyone unfamiliar with or skeptical or dismissive of hip hop can learn.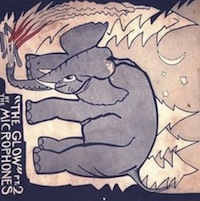 10.   The Microphones :: The Glow Pt. 2 – Everything about this record fascinates me, but what I took away from it most was Phil's strange, queasy, off-kilter acoustic guitar work, those two acoustics panned, splitting the parts down the middle… for a long time it hurt my brain.   That was, of course, after I was able to get through the second song and analyze musicianship and recording techniques (the studio is an instrument, I learned) without having a complete emotional breakdown.   "Headless Horseman" is possibly the saddest song I've heard in my days.   This record, along with a couple of others he's released, is sophisticated yet so childlike.
Download:
MP3: Cymbals Eat Guitars :: And The Hazy Sea
——————
+ Download Cymbals Eat Guitars via eMusic's 25 free MP3 no risk trial offer
——————————————————————————————————————————