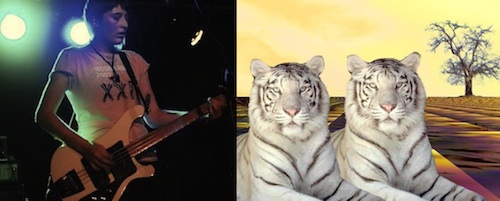 Back in L.A. after a long weekend spent in Austin with friends at Fun Fun Fun Fest. After the craziness that is CMJ last month, FFF felt like the complete opposite: laid back, relaxed and easy. Best part of the weekend was without a doubt the Jesus Lizard, but more on that later.
Twin Tigers is a band various Athens friends had been telling me about as far back as last summer while I was in town for Athfest.   I missed them then, and missed them again in L.A. last month while I was back east, but things finally came together Saturday night at the Mohawk. A four piece, the bands live show kills, reminiscent of Sonic Youth, My Bloody Valentine and Psychocandy era JAMC. Catch them on tour with The Antlers and Minus The Bear.
At present the band have a 7″ and two EPs under their belt; one of which, Automatic, can be downloaded free: here. Look for their debut full-length, Grey Waves, in early 2010 via Brooklyn based Old Flame Records.
Download:
MP3: Twin Tigers :: Sexless Love
—————
+ Download Twin Tigers via eMusic's 25 free MP3 no risk trial offer
——————————————————————————————————————————