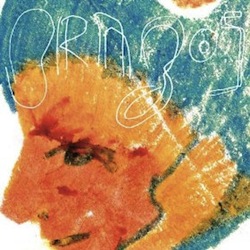 In regard to new releases, 2009 has undoubtedly been a strong year from not only our stable of sacred cows, but also some exceptional works from emerging artists as well. With Phosphorescent Blues Austin's Brazos have entered the fray of the latter. Orchestral in its approach to accompaniment, many of the album's tracks bear little resemblance to that of the band's well received debut EP, Feeding Frenzy, instead imbuing an atmosphere not unlike that of contemporaries such as mid-decade Grizzly Bear.
Expanding on the sounds fostered on Feeding Frenzy, opening track "My Buddy" is one of diverse angles. Beginning with simple plucked guitar and finger-snapping, the song slowly moves into an almost anti-climatic chorus, building and climbing until an abrupt halt. While these dynamics define the sound of much of the record, it's how they are used that makes the LP such an arresting listen.
The first half of Phosphorescent Blues concentrates on the softer side of Brazos, showcasing Martin Crane's shockingly nonabrasive voice accompanied by whirling flourishes and drones. Introspective and accessible, Crane's lyrics are aided by ambient sound palettes comprised of obtuse beats and haunting vocal contributions that drift from one place to another, though never veering off course losing your attention. Even the oddly pounded "Pues" — a piano concerto of sorts without any other instrument or voice — slides perfectly into this landscape.
Combining more of the chorus/singer-songwriter elements, the second half of the LP showcases what constitutes the louder tracks of the record. "Day Glo, " the records "single" (whose definition might best be changed to that of a blog's featured tracks… guilty), feels like a natural progression from "Pues" as it enters into a Blitzen Trapper-esque melody, pounded by a steady drum beat, strong strums of guitar and the continually thumping piano. As the record progresses, waves of riffs emanate from the bass. The frantic strumming and bristled drums help push an urgency and speed that does not subside until the record's end. It's the second-half's lyrical expression, caught somewhere between understanding (literally, in "We Understand Each Other" — but everywhere else as well) and heartbreak, that feels like the record never quite releases its pent up energy, instead content to cross the finish line on its own terms rather than in a final sprint.
With Phosphorescent Blues, Brazos is less like those that you might feel they received influence from (everyone from Simon & Garfunkel to Broken Social Scene) and more like a beautifully crafted new entry into a strong year for new releases and an encouraging decade. It's heartening to see a band morph from its demo EP days into a well-honed recorded band, free from unnecessary clamor that would take away from what it accomplishes. words/ b kramer
Download:
MP3: Brazos :: My Buddy
MP3: Brazos :: Day Glo
——————
+ Download Brazos via eMusic's 25 free MP3 no risk trial offer
——————————————————————————————————————————