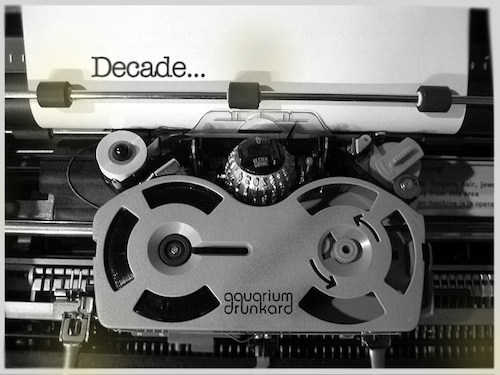 What is it that makes us want to deconstruct art by units of time? Lists. We love making them. We love arguing over them. And here, on the verge of a new decade, we're in a position to do the same again. What were the best albums of the past ten years?
Here at AD, we started talking it through and decided we weren't going to add to the cacophony of lists being put out by various music pubs. There are enough of those. Rather, we elected to let our four main writers have a chance to write about any and all of the albums they felt shaped the last decade.
From the beginning of October through the end of December, Monday through Thursday, AD will feature a post, or posts, from a particular writer detailing their favorite albums of the decade. On a given week there might be one album a writer talks about, there might be six, but they'll get a chance to have their say on everything that comes to mind. Our hope for you, the reader, is that you'll jump in with your comments on the album selections — tell us why you agree or disagree — and also be exposed to some albums that you may have missed over the last ten years. Now, as the decade starts to wind down, let's celebrate.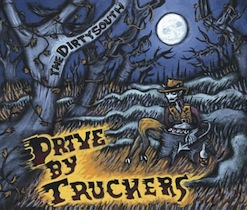 The 2000s have been the Drive-by Truckers' decade. They came to national attention with 2001's Southern Rock Opera and haven't looked back since, rattling off a total of five studio albums in the decade's time. Every record has featured three songwriters, but who the third one was, aside from band founders Patterson Hood and Mike Cooley, has changed three times. But it was when they were gearing up for their follow-up to Southern Rock Opera that they picked up the strongest of the three, Jason Isbell. 2003's Decoration Day showed off what a gift they had picked up – Isbell only contributed two songs, but they were the two that defined the album for most listeners, casual and fervent. So when, barely a year later, they released their second album with Isbell, expectations were high. The results were the band's finest hour with Isbell and of their career so far, The Dirty South.
Tensions are bound to run high in a band with three compelling songwriters competing for space, but the obvious upshot is that it makes everyone's A game just a little bit sharper, and every single one of the songwriters brought their most consistent and engaging set of songs. Wisely the album is sequenced so that no one songwriter has back to back songs. While Patterson Hood takes the lion's share of space as usual, he only contributes six of the fourteen tracks, leaving four and four respectively for Cooley and Isbell.
And what a four. Cooley's songs run from raucous, powerful rockers ("Where The Devil Don't Stay" – possibly the Truckers' best album-opening song) to tuneful, fist pumping sing-alongs ("Carl Perkins' Cadillac") and he also turns in two of his best low-key stories: the slow-burning "Daddy's Cup" and the growling, criminal-lifer tale of "Cottonseed," home to some of the best lyrical work of Cooley's songwriting career. Isbell upped the ante of his contributions turning in his own sing-along ("The Day John Henry Died") and rocker ("Never Gonna Change") along with two absolutely devastating slow songs. "Danko/Manuel" plants the Truckers firmly within the greater time line of American rock with its explicit references to the Band, and "Goddamn Lonely Love" is a completely devastating closer that renders a heartache so complete that it begs for numbness.
Salted amongst these are Patterson Hood's songs, which are often, with a few exceptions, not the most immediately accessible of the Truckers' work. His stories and words are thorny and problematic here. The bracing and brilliant "Puttin' People on the Moon" is probably the best example – a song that took me a long time to appreciate, it now seems like one of the album's truest masterpieces; a song that levels layers of scorn upon society and politics, while making one of the most problematic of entrepreneurial endeavors completely sympathetic. And it's these kinds of songs that are the representation of the album title – the duality of the South and its underbelly, a theme Patterson had begun exploring in earnest on Southern Rock Opera. Here it's given one of its best examinations in a way far more subtle than that earlier album's spoken-word piece. The same goes for "The Sands of Iwo Jima," as Patterson's World War II veteran relative examines the duality of the reality and depictions of war. His pair of songs about Buford Pusser plow through the same double-sided coin perspective.
The three songwriters at work on this album wouldn't continue working as well together – the next album showed the cracks in the unity and soon Isbell was gone, but The Dirty South remains an undeniable accomplishment, flush with amazing songwriting by three writers whose talent was at an all-time high. words/ j neas
Download:
MP3: Drive-By Truckers :: The Day John Henry Died
MP3: Drive-By Truckers :: Puttin' People on the Moon
MP3: Drive-By Truckers :: Cottonseed
———————