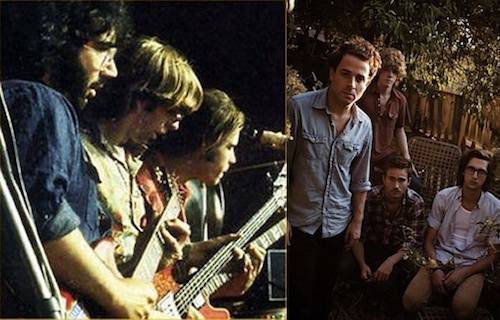 (Diversions, a recurring feature on Aquarium Drunkard, catches up with our favorite artists as they wax on subjects other than recording and performing.)
The Grateful Dead are misunderstood — I've said as much on here multiple times in the past. They also created some   of the finest American rock & roll of the twentieth century. Once you get past the bullshit that surrounds their legacy, read: the tye-dye, the dancing bears, etc, and realize none of that really had anything to do with the actual band themselves, you'll see/hear them for what they were: essential Americana. The guys in Dawes know this, and while on the road touring behind their North Hills LP, took some time out to run down their favorite studio LPs.
___________________________________________________________________________
A common criticism of the Dead is that they tend to play a little too loose or a little too sloppy, and yet have one of the greatest reputations as a live band in music.   My theory on this contradiction is that their focus as a band (maybe consciously, maybe a product of the drug use) has been simply the enjoyment and the expressive capacity of playing their instruments. And a phenomenon like that can be infectious.
I personally believe that if they were any better at their instruments they wouldn't have that 'everyman' quality to their music.   But I don't want to seem like I'm saying that I don't think they are brilliant musicians.   I just think they can unconsciously play on the audiences terms, along the lines of guys like Willie Nelson, Keith Richards or Levon Helm.   Musicians like that don't play too much beyond our understanding but learn how to make things get across a little more clearly using only the bare essentials.
The other thing I wanted to say about the above statement was regarding 'simply the enjoyment and expressive capacity of playing their instruments.'   It's almost like I think Jerry Garcia's criteria for deciding whether or not any given performance of a song is good or bad doesn't have anything to do with how 'well' or how 'clean' the song was played, but rather how much of a good time the band had playing it.   It's not an argument I could support with any hard evidence, but I do think that, somehow, it's something you can hear in their records.

Workingman's Dead (1970) :: This record marked a big turning point for the band and an argument can be given for this being the first "roots rock" Dead record.   Before this record that 'tie-dye, psychedelic, L.S.D.' reputation that plagues the band nowadays is definitely earned.   But once Workingman's Dead hit, it was a very different band with a very different sound.   No one would ever think that the Grateful Dead could be a song-driven band making a record using mainly acoustic guitars, breaking down the drum kit, putting aside the guitar solos and singing 3 part harmonies throughout.   For all of the Big Pink and Deja Vu fans looking for something else, this is gonna be one of your new favorites.
MP3: Grateful Dead :: Easy Wind

American Beauty (1970) :: While Workingman's Dead is sort of evidence of a band subscribing to a genre, American Beauty is taking control of it and re-setting the bar.   When I first heard it, I thought that the harmonies were just a little too free, that the guitars were a little too bright and dry and that the snare drum was too small and tight.   I was applying the record to my pre-concieved standards of how an American band's record is 'supposed' to sound.   But eventually, in one way or another (for me it took quite some time), you realize that no record could sound like, be played like, or written like American Beauty ever again.   And while that at first might put you off, it becomes what makes you fall in love with it.   With certain moments that had previously made you shake your head or wonder what they were thinking, you start saying 'How brave!   How perfect!'   It's what we're all trying to do as musicians.   To take all that we love about what came before us and then do everything we can to carve out our own place in it.   I know I'm making broad strokes, but anyone that gets familiar with the record will know exactly what I'm talking about I think.

MP3: Grateful Dead :: Candyman

Europe '72 (1972) :: This is one of those records that becomes so powerful and romantic   through the context.   It's a long long live record with a few questionable covers and noise jams, but several superior versions of songs from previous records and a almost a full record's worth of amazing new material.   The versions of the new songs are all great for the most part, but it still makes a fan wish that they were all lined up consecutively on one 9 or 10 song studio grateful dead record.   But since it's not, a fantasy along the lines of Beach Boys' 'Smile' or that mystery third record from D'Angelo sort of comes from it.   The raw material for the classic Grateful Dead record that never was.
MP3: Grateful Dead :: He's Gone

Wake of the Flood (1973) :: This was their first studio record in several years.   Maybe the least significant of the 5 records I'm mentioning, but still amazing and it has one of my favorite songs of theirs; Stella Blue.   I've read that since this record, that song had been a mainstay in all of their live shows for the rest of their career.   This record also has the amazing "Weather Report Suite."   To be honest, until getting into this record, I was never sure what my thoughts were with Bob Weir.   There were always great songs here and there (specifically 'Looks Like Rain' off of Europe '72) but there was also sometimes some cheesiness that is to be found in several band's 'second chair' writers.   When you think of your favorite Dead songs, they tend to be Jerry Garcia's songs every time, and maybe one or two Phil Lesh songs like 'Box of Rain' off of American Beauty, but this "Weather Report Suite" really shows that even Bob Weir was on point.   His acoustic guitar playing in the prelude is especially great, even considering that he had to stand next to   a guitar player like Jerry every night.
MP3: Grateful Dead :: Stella Blue

From The Mars Hotel (1974):: I think this is the most well played record.   For people that have listening to Workingman's Dead and American Beauty, write off the Grateful Dead as bad players, after listening to From the Mars Hotel you start to understand that the loose quality of Workingman's Dead and American Beauty is intentional…or at least conscious, and it starts to really effect your impression of those two records.   Also, between 'U.S. Blues' and 'Pride of Cucamonga,' you learn that Phil Lesh on bass and Bill Kreutzmann on drums are the kings of playing a shuffle.   This is a major record for Phil Lesh not only because of that, but because 'Unbroken Chain' and 'Pride of Cucamonga' are two of the strongest songs on the record.   The harmonies on 'Unbroken Chain' hadn't been that good on a Dead record since American Beauty.   Finally, From The Mars Hotel'has arguably the only song of theirs I like more than 'Stella Blue;' 'Ship of Fools.' Between how well Bill Kreutzmann and Phil Lesh lay back, how well the chords set up the melody, how strong that chorus is, and how tasteful that guitar solo outro is, it's a really great 5 and a half minute example of how great this band is without needing much more proof.
MP3: Grateful Dead :: Ship of Fools
+ Download Dawes via eMusic's 25 free MP3 no risk trial offer
——————————————————————————————————————————