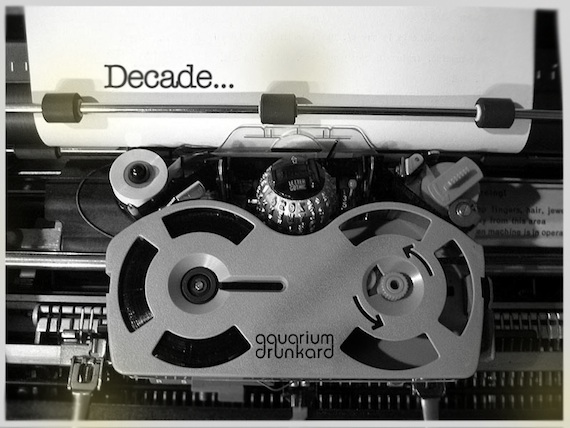 What is it that makes us want to deconstruct art by units of time? Lists. We love making them. We love arguing over them. And here, on the verge of a new decade, we're in a position to do the same again. What were the best albums of the past ten years?
Here at AD, we started talking it through and decided we weren't going to add to the cacophony of lists being put out by various music pubs. There are enough of those. Rather, we elected to let our four main writers have a chance to write about any and all of the albums they felt shaped the last decade.
From the beginning of October through the end of December, Monday through Thursday, AD will feature a post, or posts, from a particular writer detailing their favorite albums of the decade. On a given week there might be one album a writer talks about, there might be six, but they'll get a chance to have their say on everything that comes to mind. Our hope for you, the reader, is that you'll jump in with your comments on the album selections — tell us why you agree or disagree — and also be exposed to some albums that you may have missed over the last ten years. Now, as the decade starts to wind down, let's celebrate.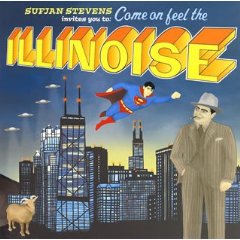 Concept albums can be tricky. In creating an overt theme or narrative, an artist is effectively applying constraints to their work, ostensibly limiting what they can do. (Ironic, given the unfettered creativity generally associated with art in any form.) The challenge of staying within those boundaries runs the risk of failure, but it also carries the potential of enormous success. Sufjan Stevens represents what happens when someone meets the latter, and he's damn near made a career out of it.
His ambitious 50 States Project seemed equally insane because of the breadth (50 states!) and the individual challenge of each record. When he released Greetings From Michigan in 2003, he proved he could do it wonderfully. But by the time he hit Illinois two years later, he proved he could do it better.
Even if Stevens' velvety whisper is softer than your taste, it's hard to deny the sheer magnitude of the record. llinoise is as complete an album as there is–lyrically erudite, instrumentally ornate and thematically sincere to the project.
His verses read like a poetic history of the state, nearly every song is remarkably dense with facts and events from Illinois' past (too many to name here), while incorporating universal messages that reach far beyond its borderlines. For instance, the (sort of) title track is framed around the 1893 Chicago World's Fair: "From Paris, incentive, like Cream of Wheat invented / The Ferris Wheel." (Cream of Wheat and the ferris wheel debuted there.) But inside his deft rhyming, he asks, "Cannot conversation cull united nations," implying that for all the pomp of something like a world's fair, does it really take great architectural achievements, a carnival ride and a creamy grit-like substance to bring people together peacefully? Does it really take anything other than us? Realizing this–and in sharp contrast to its bouncing ivory opening–the song comes to a desolate end, sewn together with a weave of strings and padded with a soft harmony.
His message is oft supported by a chorus of backup singers, angellically harmonizing with each other, and Steven's himself. "Decatur" is an in-step duet, while "Chicago" features a parade of singers over a blanket of strings. At other times, though, the chorus is intentionally aloof, as in the more desperate "The Seers' Tower," where Stevens is alone, save the subtle howl behind him.
But this isn't simply a songwriter's journey. If you remove the lyrics and harmonies altogether, the symphonic prowess could almost stand alone as an instrumental record–violins, banjos, guitars, bells, percussion, hand claps, tambourines, trumpets, flutes, piano, and Stevens playing many of them himself. But it's never too outlandish, never over done. Because just as "Jacksonville," "To the Workers of Rock River…" or "Chicago" could replace the orchestra pit at L.A.'s Disney Concert Hall, something like "Casmir Pulaski Day" features pared-down, folkier turns (seen previously on Michigan/Seven Swans), with simply a banjo and guitar as the focus.
From the lyrics to the instrumentation, it all fits into the Illinois centerpiece. It's at turns playful, upbeat, lonely and frustrated, but always beautiful. It's massively composed–a huge record–but never feels too big, and sometimes even feels small. Simply put, it's too masterfully crafted a piece to adequately discuss without a few hours to spare. The only real way to understand the concept is to listen to it. words/ j crosby
MP3: Sufjan Stevens :: Chicago
MP3: Sufjan Stevens :: Casmir Pulaski Day
———————