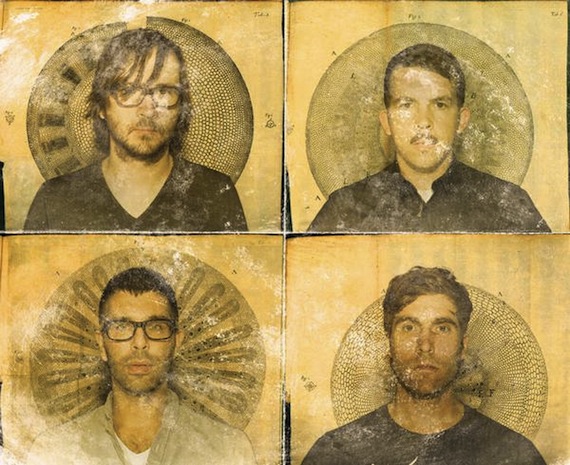 (Diversions, a recurring feature on Aquarium Drunkard, catches up with our favorite artists as they wax on subjects other than recording and performing.)
Bear In Heaven just released Beast Rest Forth Mouth their sophomore LP and second release via our friends at the Hometapes label. Before their show at Lit Lounge, last month during CMJ, I got to talking with bassist Adam Wills about the band's southern roots (Georgia/Alabama). And while they have now hung their collective hats in Brooklyn for the better part of a decade, their roots still show. The guys reflect below.
_____________________________________________________________________________________
Jon Philpot (keyboards, guitar, vocals) When I left the south for NYC, I was escaping.   I was sick of struggling for work, tired of driving my car everywhere and I wanted something bigger in life than the south could offer.   I loved my friends there, but I was tired of hanging out at the same spots – all the time.   Good concerts were scarce and good art was overshadowed by lots of bad art.   Plus, the girl prospects were shrinking as the small town dating scene swallowed it's own tail.   By the time I left I'd probably had second hand sex with all of my friends.   Now I'm 10 years deep in Brooklyn and I love it.   I don't regret moving here…but dammit, my heart yearns for the south with every passing year.   I miss drinking beer on the front porch and yelling HELLO at deaf old Mr Johnson next door.   I miss 4 wheeling and eating good cheap southern cuisine (BBQ, Chick-fil-A, El Myr).   I miss seeing my family more than twice a year.   I miss people who say hello when you pass them on the sidewalk.   I miss going to house parties in a house.   I miss backyards, porches, the woods, thrift stores, basement shows, weird art rednecks, southern accents, southern hospitality, southern bells, sleepy dogs, slow tempos and local gossip.   One thing I don't miss is DUIs…its hard to get one in the back of a cab.   Who knows if I'll ever pack up and move back.   I doubt I'd go back to Atlanta if I did…maybe I'd move to Athens or Asheville.   Till I decide, I'll keep hanging out with my ex-pat southern friends here in Brooklyn.
MP3: Bear In Heaven :: Lovesick Teenagers
MP3: Bear In Heaven :: Wholehearted Mess
——————
+ Continue Reading After The Jump…..
Adam Wills (bass and guitar) Yes sir. Yes ma'am. I wear my southern accent proudly. Nearing a decade above the Mason Dixon, and if anything, it's gotten more prevalent.   I was born and raised in Atlanta/Marietta, GA.   Grew up shooting guns, playing in the dirt and going to Cotillion.   I don't think I could be more proud to be Southern.   The south is just absolutely magical to me, there's nowhere like it, and it fills my heart with joy when I get to return.   The air is different there. The smiles are different there.   I miss the south so. I miss my family, sweet tea, southern eccentrics, and I could go on…   But like Jon, when I left as an escape which has less to do with geography, and for more personal reasons.. Though traffic and right wing politics may have played a big roll.   NYC is now my home.   It feels amazing here, with so many southern friends… It's quite bizarre that I seem to have a difficult time meeting people who AREN'T from Georgia, North Carolina, Alabama or Texas…   Though most Brooklyn residents will tell you, it's very much a small town.   I have a nice apartment with my cat, my practice space is 2 blocks away, my local watering whole is blocks away, laundry, coffee, grocery, all within 2 blocks and I can walk or ride my bike to every single friend I know under 10 minutes….   These are elements to life that I realized were absolutely necessary when I moved to Savannah, GA for college.   Basic life needs a short walk away, I'd have the hardest time giving that up, though maybe I could trade that in for some acreage and a pick up.
Joe Stickney (drums) I grew up in an idyllic little area on the Eastern Shore of Mobile bay in south Alabama. I spent my younger years fishing on the bay; catching water moccasins and turtles, skinks and newts in the creeksand woods surrounding my   home. If I shot a bird or a squirrel in any of my exploring it was family policy that I skin and eat it. Not that my family was hard up for food, it was a question of ethics. I think. In my later youth I played lots of music at school and with my friends and smoked lots of weed on dirt roads, by the bay, in tree houses, by campfires, on boats, in cow pastures, in corn fields… all over really. I left Fairhope to go to Savannah, GA for art school. I wanted to be a painter. Savannah was not too dissimilar from where I grew up, actually, but I liked it quite a bit. Savannah is kind of like a caricature of the south. The humidity feels even denser than the swampy region where I grew up. A pile of leaves on the sidewalk will suddenly scatter, revealing itself to be a collection of palmetto bugs: great big, flying cockroaches that will target you and head straight for your head when they come cruising down out of the trees. The live oaks seem almost to sag with the weight of the Spanish moss hanging from their limbs. It's a pretty great place, but the big city eventually lured me into its rocky shore and I've been stuck here since. I love it here. I love the activity and the variety and the food and the music and the museums and the ability to go out and get royally hammered with your friends and just take a train home at the end of the night. There are so many people here, I think it makes it easier to find people of the same ilk as you. I think about the South all the time and could seriously see myself moving back at some point, but there are a lot of fucked up mentalities going on down there. Racists and bigots abound. One thing we've learned in this last year is that if you want to find out how many people in your town are racist assholes, elect a black president. It's totally unbelievable, the shit that comes out of peoples mouths down there. That's what I don't miss, and what could potentially keep me away. Otherwise, it's goddamned beautiful. words/ bear in heaven
+ Download Bear In Heaven via eMusic's 25 free MP3 no risk trial offer
——————————————————————————————————————————————