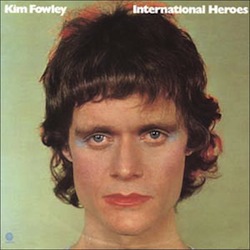 Waxed around the time he produced legendary recordings by the Modern Lovers it's no surprise that it's one of the best albums from the ubiquitous Kim Fowley. Son of actor Douglas Fowley, Fowley produced the novelty hit "Alley Oop" in 1960, then went on to release some commercially unsuccessful solo albums, produced and wrote more oddities for other artists (including Kiss) and eventually unleashed the Runaways on the world. And that's just to name a few. He even found time to write songs with Skip Battin, which were recorded by the Byrds (Untitled LP) and Gene Parsons.
Those who've worn out their copies of Roxy Music/Eno/Bowie albums will be thrilled to exhume this forgotten (read: widely unknown) specimen of oddball glam. Judging from the cover, he didn't want to leave anyone guessing about the sound he was shooting for. This platter plays like an instant classic, falling into some no man's land somewhere between Roxy Music and the New York Dolls. Like Eno, he's often playing post-punk years before it existed, but Fowley's songs are looser and more accessible, sure to get you hooked on the first spin. "Something New" is simply a perfect pop song with a great update on a Byrdsian jangle feel. "I Hate You" is a gloomy slice of contempt that'll leave you feeling good about your shitty mood. There are nice female soul/gospel backings throughout. "Dancing All Night" rocks like a garbage can bound outtake from Sticky Fingers.
International Heroes is yet another example of an exceptional rock & roll record that is in dire need of a remastered CD release (though it is on iTunes). Good luck finding any cheap copies on ebay. words / j bonanno
MP3: Kim Fowley :: International Heroes (vinyl rip)
MP3: Kim Fowley :: E.S.P. Reader (vinyl rip)
Only the good shit. Aquarium Drunkard is powered by our patrons. Keep the servers humming and help us continue doing it by pledging your support via our Patreon page.