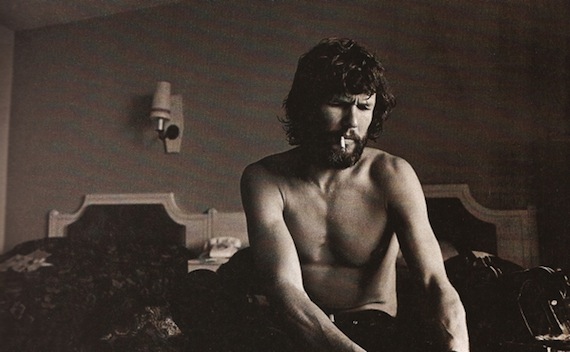 (Diversions, a recurring feature on Aquarium Drunkard, catches up with our favorite artists as they wax on subjects other than recording and performing.)
Earlier this year I asked Roadside Graves' John Gleason and Jeremy Benson to wax a bit about one of their favorite songwriters, Roger Miller, as the Graves music is nothing if not story driven. In August, while the band was in L.A. doing one of their four gigs that week, Jeremy and I got to talking about the piece. I asked if their was anyone else they had in mind besides Miller. Only one, he said, and that was Kris Kristofferson. Below, John, Jeremy and Rich each discuss America's warrior-poet, and their relationship with his music. And if you missed it, be sure to read our interview with Kristofferson from earlier in the month.
_____________________________________________________________________________________
John on Kris: Let's consider the name Kris Kristofferson. It sounds good, it looks good, it's memorable, but it's not constant. Probe your family this Thanksgiving and ask who is Kris Kristofferson and you are likely to find that they recognize the name but attach a different persona depending on their age and interests. To my mother he is the guy with his shirt off holding Barbara Streisand, to my brother he was the weapons expert in Blade, to my father he was the guy who sang about having beer for breakfast, and then there's my own Kris Kristofferson. I hope I never meet him because my expectations are tremendous and unfair.
In high school I hung out with the kids who sat out for gym, the pale kids who sat on the top bleacher and listened to their Sony Walkman, yet I always changed for gym and ran laps. Sometimes I even sprinted and exceeded the required sit-ups despite the commentary from above. It's human to be contradictory, to not fit expectations, to be accepted by one group and still free to piss them off. Or, in Kristofferson's world, it would be to drink and write songs all night and then climb a mountain the next morning.
Kristofferson's songs are confident and weary. They are intelligent songs that carefully detail the thin thread between personal relationships and the responsibilities of being human. There are traces of regret, piles of compassion, and hints and maps on how to live. You believe every word because it's honest and direct and accessible. Play his first two records for anyone who declares they like all genres of music except country and you may persuade them otherwise.
Recently we were lucky to sit in the first row of his one-man show at McCarter Theater in Princeton, he blew his nose frequently, and looked at us and said, "You paid a lot of money to see and an old man blow his nose."
MP3: Kris Kristofferson :: Darby's Castle
This is a small gem. "It only took one night to bring it down, when Darby's castle tumbled to the ground". A story song about a man obsessed with building a grand home for his wife and himself. You fill yourself up with ambition to make sense of the world, to find your place, and hope to be remembered by what you do. Or quite frankly you write songs, you sing, you play shows and you consume most of your free time trying to fulfill this strange ambition but you can't pretend or assume that everyone in your life is satisfied. Sadly, sometimes you find out too late. And without them, there is no ambition or will to create anything and you no longer have the luxury or the time.
MP3: Kris Kristofferson :: Sunday Morning Coming Down
This song has my father's second favorite line, "Put on my cleanest dirty shirt" (Townes Van Zandt's "Your breath as hard as kerosene"   was always the first).   My father was a real estate agent who wanted to be a professional gambler. He never wore dirty shirts, but he, like many, loved the idea of being a character. Like reading Charles Bukowski or Hunter S. Thompson, it's easy to emulate the character they present, but beyond the intoxication really is the freedom. Kristofferson, or the character in this song, is completely free. He has the time to drink two beers before putting on clothes in the morning. It almost doesn't matter that he regrets the decisions this particular Sunday is reminding him of, because it sounds so damn cool. Sober or hung-over it is a song to end the week. A day where expectations are low and nightlife is unwelcome, a day to reflect on the choices you've made. You should be lucky to have the time to hear the bells, or to watch something as mundane as a kid kicking a can. Except of course if you do this every day of the week, then it's just a big waste of time.
+ Continue Reading: Jeremy and Rich on Kristofferson After The Jump…
_____________________________________________________________________________________
Jeremy on Kris: Someone had bought me a Kristofferson "Best Of" CD for Christmas and it sat unopened on my desk for a week. I was just getting into country music — my only other country CD was a similar collection of Johnny Cash songs that I'd bought for $5.99 at Walgreen's at 3am on a whim (we used to walk there in the middle of the night, hang out in the back playing ball and when need be we'd take our leaks between two sleeping trailers). It seemed a natural progression though: once you get into Dylan, it cracks the world open in terms of what counts as 'good' music…. blues, country, Tin Pan Alley. You start to send of signals to your family and friends, unbeknownst to you, that you are hungry for something new- for the fresh perspective new music can offer- and they read these signs and get you the records you need, or maybe you find them in the trash… either way the artists you need somehow find their way too you.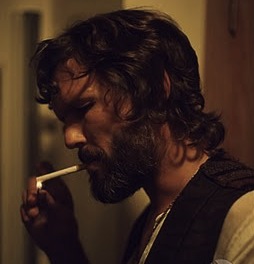 I finally listened to the Kristofferson album on New Year's Day, 1999, after walking home in the coldest shit-ridden morning I can remember. I was in a state, disoriented and sick, and things seemed be reaching a destructive crescendo, a life within a life spinning out of control. I put Kris on my old boombox, and the first song was "To Beat the Devil." It's hard to pinpoint how or why a certain song hits you so strongly at a certain time, and everything henceforth is changed. It's a kind of enlightenment for the undisciplined, satori for jokers.
I sat there, disgusted with myself and everything around me, soaking in this song about a guy for whom "lonesome was more than a state of mind." Kris seemed to take the indignities of our endless fumbles and failures and find the glory in them, the "hallelujah" Leonard Cohen sings of.   "To Beat the Devil" celebrates the struggles and losses that are inseparable from honest, authentic living. Emulating the image on the cover, I decided to grow a beard.
MP3: Kris Kristofferson :: To Beat The Devil
"I was born a lonely singer and I'm bound to die the same, but I've got to feed the hunger in my soul/ and if I never have a nickel I won't ever die ashamed, 'cause the truth remains that no one wants to know."
One of my favorites that I came across years later is "Out of Sight, Out of Mind," from the album Jesus Was a Capricorn. It's a song about being in a band, and the ups and downs of touring…. "splitting from a sorry gig that left us feeling flat." We sure have played our share of those, as I'm sure any band out paying its dues has. We've brawled with acid-eaters in Jackson, played for empty rooms in St Louis, Scranton, and Savannah among others, and we've come out in the red almost every time. But what sustains our band on those nights (aside from Ramen and booze), and what this song so beautifully speaks to, is the camaraderie of bandmates. The shitty shows make you unified and tough: "Buddy tip your bottle back and climb aboard the bus, join your brothers in the band/If you ain't bombed in Birmingham, then you ain't one of us, we don't really give a damn…"
Kristofferson's music nourishes because he writes without pretension. He's clever, sad, tough, broken, funny, and honest. His success has been hard fought, no doubt. We all struggle to squeak by with our day jobs, and it's funny trying to explain to people why I pour all this time and energy into something that doesn't pay, when I'm generally broke.   Out of Sight, Out of Mind reminds me why I make music, and why it's essential to do it honestly and unapologetically, and how that in and of itself is payment enough.
"Someday when it's over and it's time to settle down, and we've left it all behind/ We can sit and wonder how we ever got around, out of sight and out of mind…"
_____________________________________________________________________________________
Rich on Kris: For me, Kris Kristofferson has been the soundtrack to countless road trips and late nights for over a decade.   His deep voice and deeper words have been a constant in my life, and I am a better person for it.
Most of my fondest moments spent with friends and family have been spent with Kris.     Late nights in the car, the lines whizzing by, but not as fast as the gospel in Mr. Kristofferson's songs.   My friends and I have spent some of the best times of our lives with his records.   His music has been a big influence on my life, not just the thumb-pick I use when I play guitar, but my sense of right and wrong-   and the honesty to admit to yourself when you don't know which is which.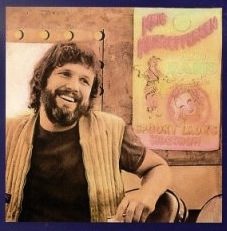 I was lucky enough to receive Spooky Lady's Sideshow as a birthday gift from Jeremy early in my interest in Kris. If "Sunday Morning Coming Down" is how you spend your Sunday, then "Star Spangled Bummer (Whores Die Hard)"   is probably how you spent your Saturday night… many people make out the overt drug and alcohol references, probably due to "I Smoke Too Much" being the lead single, but there's substance to the songs, as opposed to so many modern party rants.
For months my friend Ed and I would listen to it in our tiny apartment, singing to Magdalene as the sky filled with orange, the morning breaking, the Hammond organ as bright as the circle around the sun.     The two of us singing along to "Smile At Me Again" – "Lord I'm still a stranger / in this God forsaken land / Farther from my future / and my friends / I'm gonna take enough to wake me up / And make me on last one night stand / Then take me home to something's gonna smile at me again."   And only three years after he passed away would I really understand the line "Nothing looks as empty as a motel bed."
The recording, produced by David Anderle, is amazing, the opening acoustic guitars on "Same Old Song" chiming out in glorious 1974 stereo.   A song I think every band in the world can identify with on some level.   The thick warm piano and Kris's voice just draws you into it in a way that so many records can't even attempt to duplicate.   His voice can bite with the anger of a thousand spears, make you laugh, educate you, or wrap you up in a warm, comfortable blanket on a cold, lonely night.
"Broken Song of Freedom" is one of my favorite Kristofferson songs.   It never fails to bring me to tears.     The brother, the mother, the martyr- everyone identifies with one of the three characters in the song. Or maybe you know one. And if you don't, well, maybe you ain't human.   Lee Sklar's bass snakes high in places, synching in with Sammy Creason's drums in a smokey groove, the band building to a crescendo as the backing singers rise and fall in the background.     The hi-hats and kick drum carry through the fade out, always making me wish it never ended.
MP3: Kris Kristofferson :: Broken Song of Freedom
It's as if it was all surgically designed for a dirty old jukebox in the middle of nowhere, south of hope, a lighthouse in a smokey bar, to make a solitary Saturday night a little less lonely… "No one's missing till you need em / It ain't no fun to sing that song no more." But maybe everyone misses someone, and we all need to sing it about it once in a while.
MP3: Roadside Graves :: Far And Wide
MP3: Roadside Graves :: Ruby
——————
+ Download Roadside Graves via eMusic's 25 free MP3 no risk trial offer
———————————————————————————————————————————————