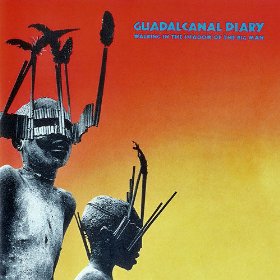 Think of them as REM's quirky cousin. Or, don't.   If you're of a certain age and spent some time listening to college radio or watching late-night MTV in the '80s, you might remember Guadalcanal Diary's brief incursions into the collective pop consciousness. First with 1984's "Watusi Rodeo," which made the cut for the music network's "The Basement Tapes" (as selected by a panel that included members of INXS, Nick Lowe and…Ronnie James Dio) and later on "120 Minutes" with 1987's "Litany (Life Goes On)" (notably sandwiched in its debut appearance between Love & Rockets' "No New Tale To Tell" and The Cure's "Just Like Heaven").
"Watusi Rodeo" serves as the backbone of the Marietta, GA-based quartet's phenomenal full-length debut Walking In The Shadow Of The Big Man. It's as good an introduction as any to this spectacularly underappreciated band. Part proto-cowpunk, part jangle-pop; part novelty song, part serious social commentary on the ills of imperialism and slavery, it's a rare tune that might have found the Pi Delta Pis and Lambda Lambda Lambdas some common ground on the dance floor.
MP3: Guadalcanal Diary :: Watusi Rodeo
The balance of the album is no less schizophrenic, with front man Murray Attaway's lyrics touching on everything from collateral war damage ("Trail of Tears") to perverted evangelism ("Why Do The Heathen Rage") to a paramour's paranoia ("Pillow Talk"). Yet, thematically, it stays faithful to its title. Whatever the "Big Man" in question is–your own imperialist government, a vengeful god, or just the mysterious dude that moved in next door–you can't ever quite shake the idea of him. Or how he might eventually screw you over.
MP3: Guadalcanal Diary :: Litany (Life Goes On)
Musically, WITSOTBM maps out the territories the band would explore throughout its stellar career: the aforementioned jangle and twangy punk, but also elements of prog (the album features two somewhat spacey, yet rad, instrumentals) and straight-up folk. The record's closer, fireside-singalong standby "Kumbaya," perfectly captures Guadalcanal's steadfast refusal to bow to convention. What begins as meditative invocation segues into a startling, cacophonous freak-out. It's cathartic, but have our campers have been touched by an angel or are they raging against an unavailable deity? Either way, it sounds like heaven and is fun as hell.
The band would produce three more LPs, two of which (1986's Jamboree and 1987's 2X4) easily challenge WITSOTBM for best-album status (their 1989 swansong Flip-Flop, while certainly not a flop, does come off as a bit flip). And yet, they're largely out of print and rarely come up in conversation. So what happened?
Looking back, it's hard not to see another "Big Man" in the mix: that band that starts with an 'R' and ends with an 'M.' It probably didn't help that they shared a producer–Don Dixon was fresh off working on Murmur with Mitch Easter when he worked on WITSOTBM, and was likely in the midst of making Reckoning. There is also a considerable vocal similarity between Attaway and M. Stipe (at his most intelligible)–more than one person (okay, mostly girlfriends) has been fooled. And despite hailing from greater Atlanta, Guadalcanal was by-and-large lumped into the "Athens Scene." As much as all that probably benefited them as an active band, it's probably hurt their legacy. Who wants to listen to an REM 'knockoff' or 'wannabe' these days, after all, when REM has done a plenty fine job of that themselves?
But Guadalcanal Diary was more than that. The band's live show was second to no one's. Epic, sweaty and by turns comedic and poignant, they made fans the old-fashioned way–by playing their asses off. The records solidified that small-but-loyal base. Newer REM fans who skew pre-Green should embrace this band, even post-mortem.
When Guadalcanal got back together to play a series of shows in the late 90s it was clear that, for the initiated, the fervor never waned. Sure, it was no Pixies reunion, but the venues were packed with adoring crowds that spanned three generations, in some cases. If there is any justice in this world (I know, indulge me here), one day Guadalcanal Diary will join bands like Stipe & Co, The B-52s, Widespread Panic and (ahem) Collective Soul in the Georgia Music Hall Fame, standing shoulder to shoulder with giants, out of the shadows at last. | j kress
Aquarium Drunkard is powered by our patrons. Keep the servers humming and help us continue doing it by pledging your support via our Patreon page.