What is it that makes us want to deconstruct art by units of time? Lists. We love making them. We love arguing over them. And here, on the verge of a new decade, we're in a position to do the same again. What were the best albums of the past ten years?
Here at AD, we started talking it through and decided we weren't going to add to the cacophony of lists being put out by various music pubs. There are enough of those. Rather, we elected to let our four main writers have a chance to write about any and all of the albums they felt shaped the last decade.
From the beginning of October through the end of December, Monday through Thursday, AD will feature a post, or posts, from a particular writer detailing their favorite albums of the decade. On a given week there might be one album a writer talks about, there might be six, but they'll get a chance to have their say on everything that comes to mind. Our hope for you, the reader, is that you'll jump in with your comments on the album selections — tell us why you agree or disagree — and also be exposed to some albums that you may have missed over the last ten years. Now, as the decade starts to wind down, let's celebrate.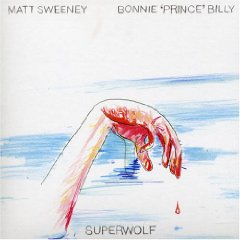 Throughout Will Oldham's remarkable output this decade (roughly two dozen LPs, EPs, live albums and contributions), he's been known to regularly team with friends and cohorts in the studio. His supporting cast seems to shift with each record–brothers Ned and Paul, David Pajo (Slint, Tortoise), Jon Theodore (The Mars Volta) and Andrew Bird, among many others. With Tortoise, he released the covers album The Brave and the Bold. He paired explicitly with Dawn McCarthy on the now-out-of-print Wai Notes, and she was prominently featured the year before on The Letting Go. But of all his collaborations–of all his work this decade–his finest hour was with journeyman Matt Sweeney on 2005's Superwolf.
Sweeney (formerly of Chavez and Billy Corgan's Zwan, with Pajo) had contributed before to the Prince's oeuvre, on 2001's Ease Down the Road, and as a touring guitarist. But before 2005, it had been a mostly anonymous contribution hidden beneath the Bonnie "Prince" Billy persona. The reason Sweeney bears explanation here–and credit–is because he's a great deal responsible for Superwolf standing out among an impressive list of Bonnie credits.
As always (save his covers record), Oldham wrote the lyrics here, but Sweeney provided the music. As fans probably know, Superwolf's electric tone rarely figures so significantly in the Oldham library. (It was seen again in different form on this year's Beware.) And there might be good reason for that, as the plugged-in composition could, if not carefully constructed, overpower Oldham's warble. But here, Sweeney manages to serve the words, rather than overwhelm them.
"My Home Is the Sea" bends a Dead-esque instrumental digression between verses, deftly occupying space with noise where Oldham might've previously relied on quieter contemplation. A more aggressive display of crashing guitar wails in "Goat and Ram" match the imagery found in the title, while invoking the power of the final verse, "Though fire burns and war is woven / The hands they strike / But still there's loving." Possibly the best instrumental moment on the record is its simplest. "Blood Embrace" drifts across one riff that quietly repeats itself behind Oldham's voice. When spoken-word dialogue breaks in (via the 1977 film Rolling Thunder), finding a woman confessing her infidelity to a man named Charlie, the guitar current steadily persists. This monotony signals the solitude of thought. "What are you gonna do?" the woman asks. "I'm just gonna sit here," Charlie says.
Superwolf also finds Oldham at his songwriting best–heavy interpersonal themes, sometimes bleak subject matter, dark humor and silly self-deprecation are all present. It's as if some of Oldham's best moments, pre- and post-2005, converged on Superwolf. The psych-folk from Joya twists itself in and out, while the cautious optimism and emotional strength of The Letting Go buttresses what might otherwise be an extremely fragile psyche. The third-person introspective of Beware objectively and incisively cuts to the core of Oldham, but with an even more personal approach, a la the Palace Brothers debut. And probably most importantly, it carries his trademark outward cynicism borne from an inward and possibly desperate place, famously captured on I See a Darkness. Delivering them in his most even timbre to date–removing some of the forbidding quiver–makes his songs more manageable to listener throughout the course of the record. It allows you to think about the songs without the draining and intellectually exhausting experience of considering such abstract (and sometimes depressing) concepts as love, relationships, insecurity and inadequacy.
There are so many emotional elements involved, it's tremendous enough a feat that they are all adequately conveyed through words. The fact that they are equally expressed through an amp makes Superwolf all the more impressive. words/ j. crosby
Aquarium Drunkard is powered by Patreon, which will allow readers and listeners to directly support our online magazine as it expands its scope while receiving access to our secret stash, including bonus audio, exclusive podcasts, printed ephemera, and vinyl records. Your support will help keep an independent cultural resource alive and healthy in 2020 and beyond.