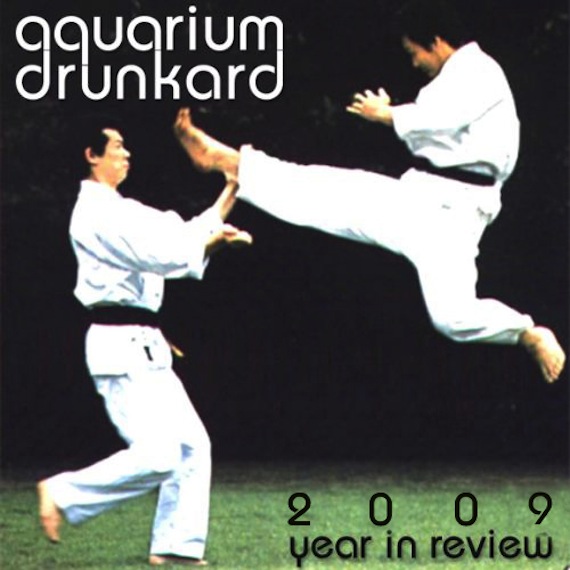 Here it is — our obligatory year-end list. Mixing things up, I decided to take a different tack this year and feature more than fifteen albums (see: previous year-end lists). With one caveat: none of us could write more than several sentences about each LP as the Decade series has been lengthy enough. An exceptionally strong year for new music, even expanding our list considerably it was difficult to leave out some very worthy contenders.
As always, except for AD's album of the year, Veckatimest, the below list of records is not ranked in any particular order. Enjoy, we did. — j gage, j neas, j crosby, m garner
_____________________________________________________________________________________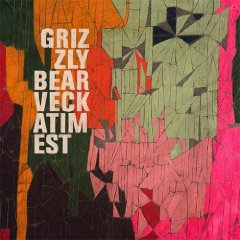 Grizzly Bear's third LP and best to date, Veckatimest feels cinematic in scope, like a 12-act progression through a beautifully constructed panorama. Its lavish composition finds multiple moving parts coalescing into a single, tangible whole, where even wordless moments are fat with enchanting imagery. Listening to it is like trying to chart a swift breeze by the flutter of the leaves it touches. It weaves in and out and wanders in circles. That isn't hyperbole or an attempt at conceptualizing the abstract; you literally find the music moving around you, at times predominantly in front, swimming to the side and swooping behind before flying back around. Take the introduction, "Southern Point," a kaleidoscopic five minute song with jazz inclinations that makes you nearly forget for a moment that someone is even singing as you get caught up in simply following the sound. Throughout the album, ornate arrangements, accompaniment from the Acme String Quartet and Brooklyn Youth Choir, and even episodes of acoustic solitude assist in that intoxication. Such simple complexity doesn't peel away its layers in just one or even 10 spins through. Even "Two Weeks," the critically adored standards ballad and most straightforward lyrical vehicle on the record, does not fully unfurl itself until you've had time to absorb its plea to quietude amid a sometimes frenzied relationship, the plea itself a slow indulgence.
Founder Ed Droste has noted that Veckatimest is the first time the group has truly collaborated, creating each step together rather than patching together piecemeal from the individual creative efforts of its members. Infusing a more collective element from the start is likely primary among reasons for Veckatimest's subdued extravagance. It's allowed Grizzly Bear to compose a seamlessly diverse and innovative piece in which even more obvious genre samples, such as the aforementioned jazz and standards forms, are still almost lost under the ethereal elegance of its atmosphere. Only upon returning to the record repeatedly, skipped tracks be damned, can you expect to discover the variegated textures of their colorful and meticulous efforts. Ironically, this is made all the more difficult as each new discovery can distract from the potential of the next, so as the record comes to a close you once again find yourself pressing play. (buy)
_____________________________________________________________________________________

Big Star :: Keep An Eye On The Sky – At long last the pioneers of power-pop get their due with this meticulously crafted box set. Essential, as in, if you've somehow missed out on this chapter of rock history, here is your all-in-one tutorial. (buy)
Death :: For The Whole World To See – Whoa, holy shit – where did this come from?!? Earlier this year Drag City Records unearthed and unleashed this '70s proto-punk wallop on the masses. Imagine if Bad Brains had taken up residence with the MC5 gang in Detroit Rock City. Fierce. (buy)

Ghana Special: Modern Highlife, Afro-Sounds and Ghanaian Blues 1968-1981 – The past five or so years have found me digging for more and more non-western sounds, namely rare and out of print 60s and 70s highlife/afrobeat. This is in large part due to the efforts of labels like Soundway. Ghana Special is no exception. (buy)
MP3: K. Frimpong & His Cubanos Fiestas :: Kyenkyen Bi Adi

Atlas Sound :: Logos – Bradford Cox continues to impress, whether recording with Deerhunter, or here under his Atlas Sound moniker. A true student of music, Logos mines yet another set of Cox's varied influences with typically impressive results. One of my favorite artists of the second half of the decade. (buy)

Sharon Van Etten :: Because I Was In Love – A sleeper, Van Etten's Because I Was In Love was quietly released by Drag City only to gain momentum the old fashioned way: by word of mouth. And it is all the better for it. (buy)
Tune-Yards :: Birdbrains – 45 schizophrenic minutes of clanky beats, folky yelping and quasi-yodeling. Sound good? You bet. By far one of the more interesting records I happened upon the second half of the year.   (buy)

Woods :: Songs of Shame – Their strongest release to date, Songs of Shame finds Woods maintaining the spirit of the best of their pre '09 work in the midst of tightening everything up from the inside out. A high watermark in lo-fi in a year filled with an exceptional amount of fuzzed out gems. (buy)
Jordan Mason & The Horse Museum :: Divorce Lawyers I Shaved My Head – A harrowing look into one man's psyche, Divorce Lawyers proved to be the outlier, weirdo, folk album I pulled from repeatedly. Further proof there are strange things afoot in the frozen north.
Circulatory System :: Signal Morning – Recorded over the span of 8 years, Signal Morning marked the long awaited follow-up to Circulatory System's 2001 debut. While the psychedelia is still intact, Signal Morning finds itself existing in an universe more Tim Burton than Yellow Submarine.   And yes, it was worth the wait.

Vic Chesnutt :: At the Cut – Chesnutt's second collaboration with Guy Picciotto and Thee Silver Mt. Zion is even better than the first. His lyrics, so personal and yet so broadly adaptable, are like a good book worth reading and re-reading. This is arguably Chesnutt's finest hour yet. (buy)
J. Tillman :: Vacilando Territory Blues – This is the album where it all came together for J. Tillman. Greatly expanding on his past LP's sparse arrangements and instrumentation, Vacilando marks his best work to date and a beacon of great things to come. (buy)
Cotton Jones :: Paranoid Cocoon – Eschewing the cutesy bounce-pop of Page France, Michael Nau officially marked his long-time Cotton Jones side-project a full-time endeavor with Paranoid Cocoon, an lightly psychedelic turn on middle '60s diner-juke tunes. Nau's gravelly drawl is balanced by Whitney McGraw's twinkling call; a lone chain-smoking, coffee-drinking vagabond being pulled into brief comfort by an ethereal midnight siren. Musically and lyrically, dark atmospheres are textured warm and passionate like the soft amber of lamp-light and candle-flame. (buy)

Extra Golden :: Thank You Very Quickly – The half-Kenyan, half-American band got touring visas from pre-President Obama a few years back and their music has risen as steadily as his star.   Thank You Very Quickly is their best effort yet, crammed with locked-in guitar clamber and high-stepping melodies that match the percussive flings of African guitar with the power of American rock 'n' roll. (buy)
Mulatu Astatke and the Heliocentrics :: Inspiration Information – You may know Astatke's music from Ethiopiques or perhaps Jim Jarmusch's Broken Flowers.   The Ethiopian jazz legend just finished modernizing his native music as part of a fellowship at Harvard.   Here, he teams with UK noise-jazz freaks the Heliocentrics for a record heavy on texture.   It maybe shouldn't work — Astatke's piano runs are so delicate that they should break under the pressure — but the two unique sounds fold into one another beautifully. (buy)
Malajube :: Labyrinthes – The Arcade Fire may get all the press, but Malajube are the true kings of the Montreal music scene.   Here the Francophone group is just as comfortable with Beach Boys harmonies and eerie piano romps as they are with caterwauling through walls of guitar noise. (buy)

The Antlers :: Hospice – For a quick understanding of Hospice, turn to the coupling of "Kettering" and "Sylvia," two tragically beautiful masterpieces so restrained in representation and meek in tone that you want to hold them tight before they disappear altogether. But as soon as you think they'd fade into hopelessness, they spring to defiant life. Such is Hospice, the story of man waiting at his child's deathbed. An atmospheric triumph of spirit covering a vast range of emotion, Hospice carries the weight of despair, but is ultimately a story of survival. (buy)
Jens Carelius :: The Beat of The Travel – Carelius' sophomore album hit our radar relatively late in the year, but not without impact. A pure folk gem, The Beat of The Travel summons the best parts of Nick Drake, Bert Jansch and Cat Stevens with only slight modernity, possibly mistaken for a 40-year-old out-of-print Briton folk document on blind listen. And like those, it seems equally soaked with late-afternoon sun splashes and misty, overcast cottage environs. Its Kerouacian title suggests–and delivers–a relationship with a land bepopulate and its impact the human condition. Existential folk at its finest. (buy)
Dirty   Projectors :: Bitte Orca – The thing about Bitte Orca is that no matter how many times you let Dave Longstreth and co's piney rhythms work you over, they still manage to slide around you and catch you off guard.   The delayed meter of "Temecula Sunrise" alone put the album on my list, but the spiky guitar workouts of "Useful Chamber" bumped it up to the two-spot. (buy)

Condo Fucks :: Fuckbook – Rip up rock 'n' roll and start it all over again with a worse name. Dig.
White Denim :: Fits – The unclassifiable three-piece from Austin, TX continue their rise as one of the most interesting guitar-based outfits to come out of the last half of the '00s. Fits is awesomely idiosyncratic. Just the way it should be.   (buy)
Polvo :: In Prism – That Polvo was an interesting band back during their original run isn't in doubt, but that their first album in a decade is not only as good as it is, but possibly the best thing they've ever recorded, is a complete shock. Progressive, wandering, heady and heavy, this is the sound of 90s indie-rock steamrolling into the 00s. Just in time. (buy)

The Love Language :: S/T – 2009: an impressive year for homespun, lo-fi debuts. Enter The Love Language, one of the fuzziest releases this year, but somehow also one of the clearest in composition. A raucous seven-piece environment jangles through a perpetually upbeat sound, and with the standout single "Lalita," the Love Language manage heavy distortion without the piss and vinegar. These are summertime jams that appeal year-round. (buy)
Megafaun :: Gather, Form & Fly – After an impressive 2008 debut, the North Carolina trio turns folk on its head for their first full-length. Virtually every slice of Americana–folk, blues, bar room swells–hangs in a mysterious, shadowy Appalachia, extensively explored with objectively stark lyrical examination and creative instrumental touches. Dark, contorted fiddle renditions screech into warm, welcoming piano, and acoustic guitar and banjo two-step behind honest and harmonized sentiment, creating an expansive and refreshing, if sometimes grim, portrayal of traditional music. (buy)
Girls :: Album – Pub-rock tendencies in a lo-fi setting with bits of glam sprinkled throughout, Album is an epic turn with fairly simplistic, or at least compact, construction. Equal parts solitary listening music and late-night party jams, Girls somehow walk the line between playful and heart-rending, summoning both reactions depending on when and how you listen to it. Ultimately, a sequence of sink-or-swim emotional events are confronted, cutting to the universal heart of personal turmoil and interpersonal relationships amidst a similarly resounding fuzz. (buy)

Flaming Lips :: Embyonic – By 2009 I had pretty much given up on the Lips, convinced they had delved into self-caricature and pageantry. Then I saw them live at a little theater in Hollywood for the Embryonic kickoff party. I was mistaken. A dark and twisted psychedelic bouillabaisse, the record is not only one of my favorites of '09, but their best work since The Soft Bulletin. (buy)
Sonic Youth :: The Eternal – New label home, same band. The '00s were without a doubt Sonic Youth's second wind. Beginning in 2002 with Murray Street they continually delivered with every release. The Eternal is no exception. May we all age so gracefully in our lives and work. (buy)
Yo La Tengo :: Popular Songs – Like the aforementioned Sonic Youth, Yo La Tengo prove that longevity has its rewards. Popular Songs doesn't reinvent the wheel, but for fans it is a welcome reminder that YLT will always be there every other year or so with consistent results. Blog bands take note.   (buy)

Bonnie 'Prince' Billy :: Beware – Like a twisted Prairie Home Companion, Beware is a tongue-in-cheek turn through the American landscape, from stalker opuses to funeral marches, we see at turns classic Oldham folk, pastoral strings and caricatured country noir (a la Greatest Palace Music). The manic psych-country ballad "I Am Goodbye" headlines Oldham's loudest record since Superwolf. Lyrically astute and musically lavish, Beware is bold verging on brash. (buy)
Phosphorescent :: To Willie – Not even Willie Nelson plays Willie Nelson songs this well anymore.   Matthew Houck's band keeps their toes on the dark threads of country music's Walt Whitman, highlighting — well, lowlighting — the sadness that underscores some of Willie's best songs. (buy)
Roadside Graves :: My Son's Home – Through exploring nostalgia, those somewhat contorted bits of the past and near present that we use to inform our taste for the future, My Son's Home conveys our sense of experience. Touching on folk, rock, alt.country and more, The Roadside Graves harness emotion to create a landscape, rather than the oft-played other way around. At turns dark, dealing with concepts of death and isolation, and equally rambunctious, My Son's Home is a beautifully and tragically human record. (buy)

Foreign Born :: Person To Person – I listened to this album more than any other last spring. Here, Foreign Born delivered on all the promise and energy of their live shows, while crafting a concise, eloquent and memorable LP. Spring can't come soon enough. (buy)
The Very Best :: The Warm Heart of Africa – Singing in four tribal dialects, Warm Heart is an eccentric amalgam of genre across a diverse cross-section of music Africana–from afro-beats to highlife to kwaito. Analog percussion seamlessly blended with synth; dance perfectly married to pop; hip-hop lightly tether to African folk; vocal harmony experimentation drifting behind lead vocals; Western-inspired African music. One of the most original records this year dives deep into the Dark Continent and emerges as bright and colorful excavated document. (buy)
Fool's Gold :: S/T – A "local" band by most definitions, Fool's Gold's sun-dappled instrumentation befits the perpetually warm, clear and rainless Mediterranean climes of Los Angeles. Still, its immense helpings of international musical dialect that would make any xenophobe scramble for apple pie and baseball. With a lineup (and instruments) representing most corners of the globe, this debut covers as much territory as the band's collective lineage. It's a hodgepodge of world—a delightfully upbeat, at times meditative, highly social and collective musical and cultural journey. (buy)

Bear In Heaven :: Beast Rest Forth Mouth – Immersed somewhere between layers of the dark synth-dreams of Depeche Mode comes an album also indebted to the Southern roots of its members. It's an album with a haunting landscape of droning vocals and thumping, cold rhythms and is simultaneously one of the warmest rock records you'll hear this year. It's exactly the kind of contradiction that births great albums. (buy)
Micachu & the Shapes :: Jewellery – Truth be told, I wasn't all that into this album upon the first spin. Or the second. And then…I was. In any case Jewellery is an album that makes no concessions to the listener, and in doing so rewards the patient.   (buy)
Animal Collective :: Merriweather Post Pavilion – Hands down one of our most-listened-to albums of the year, MPP's big hits ("My Girls", "Brothersport") still groove harder than anything else, and the brightness shines through the deeper cuts even brighter.   Forget the backlash; believe the hype. (buy)

Cymbals Eat Guitars :: Why There Are Mountains – If you're between the ages of twenty-three and thirty-three and grew up listening to indie rock, these dudes like all of your favorite records.   Coupling the melodic guitar power of Built to Spill with the aggression of …And You Will Know Us By The Trail of Dead and the half-soar of all those old Midwestern emo bands, Cymbals Eat Guitar produced a record that skirts nostalgia as it celebrates its influences. (buy)
Pains of Being Pure at Heart :: S/T – The best C-86 album since the early 90s is a blast of jangle goodness and winning boy/girl vocals that doesn't let up from beginning to end. When people think of great pop music, this is the kind of record for which they long. (buy)
Telekinesis! :: S/T – Every year power-pop finds its champion and this year it was Michael Lerner and Telekinesis. There's an infectious energy, even in its slower moments, that makes true believers out of the grumpiest of listeners. (buy)

Vetiver :: Tight Knit – Rock-infused folk music is one of the more walked-upon roads in music, and Vetiver isn't necessarily doing anything earth-shattering within its turns. But there's also something to be said for creating a consistently pleasant album, and inside of the folk-pop realm, Vetiver handed us one of the more complete and inviting records this year. There are few, if any, missteps in Tight Knit's composition, as Vetiver frontman Andy Cabic weaves a sunny pastoral tapestry that feels at once old and new. (buy)
A.A. Bondy :: When The Devil's Loose – Bondy's songwriting further develops as he continues to mine American music for its numerous touchstones from blues to folk adding them to the haunting minimalist compositions of his own. (buy)
Califone :: All My Friends Are Funeral Singers – Califone quietly makes record after record of beautiful, low-key music.   Each album plays like its own world and their latest is a warm rumination that leaves stones unturned – it knows the unseen is part of the landscape just as much as the visible and doesn't want to ruin the surprise around the corner. (buy)

St. Vincent :: Actor – Whether it's the low crooning of her voice or the pacing of her immaculate pop, St. Vincent crafts inspired, orchestrated music that rivals the recent works of Jens Lekman and the multi-faceted world of Richard Swift. (buy)
The Low Anthem :: Oh My God, Charlie Darwin – Possibly the most uniquely beautiful record released this year and something that begs for repeated listening in the dark, soft moments of the day. Riveting harmonies abound and stay with you until you drift off. (buy)
Wye Oak :: The Knot – The shimmering of shoegaze slowed down into a throbbing pulse, and loud-quiet-loud aesthetics channeled around ethereal vocals. Their first album was good, this is just amazing. The songs are sleepers and insidious, lounging around for days in your head without you even being aware. (buy)

Frankel :: Anonymity Is The New Fame – Michael Orendy is the uber-gifted man behind Frankel, arguably Los Angeles' best band, one-man or otherwise. Bold statement? Not really. Orendy's extremely rare live performances make it difficult to simply stumble upon his music (particularly for non-Angelenos), but his brilliance is palpable for the listener. Recalling the latter work of Alex Chilton, the songwriting of Harry Nilsson and contemporaries such as Richard Swift, Microphones and Sparklehorse, Anonymity is the kind of record that reminds us why we call musicians "artists." (buy)
Bombadil :: Tarpits and Canyonlands – Bombadil plays music that sounds at times like Randy Newman as a carnival barker, full of joyous sing-alongs and manic energy. It's the sound of everything you've heard before, but can't quite lay a finger on. And now you're glad you can. (buy)
Leonard Cohen :: Live in London – Leonard Cohen's grace from the stage is practically as winning as his lyrics. His voice has aged to perfection, but what hooked me is the way his lyrics spin around themselves, unfurling truths and beauties and reminding their listeners that there is such a thing as shared human experience. (buy)

Mount Eerie :: Wind's Poem – It's Phil Elverum. You either get it or you don't. (buy)
No Age :: Losing Feeling – The follow-up to last year's breakout LP Nouns, No Age stretch their legs sonically on the Losing Feeling ep without sacrificing any of former's momentum. (buy)
Future of The Left :: Travels With Myself And Another – Pummeling. How else does one describe Future of the Left's acerbic, smirking post-punk? If you had given up on loud rock and roll and thought you were getting past it, think again and grab the best punk record (in attitude alone) of the year. (buy)
Where The Action Is! Los Angeles Nuggets 1965-1968 – Rhino's regional Nuggets series are always informative. More importantly, though, they are also the jam. Leave the canyon for a bit and take a trip down Sunset Blvd during the beginnings of L.A.'s rock, garage and psych scenes.   (buy)
+ Download 2009's best msuic DRM free via eMusic's 25 free MP3 no risk trial offer
———————————————————————————————————————————————