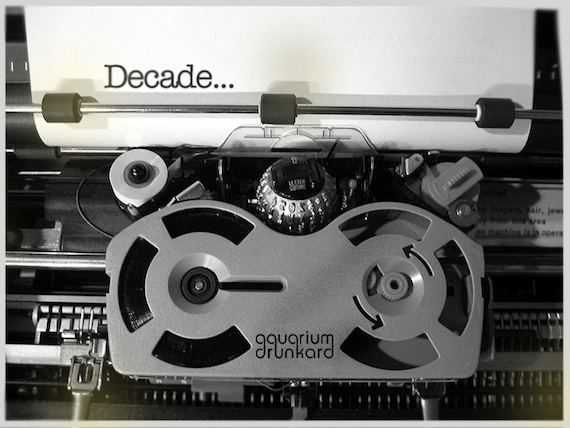 What is it that makes us want to deconstruct art by units of time? Lists. We love making them. We love arguing over them. And here, on the verge of a new decade, we're in a position to do the same again. What were the best albums of the past ten years?
Here at AD, we started talking it through and decided we weren't going to add to the cacophony of lists being put out by various music pubs. There are enough of those. Since the beginning of October, Monday through Friday, we have been featuring posts detailing our favorite albums of the decade. Now with less than two weeks left in the last year of the first decade of the new millennium we are ramping up–highlighting our absolute favorites.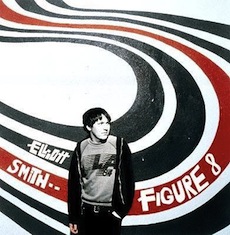 I drive past what has become known as the Elliott Smith wall just about everyday as it's down the street from me on Sunset Boulevard. It was in front of this wall, the exterior of Solutions Electronics in Silver Lake, that Smith posed for the cover of Figure 8, as photographed by Autumn de Wilde.
Now covered in an almost impenetrable coat of graffiti, both in tribute to Smith and otherwise, I often spot teenagers gathered in front of the wall, huddled together smoking cigarettes, in memory of music's most recent fallen patron saint for sad people. Imagine the scene at Jim Morrison's grave at Pî¨re Lachaise Cemetery in Paris, only with more expensive shoes and haircuts.
For me, Figure 8 stands as the last proper Elliott Smith album as it was the final material released during his lifetime (both From A Basement On A Hill and the New Moon collection were released posthumously). At a base level, Smith's solo work can roughly be divided into two stacks: the earlier, lo-fi, four-track recordings (Roman Candle, Elliott Smith, Either/Or) and the more produced latter LPs released by Dreamworks (XO, Figure 8). To say the two are apples and oranges is an understatement. While the first few LPs were cut with whatever recording devices were on hand, at whatever spaces (friend's houses, apartments, etc) were available, once Smith signed to a major, and was given the luxury of a proper studio, everything changed. All at the once the colors of Smith's imagination were able to pour out into his music, no longer restricted by the black and white confines of lo-fi home-recording. The experience must have been liberating and exhilarating.
Even more so than XO, its predecessor, Figure 8 further expands the sonic palette within its 16 tracks. There is just so much going on here. Using the studio itself as an instrument Smith paid homage to his favorite bits and pieces of twentieth century popular music, from Tin Pan Alley and folk to the pop flourishes of the Kinks, Zombies and Beatles. Lush and atmospheric Figure 8 may not be my absolute favorite of Elliott Smith's albums, but it is without a doubt my favorite in terms of overall production. While much is made about Elliott Smith the songwriter/the lyricist, much less so is his keen sense of arrangement and production. Because of XO and Figure 8, I think that will change with time. An exceptional album from a truly exceptional artist.
What is your favorite part of the record? I know mine. It's the swell that begins at 1:30 on album-opener "Son of Sam" climaxing at 1:40 when the guitars crunch and splinter into a million saccharine-sweet pieces. Pure pop perfection.