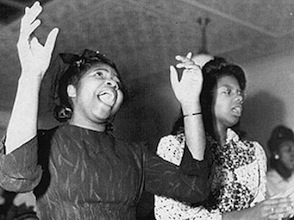 Remember Moby? Sure you do. In the late 90s he went from a relatively obscure DJ/musician working the underground dance circuit to a bonafide mainstream pop artist. For a solid 24+ months his music could be found in what seemed like every other film, commercial and television show running. And if memory serves, the album the songs were culled from, Play, was the first LP to be licensed in full—unknowingly setting a precedent for music licensing today.
Play borrowed heavily from African American song traditions notably sampling gospel, blues and old spirituals. Moby mined much of his source material from the Alan Lomax field recordings collected on the 1993 box set Sounds of the South.   As seminal and thorough as the Lomax set is, Tomkins Square's new collection Fire In My Bones (4 hours of music on 3 discs) unearths an alternate batch of material stretching from the rural South to the coast of Los Angeles. Reading the liner notes I couldn't help wonder what the outcome of Play might've have been had this collection also been on the retail shelves at the time.
Label Notes: The majority of this music has never been reissued on CD, or in any other form (most tracks were originally released on regional independent labels). Most post-WWII compilations of African-American gospel music naturally concentrate on the astounding quartet and solo vocalist sounds made during the music's Golden Age. Fire In My Bones attempts to address and collect more neglected sounds from that era (and on to the present day). Dozens of traditions are represented. Some go back hundreds of years while others seem to have been arrived at as soon as the tape began to roll. Field recordings and studio tracks are all mashed together, with solo performances next to congregational recordings, hellfire sermons next to afterlife laments.
MP3: Sister Ola Mae Terrell :: How Long
MP3: Mississippi Nightingales :: Don't Let Him Ride
———————
+ Download Fire In My Bones via eMusic's 25 free MP3 no risk trial offer
_____________________________________________________________________________________