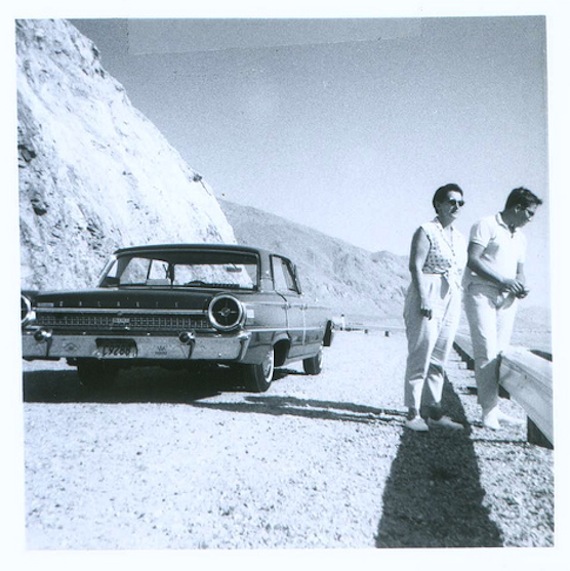 Off The Record is a recurring feature here on the Drunkard that marries two of my greatest interests; music and travel. Having a locals perspective when visiting a new locale is the difference between experiencing it through the lens of a tourist and of that of a native.
Off The Record gathers some of my favorite artists, asks them to reflect on their city of residence, and choose a handful of places they could not live without — be them bookstores, bars, restaurants or vistas.
Off the top of my head we have featured our hometown ten to fifteen times; from Long Beach and the South Bay to West L.A. and the Eastside. Searching through the Off The Record archives, one could come up with a pretty thorough guide of cool shit do do when visiting L.A. Today is no exception. Catch up with the Idaho Falls' Raymond Richards as he plays tour guide in his Rancho Park neighborhood. Look for their excellent new album, The Spark, out next Tuesday (January 26th). Don't miss the mp3s after the jump.
———————————————————————————————————————————————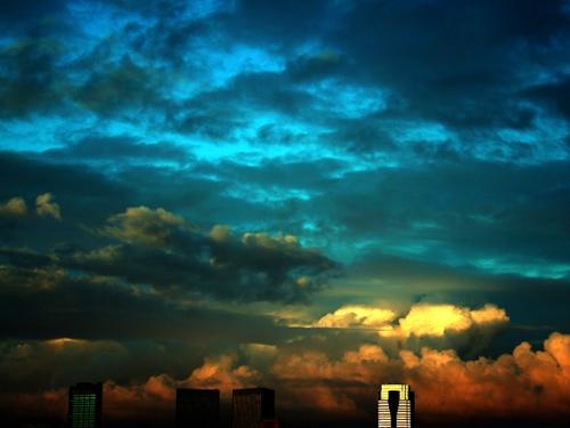 Rooftop parking lot of the Westside Pavillion :: This is a place I like to go very late at night to think. It has a great view of all of Rancho Park, and is usually deserted. Recently when we couldn't sleep my girlfriend and I went up there and had some burritos and watched the westside crawl along in the early hours of the morning. It is still one of our favorite dates.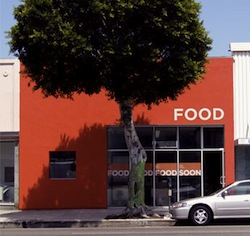 FOOD :: This is my favorite place to eat, or just escape my busy house. They specialize in gourmet versions of cuisine from all over, but mostly stick to light, savory American fare. They have an in-house baker that does magical things with scones and cookies, and will sometimes make dishes to order if you something special you desire. I asked for a really spicy egg white omelet once and left the place crying and smiling. Here is a picture of me having oatmeal and coffee and one of the whole staff. Judy, the owner is in glasses. She has been a restaurant owner for decades and once employed Paul Rubens as a dishwasher. He would do his 'tequila shoe dance' for her to make her laugh.
Kay and Dave's :: Everyone in LA has a favorite Mexican joint, and this is mine. When things aren't going well at the studio, we head over to Kay & Daves for some liquid inspiration on our lunch break. Two dollar Tecates and cheap, house-made margaritas are just the ticket along with a few dollar tacos and their excellent mole mini-chimi's. We always roll out of there laughing and ready to get things done. I have included a photo of my pal David of Mississippi Man and I enjoying some post recording cocktails.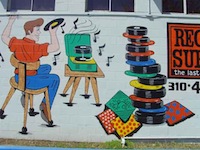 Record Surplus :: Oh I know, most hipsters say they like listening to vinyl, but once you check out their collection it becomes really obvious that they like owning the vinyl records that their cool uncle gave them. Here is the place to really explore music. They have thousands of cheap records on the top level, and a deep collection of wax on the floor at collectors prices. The best thing about this store though is the 'listen before you buy' policy. They have two turntables set up for you to check out that early pressing of Neil Young's first solo recording, or the Ravi Shankar Live in New York record where he explains the difference between a daytime raga and a nighttime raga. They also have huge sales every now and again that can really fatten your collection and help you part with the fucking Partridge Family records your uncle left you.
McCabes Guitar Shop :: McCabes has been a tradition for folk musicians for a long time in Los Angeles, and with Target and Walmart now selling guitars, I am more than happy to drop a few bucks on exotic percussion toys or a cool handmade guitar strap once a month. They have lots of great acoustic guitars that come from all over the word, even one-off hand made instruments that will draw songs out of you that you didn't know were there. They also have lessons for folks that want to improve their technique.
Carruthers Guitars :: This is my Mecca. Every instrument I own has had hands laid on by John Carruthers. He is a magician of the highest order with guitars. I have brought him relics that seemed beyond repair only to have them returned to me as finely calibrated killing machines. He is not cheap, but nothing worthwhile is. Every time I go in to Carruthers I bring Mexican beer as an offering to the folks that keep my arsenal of guitars and basses some of the most playable and sharp sounding in any west side studio.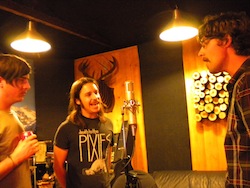 Red Rockets Glare :: RRG is my backyard recording studio, I spend all my time there. It is a room full of wondrous instruments and mysterious gear. I never tire of people finding new ways to use the space or the creativity that the room inspires in people. I have included a photo of The Fling as they sing in perfect harmony around a tube mic that I made.
Haunted House :: There is a haunted house on my street. I kid you not. I don't want to get into what happened there 50 years ago, but it has never had an occupant for more that a few weeks in the 15 years I have lived here. The story goes that as soon as the new residents get comfy, something crazy happens, and they abandon the place. Ask the Local Natives if you don't believe me, they had a creepy experience there on night after a long recording session.
MP3: Idaho Falls :: Blood In The Wine
MP3: Idaho Falls :: Cloudy Day
———————
+ Download Idaho Falls via eMusic's 25 free MP3 no risk trial offer
___________________________________________________________________________________