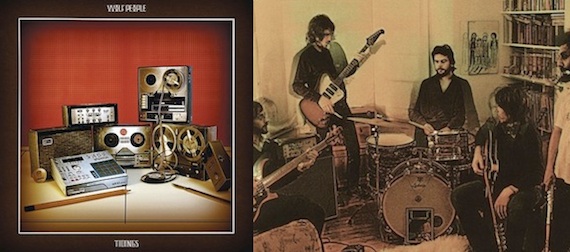 (Diversions, a recurring feature on Aquarium Drunkard, catches up with our favorite artists as they wax on subjects other than recording and performing.)
I know it's impossible to keep up with everything posted on Aquarium Drunkard, but I implore you to not miss this installment of Diversions. Why? Because the guys behind the UK's Wolf People have assembled an eleven track '60s/'70s psych-rock medley that you absolutely need in your life. Skip your other blog reads for the day if you have to, but do check this out. To celebrate being signed to an American label (Jagjaguwar) despite never having visited the states, the band chose 5 songs from the US and 5 (+1) from the UK. They're mostly psych-rock. They're all great. We begin with the UK…
_____________________________________________________________________________________
Edgar Broughton Band – House of Turnabout(from Edgar Broughton Band on Harvest Records)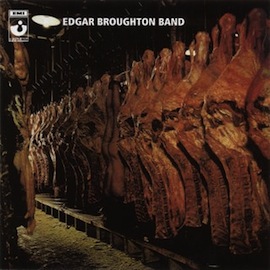 Here is an English band with heavy Beefheart influences so it's little wonder that they're a favourite of ours. They represent something quintessentially English; a sturdy, no-nonsense antidote to the more whimsical and theatrical psychedelia that was rife around that time. They were from Coventry but moved to Notting Hill and became involved with the underground scene that spawned a lot of great and often underrated bands like Mighty Baby (see below), Quintessence, Hawkwind, Pink Fairies and Deviants.
This track from their 1971 self titled album (the one with all the meat on the cover) never fails to knock me out. It seems to me that when America turned towards introspective singer songwriters at the turn of the decade, Britain was on the verge of something more gritty and politically aware which would eventually mutate into punk, and this to me is a great example of psychedelic rock with a proto-punk tinge to it.
Edgar Broughton Band were a festival staple in the early 70's and most freaks from the time will have fond memories of their epic "out demons, out" set closer, something I wish I could have seen in the flesh.
MP3: Edgar Broughton Band – House of Turnabout
Mighty Baby :: I'm From The Country (From Mighty Baby on Head Records)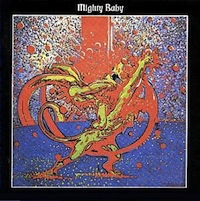 Mighty Baby rose from the ashes of mod band The Action in the late 60's and recorded two brilliant albums to little fanfare before fizzling out in the early 70's. Their story is one of hard work and high standards for very little reward, but I don't think I've ever heard a song by them that I didn't think was beautifully crafted and well… magic, really.
This track and indeed the whole album melds American west coast rock with country and jazz elements while still being as English as a cup of builders' tea. Mighty Baby are a prime example of the ever continuing cross pollination of popular music between America and Britain. From the blues influenced 'British invasion' to west coast psychedelic rock to this; a perfect stepping stone to more forward thinking improvised progressive rock.
I've shied away from including the beguiling "Egyptian Tomb" here as there's a tendency for people to chalk this LP up as a one-tracker, but if you haven't heard Egyptian Tomb, seek it out along with the rest of the album. You won't be disappointed.
MP3: Mighty Baby :: I'm From The Country
Tractor :: All Ends Up (From Tractor on Dandelion Records)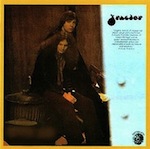 Being a bit of a nerd, I've tried to geographically link some of my choices with members of Wolf People. Edgar Broughton Band were originally from Warwickshire where my mums' family are from and Tractor are from Rochdale in Lancashire, near where Joe grew up.
Tractor signed to John Peel's Dandelion label in 1971, which allowed them to set up a recording studio in Rochdale where they recorded the debut LP that this track is plucked from.
The independence and freedom that was afforded them by Peel's generosity comes through in the music, which is progressive yet raw. Especially on this cut which whilst rather lo-fi, contains the energy and excitement of a band without restrictions.
Lightyears Away :: Path of Stone (From Astral Navigations on Holygrounds Records)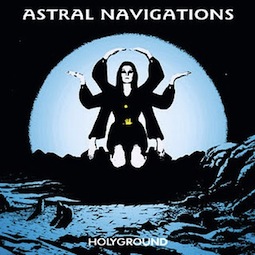 It's hard for me to express quite how much I love this album. I was given a copy (on CD, the vinyl is terrifyingly rare) by a friend a few years ago and it's never been far from the stereo or my mind since then.
It's a split LP with Yorkshire band Thundermother taking up one side and the assembled musicians that ran the label (later to become known as 'Lightyears Away') on the other. The Thundermother tracks were what struck me first with their searing guitars and thumping drums but it's the first, more gentle side that has really stuck with me.
Mostly written by Chris Coombes and Mike Levon and recorded at Mike's home studio and Bretton Hall in York, the first side runs almost like a suite with recurring lyrical themes and some of the most beautiful and original songs I've ever heard. The lyrics are amazingly unique and sometimes so English it hurts: "North country mill girls put passion in miners. With heavy black hair on their chests." It was hard to choose one track but this one is as good an introduction as any if you haven't heard the LP before.
I was delighted to find out that Mike Levon still runs the label and has compiled loads of photo's and history on their website and in the liner notes of the lovingly remastered CD's.
MP3: Lightyears Away :: Path of Stone

Third World War :: Ascension Day (From Third World War on Fly Records)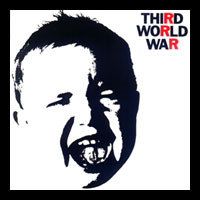 I first heard this played by Cherrystones on the Monsterism podcast a few years ago and I was instantly blown away. That Third World War aren't mentioned in the same breath as MC5 and the Stooges is a terrible shame in my opinion. These guys were as hard, raw, cool and politically charged as either of them. In 1970, manager and producer John Fenton was quoted as saying "I want a no-bullshit, working class band–I've had enough of all this pseudo peace crap." And that's what he got.
With lyrics like; "Waiting on the roof tops'€¨Looking for a sign'€¨Pull your hand-grenade pin'€¨And i'll pull mine.." …you start to think maybe they were 7 years ahead of their time.
Also worth mentioning that they look cool as f*ck in all the pictures I've seen of them. I noticed this comment on youtube: "I saw this band at the Oz Police Ball in Covent Garden early in 1971. They were fantastic and stole the show. People were shouting, 'Who are you? Who are you?' The singer stood there, cool as you like, drinking milk fromî' a bottle." Classic.
MP3: Third World War :: Ascension Day
Walrus :: Never Gonna Let My Body Hit The Ground (Deram 7")
This one is a cheeky bonus 7" that Tom suggested we add to the list, and it's a more than worthy inclusion with massive drums, searing guitars and great big brass. I don't know anything about Walrus really but I hear that this track is a bit of an anomaly in their output which is a shame. I could do with hearing much, much more like this.
MP3: Walrus :: Never Gonna Let My Body Hit The Ground
———————————————————————————————————————————————–
Across the pond: Tracks from the USA
Kaleidoscope :: The Cuckoo (From Incredible, Kaleidoscope on Epic Records)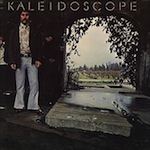 This song is a neat fit for this chart; an Anglo-American folk song performed by an American psychedelic rock band who shared their name with an English psychedelic rock band (the American Kaleidoscope won that bout though, the English band changed their name in 1969).
This track is a brilliant beauty, bluesy treatment of a very popular English folk song which must have mutated after migrating to the US in much the same way as many traditional songs did. You can bet no-one had paired it with riffs as good as these before 1969 though, and David Lindley's guitar solo is understated genius. I definitely need to delve further into the world of Kaleidoscope…
MP3: Kaleidoscope :: The Cuckoo
Spirit :: The Other Song (From Son of Spirit on Mercury Records)
Spirit are another really diverse and interesting US band with a fairly solid back catalogue, and this is one of their peak moments in my opinion. Spooky and ethereal with just the right amount of phasing and echo, i.e a bit too much!
Guitarist Randy California started out with Hendrix's pre-experience band Jimmy James and the Blue Flames and you can hear the influence as clear as day on the amazing solo's creeping through the song.
Mu :: Nobody Wants To Shine (From Mu on UA)
I will be forever grateful to my friend Nigel Cross for gifting me with this LP. It's rarely been far from my record player since. Formed by Jeff Cotton shortly after escaping the apparently oppressive clutches of Captain Beefheart, Mu takes the blues slide and dense rhythms of the Magic Band and adds sweet harmonies and modal sax courtesy of Cotton with the help of Merrell Fankhauser.
There is a great sense of new found freedom here. You can hear Jeff Cotton using the disciplines he learnt in the magic band without the constraints imposed by Van Vliet. Blissful.
MP3: Mu :: Nobody Wants To Shine
The Youngbloods :: Four In The Morning (From The Youngbloods on RCA Records)

Moving slightly more towards folk rock here but I had to include this because it's rarely been out of my head the last three months or so. I know very little about The Youngbloods except that they had a moderate US hit with Get Together in 1967.
The drum and wurlitzer intro here is cool enough, but then that first line from Jessie Colin Young comes in and it just floors you! The lyrics continue to be illustrative and bleakly depressing, giving way to a guitar solo so chaotic it would make Roger McGuinn dizzy. Then when you can't take any more the vocals return for the last grim verse and finish you off.
MP3: The Youngbloods :: Four In The Morning
Ars Nova :: The March of the Mad Duke's Circus (From Ars Nova on Elektra Records)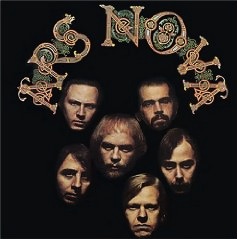 Our mascot and musical mentor Richard Gibbons first showed me this song a few years ago as part of a mix swap, thanks Rich!
Ars Nova were a classical influenced progressive rock band who put out just two albums in 1968 and 1969. You can tell that the classical influence was no gimmick or passing fancy, there is a deep knowledge lurking in the songs themselves as well as the short instrumental passages that link them. Heavy classical or jazz influence is something I think is sadly missing in modern rock music, probably chased away by the still ongoing backlash to dreaded prog excesses of the mid to late 70's. It's rare these days that rock musicians (ourselves included) carry over the disciplines learnt from a jazz or classical education, and therefore don't experience the freedom of breaking out of those confines.
The LP is not an outright hit for me as some of the songs are overly whimsical and in places completely insane (not in a good way), but this song seems to encompass everything they were aiming for perfectly. Beautifully arranged passages of baroque guitar give way to perfectly delivered, weighty lyrics and plenty of sweet drum fills.
I don't own the second LP but this one is worth the admission price for this as well as a brilliant version of Zarathustra and 'Fields of People', later made famous in a bawdy version by The Move.
MP3: Ars Nova :: The March of the Mad Duke's Circus
Look for Wolf People's American debut, Tidings, out via Jagjaguwar February 23rd.
+ Download Wolf People via eMusic's 25 free MP3 no risk trial offer
____________________________________________________________________________________