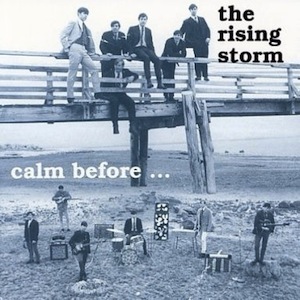 Hardcore fans of unknown '60s psych and garage all search for that taste of magic once committed to rare grooves of vinyl, a glimpse into an era when any rock combo with a few fans could get enough studio time to immortalize a set of their wildest sounds, and with Calm Before.., you get the full dosage.
If you have an original copy of this record, you ought to encase it in 15 sheets of mylar and lock it up in the safe, as garage rock hounds are probably sniffing you down as you read this. Only 500 LPs were pressed in 1967, just as these six young lads from Phillips Academy in Massachusetts were graduating prep school.
Typically, impossibly rare albums tend to get seriously over-hyped, but not so in this case. Collectors don't go nuts over this one because it's so rare, it's because it's so good! The Rising Storm rocks with the controlled frenzy of The Remains (even tearing open the album with their explosive "Don't Look Back"), but manage to layer in a thin film of psychedelia. The contemplative original numbers are the real gems on this record. "To L.N./Who Doesn't Know," "Frozen Laughter," and "The Rain Falls Down" are three must-hear folk-tinged treats.
"Mr. Wind" with it's lovely, lilting melody and the rollicking "Bright Lit Blue Skies" were both tunes borrowed from local Boston garage contemporaries, The Rockin' Ramrods, clearly heroes to the Storm. Another laid back treat is "A Message To Pretty," a Love cover that proves the musical taste and cool sensibility of these young preps. Simply put, the rockers on here will start up the party, but the softer tunes give it all the sparkle.
Most of my favorite records take some time invested before they begin to reward, and Calm Before is a genuine grower. It's the ultimate lost classic from garage rock's golden age, an era that produced more unheard beauty than any after (perhaps until the bedroom music movement of the 2000s). The CD reissue includes the original LP lineup and follows with a 1983 reunion concert recorded in their home town of Andover. Surprisingly, the fellas play with all the same energy and a little bit of welcome slop that actually recreates an authentic garage sound. words/ b. mcgrath
MP3: The Rising Storm :: She Loved Me
MP3: The Rising Storm :: Bright Lit Blue Skies
———————
+ Download DRM free music via eMusic's 25 free MP3 no risk trial offer
_____________________________________________________________________________________