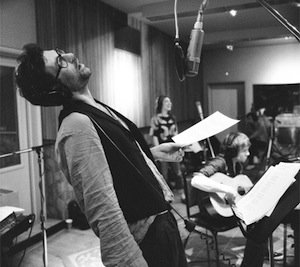 If you have an Internet connection you've heard about Beck's ongoing Record Club. We featured the first installment (Beck and assorted friends covering The Velvet Underground & Nico) back in August. I love that album—there's no telling how many times I've spun its sides over the years, but I can't say I've found myself revisiting that set of covers since they initially appeared online six months ago.   And that's not meant to be a slight, as the participants aim is made very clear from the outset: "There is no intention to 'add to' the original work or attempt to recreate the power of the original recording. Only to play music and document what happens." No, this has more to do with my having heard one too many covers off the VU's debut over the years, beginning with my very introduction to the Velvets via R.E.M.'s take on "Femme Fatale." But really, it's a classic album—it's bound to happen. Fast forward to part three.
Now this, the third installment of Record Club (Leonard Cohen was second up), is an altogether different beast. Here, Beck and his ever-rotating group of musicians tackle the often brilliant oddity that is Alexander "Skip" Spence's only solo album, OAR. Spence, most notably, cut his teeth with Moby Grape and Jefferson Airplane before going his own way, eventually forging a path more in line with Gary Higgins than Jorma Kaukonen. That path led to OAR; a strange, primitive, unsettling, earthy cosmic weirding. It's also great. But OAR is another post for another time, as it certainly deserves it.
Here, under Beck's instruction, "Books of Moses," off OAR, is transformed from a two and half minute folk ramble into a seven-plus minute funk banger equal parts Herbie Hancock, Stevie Wonder and Shuggie Otis. If that last sentence doesn't make you want to press play, you're on the wrong blog. Amidst a fatback steady backbeat and nasty percussive synths, vocals are handled by British soul singer Jamie Lidell who shucks and jives like a Mississippi juke joint. This track just sweats.
photo: autumn de wilde
MP3: Beck's Record Club :: Books of Moses
———————
+ Download Beck via eMusic's 25 free MP3 no risk trial offer
___________________________________________________________________________________