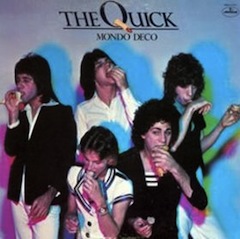 I was first turned on to the Quick several years ago when Dave Newton and I had radio shows back to back at the now defunct Little Radio loft studios in the warehouse district of downtown L.A. Dave's show was immediately after mine and he would usually pop in 15 to 20 minutes early to chat, drink beer, and generally nerd around about records (good times, Dave). For the most part he solely spun tracks from his 7″ collection that dated back to his teenage years growing up in the UK. This proved to be a constant treasure trove of punk, post-punk, new-wave, pub-rock, you-name-it. It was always the best part of my day, and I always made notes on records to check out later.
Occasionally amongst the 7″s, some 12 inch records and CDs would find their way into the mix as well. One day while digging through his crate I spotted a CD (bootleg?) compilation of old '70s Rodney On The ROQ stuff featuring the Quick. I quickly ripped it to my laptop as I did with most of the stuff Dave turned me onto.   Sadly, that laptop died and the music with it. But not my appreciation for the Quick.
The Quick are just one of the many power pop curiosities leftover from the late '70s that, while eluding most, are treasured by genre completists. Radio Heartbeat Records just reissued the band's sole release, 1976's Mondo Deco; an album I hadn't picked up since compiling an early power-pop mixtape a couple of years back (which, now, thinking about the tracklisting, I need to unearth pronto: Rubinoos, Nerves, Blue Ash, Raspberries, Flamin' Groovies, etc).
An oddity, I didn't know quite what to make of the LP during the first few listens. What   was this? And how to describe it? Post-glam? Proto power-pop? It sounds like what it is; a hedonistic Sunset Strip take on British glam coupled with a fascination with Big Star. A notable sidenote in their bio helps bridge this convergence of sounds: the Quick were one of the bands of the era discovered by L.A. scenester/manager/musician/producer Kim Fowley. Not unlike another Fowley discovery, the Runaways, the Quick seemed to straddle said genre lines—something I imagine led to their only releasing the one album: Mondo Deco.
If any of the above piqued your curiosity, take it step farther and check Mondo Deco's fifth track, the glammed up "Anybody." Visit the folks at Radio Heartbeat Records for the reissued vinyl pack.
MP3: The Quick :: Anybody
————————
+ Download DRM free music via eMusic's 25 free MP3 no risk trial offer
____________________________________________________________________________________