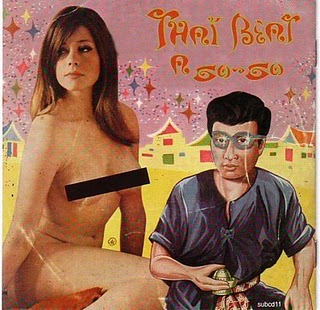 I came across Payom Moogda's "Tamai Dern Sae" while down driving a desolate strip of the Pacific Coast HWY—somewhere between Santa Cruz and San Luis Obispo. California's coastline, especially north of Santa Barbara, is both extreme and beautiful. This particular trip favored the former as it was well after dark and, except for the scattered hamlets that dot the central coast, was lit only by the moon.   It's nights like these that induce a powerful feeling of magic. Those rare instances where everything comes together cinematic in scope; the music, the stretch of road, the shadows, the salty air. Thinking back, it's almost as if the memory were shot in black and white. Perhaps it was.
Driving down the PCH, approaching midnight on that Autumn night, I heard the first static-y strains of a sixties Thai rock 'n roll band covering Ray Charles and other American/British rock and pop. The windows were cracked, and coupled with the wind, the tunes coming out of the Ford's speakers sounded like an otherworldly alien transmission.
That night was a few years ago now. I've since tracked down the compilation (the first volume in a highly recommended series) that I assume the Ray Charles track was culled from, Thai Beat A Go-Go Vol. 1. The reason I say assumed is that the majority of the tracks the series rounds up are (reportedly) regional one-off seven inches and rarities. Like the Cambodian rock compilations I've written about here in the past, the Thai Beat series goes a long way to unearth a parallel world of pop and rock, from the sixties and seventies, that was both influenced by the West yet remained inherently its own. Fascinating stuff…and a hell of a lot of fun.
MP3: Payom Moogda :: Tamai Dern Sae (Why Do You Walk Like A Drunkard)
MP3: Vichan Maneechot :: Dance, Dance, Dance
————————
+ Download DRM free digital music via eMusic's 25 free MP3 no risk trial offer
____________________________________________________________________________________