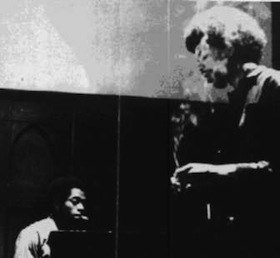 When someone mentions there's a new Gil Scott-Heron album coming out, you sit up and take notice. On February 9th, XL Records will release I'm New Here, Scott-Heron's first new album in over 14 years. Produced by XL's owner, Richard Russell, the album finds the poet moving through a dense urban soundscape reflective of the inspiration his 70s work has had on hip-hop for the past thirty years while still paying tribute to his career-long influences of the blues and jazz.
I'm New Here opens and closes with the tracks "On Coming From a Broken Home" parts one and two, respectively. At the album's beginning, this leads into lead single "Me and the Devil," a claustrophobic interpretation of Robert Johnson's "Me and the Devil Blues." Its twitches of electronics and machine-heavy percussion underlines an obsession with burial and afterlife destinations. The title track follows this, a cover of Smog's "I'm New Here" that takes the playful, matter-of-factness of the original and turns it on its head, using the themes of the Johnson song to play the lyrics like the meanderings of someone newly arrived to hell. "Turnaround and you may come full circle and be new here again," as if cleansed in the fire of all the old mistakes and grievances.
There is a focus on the relationship of parents and children – obviously in the opening and closing tracks, but also in originals like "Your Soul and Mine" and a dark and desperate take on Bobby Bland's "I'll Take Care of You." The theme of burial and death resurfaces, too, in "New York Is Killing Me," a rattling cacophony of handclaps and cymbals that sounds like a lost Waitsian composition. There is a sense of people fleeing responsibilities and fleeing themselves ("Running") and of people analyzing their own support structures ("The Crutch").
I'm New Here is an album that seems uncertain, grateful for the lessons learned, even if the results have been chaotic and hazy. The anger of youth has mellowed to reflective, surgical analysis about the road traveled and what few places there are left to go. words/ j neas
MP3: Gil Scott-Heron :: Me And The Devil
MP3: Gil Scott-Heron :: Where Did The Night Go
———————
+ Download Gil Scott-Heron via eMusic's 25 free MP3 no risk trial offer
____________________________________________________________________________________