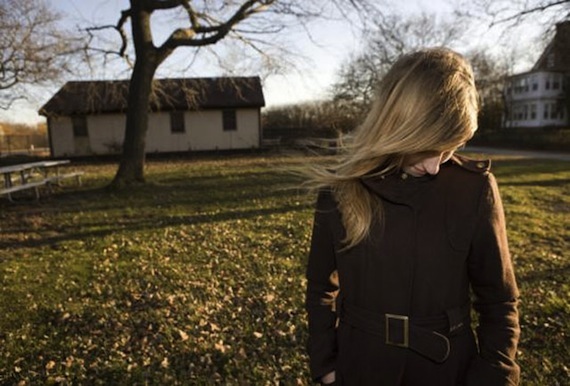 Off The Record is a recurring feature here on the Drunkard that marries two of my greatest interests; music and travel. Having a locals perspective when visiting a new locale is the difference between experiencing it through the lens of a tourist and of that of a native.
Off The Record gathers some of my favorite artists, asks them to reflect on their city of residence, and choose a handful of places they could not live without — be them bookstores, bars, restaurants or vistas.
The first thing you should know about  White Hinterland is that it's no longer soley Casey Dienel's nom de tune. Now a full-fledged group (including Shawn Creedon who contributes to the below) White Hinterland prepare for the March 9th release of Kairos, their second full-length following up 2008's (mostly) French covers EP,   Luniculaire. Dienel's been one to watch since we first covered her debut, Wind Up Canary in 2006. Kairos only furthers that sentiment. Below is Casey's guide to her adopted city of Portland, OR.
____________________________________________________________________________________
I came to Portland for the first time 5 years ago on what I perceived to be a hiatus from college. I didn't know anyone here, but Curtis from Marriage Records let me crash at the old Oak St. building for a few nights. I spent a week drinking thick Stumptown Coffee, bumming around the parks and eating at the carts. On one of my first nights in town, I was walking back to the Oak St. building on the Burnside bridge at sunset and I just knew. I knew it the way you know when you're in love. I had no idea why. It felt like I'd been looking through a window of foggy, splintered glass and suddenly it up and mended itself. Everything became very still and clear. I felt like I had come home.
For the next couple of years, I shuttled between Brooklyn and Boston. I wasn't unhappy in either locale. I had great friends, good jobs. But I was restless. On tour, whenever we'd pass through Portland I would get that familiar, dull ache that this was somewhere I could belong. It had set its hooks in me, and somewhat foolishly I moved out here in the spring of 2008 without any safety net in place to take a job. My first couple of months here were not the picnic I was expecting. My housing and my job fell through two weeks in, and I lived in my van for a month. I couldn't find work (which is very common here). I spent that summer scrambling for money and housing, and the starry affection I'd felt for Portland was swiftly replaced by a survival instinct to, in the words of Tim Gunn, "Make It Work." If there's one thing I'm not into, it's sob stories.
I am so glad I didn't give up and pack my bags. Something about that awful summer makes the good times that came after it that much sweeter. Shawn moved here in the fall of that year, and that was when we began really playing together. That's when White Hinterland switched from "Casey's moniker" to a real, flesh-and-blood band. Here is a guide to our Portland. It's not the same as Portland-as-Idyll I fell for on vacation; it's better. It's our home.
Where To Eat: The most compelling reason to live in Portland, for me, is the food. The local bounty is utter insanity: hazelnuts, blackberries (anything with thorns tends to do well here), salmon, great pork. In the morning you can head out to Alberta St. in Northeast for some delicious vegan treats at Dovetail Bakery, or stop by Sweetpea Baking Co. where Shawn works in Southeast that has an all-you-can eat vegan brunch on Sundays.
If you're cool with a long wait, the Sunday Brunch at Screen Door is my favorite. The line stretches down the street. It's within walking distance of my apartment, and I've been known to roll out of bed and walk straight over there to see if they have the Grits & Grillades special. They have the best Bloody Mary in town, served with their own pickled Okra.
If you're feeling more peckish and long lines aren't your thing, walk up Burnside St. to Navarre. Their dishes are served tapas-style and their wine list is a great mix of Oregon & French varietals. My friend Merill and I always go there when she's in town, get a bunch of small plates to split. In particular, their pickle plate is wonderful and made in house. Their menu changes weekly, which means you're only getting the freshest of what's in season.
As you are on the West Coast, take advantage of the opportunity to eat as many tacos as possible. I love the margaritas and fish tacos at Porque, Non? but for my money I'd rather go to the Lindo Michoacan cart on Division St. They have amazing birria nachos, and their carne deshebreda and cabeza tacos are served on handmade tortillas, everything on the menu is under $5. Los Gorditos, just up the street, offers a lot of wonderful vegetarian and vegan tacos. The soyrizo tacos are a favorite.
If you like a frugal find, go downtown to the carts for lunch. My favorite cart is Nong's Khao Man Gai. She only serves one thing: Thai-style boiled chicken and rice. It might not sound special at first blush, but it's packed with flavor and comes accompanied two sauces, one sour and tamarind-y and one spicy and sweet. Whenever I get a cold, this is where you will find me. She's only open as long as the goods are available, and she ALWAYS sells out before 1 or 2. Go early.
If Nong's closed up shop, nearby is Clyde Common at the Ace Hotel. Go here for Happy Hour. It's sleek interiors attract good candidates for people watching. They serve my favorite burger in town, a steal at $6, served w/ Stilton, pickled red onion, and tomato jam. If you're interested in something more fortifying, ask for an Old Fashioned. They do it right: rye, slowly muddled orange peel, a tiny splash of simple syrup, homemade bitters, and a few cubes of ice. No maraschino cherries mashed with an orange slice! Dinner here is wonderful, but the prices sky rocket when Happy Hour ends.
Instead, head back to Southeast for dinner and grab a seat at Pok Pok on Division St. They serve Isaan-style Thai food, and the food is fun to eat. Game hens are stuffed with lemongrass and chilies before being roasted on a charcoal spit, served with a tart green papaya salad. The spicy stir-fried dungeness crab, when available, is one of the most bracingly spicy and wonderful things I've ever put in my mouth. Often, when I'm being more frugal, I go for the Khao Soi Kai, a mild red curry soup which hits the spot on the cooler, damp Portland nights we get in the winter.
If you're looking for something special, the best meal I've ever had in Portland was at Le Pigeon. It's small, and often you will be seated at a great big table with all of the other diners, which I love. If you go, make a reservation. It's always full, convivial and fun–I like the occasional special meal, but I love that Le Pigeon doesn't feel fussy or 'too fancy.' You'll here a lot of orgiastic sounds like: "ohhhhhhh…..this is SOOOOOO gooooood." The food is French-inspired, simply conceived, and brilliantly executed. It's the best place to go on a special date. If they have roasted bone marrow w/ gremolata, drop everything and get it! I'm also just remembering an eel and miso terrine that was really out of this world…
Where to Drink: Shawn & I live in the Southeast (technically, I live in NE, but stuff in SE is closer to me), and that's where we spend the bulk of our time. I don't go to bars very often because it feels like I'm hanging out at work (since everywhere we play is basically a glorifed bar). I like going if friends are DJing. Shawn & our buddy Joel DJ every 3rd Thursday at Langano Lounge. Their night is called Hold On To Your Butts. It's a funny bar beneath an Ethiopian Restaurant. There's tiki tchotchkes strewn about, and the drinks are dirt cheap. It looks like someone's parents installed a bar in their basement. Sometimes I feel like at any minute someone's parents are going to catch us drinking Gin & Tonics and ground us. It's worth it though, to hear T. Pain's "I'm In Love With A Stripper" at full blast.
The other bar I like to go to is Valentine's, which is downtown. My friends Joe from 31 Knots and Julie tend the bar, and there's often live music and boutique DJs. On Sundays they have free shows. Occasionally we'll play there, test out new material, and it feels like anything goes there.
When people here drink too much (Portland is a city of night owls!), they like to go to Potato Champion to walk it off. It's just down the street from Langano, and it's open 'til 3AM. My friend Tyler, from Typhoon, works there–and he has an off-the-menu item he is still trying to convince me is delicious. It's called "The Formal." Poutine w/ Satay Sauce AND Mayonaise. Not for the faint of heart. I prefer getting a small cone of Belgian fries w/ their Rosemary-Truffle Ketchup.
What To Do: On Saturdays, I like to wake up early to go to the Portland Farmer's Market downtown. It's good for shopping, but I love going just to look around and watch everyone else. I go early to get the cheaper fresh-cut flowers. In particular, I love the Tastebud Montreal-style bagel stand. First thing I do when I get to the market is score a still-warm sesame bagel w/ cream cheese and wander around ogling produce before I figure out what I want to get for the week.
When the weather's bad, sometimes I stop in Pastaworks on Hawthorne St. for a few items, and usually I can't resist ducking into Evoe to grab one of their sardine sandwiches w/ come w/ spicy aioli and pickled fennel. This places is like Mecca for those who like to cook. Best wine store in the city, btw.
If the weather is nice, you can while away the afternoons in one of the beautiful parks. There's Mt. Tabor, which is actually a dormant volcano. I go up there to find blackberries in the summer, and you can view the entire city from the western side, and Mt. Hood from the East. Oaks Park has roller-skating, rides, carnival rides, and the wildlife is nearby. Shawn goes to the eastside to watch birds and draw sketches.
If you have the means, I recommend driving out to the gorge or the coast. I go out to Mt. Hood where I hunt for chanterelles and morels, and there's nothing better than being out in the woods at the crack of dawn with the mountain range lurking in the distance.
If you want to spend a day shopping, it's fun to go to Powell's or The Bins. If you go to Powell's prepare to get lost. They have everything, and good deals on used books and consigning. The Bins is the most gigantic carnival of Goodwill shit you've ever seen. It's like mining for gold; a lot of the stuff there is totally crap, but when you stumble on something good it's reallllly good. I've found bookshelves, paintings, old books or Cds, stonewashed jeans for a Halloween Costume. Shawn has a sharper eye for hunting than I do, I get really impatient!
On weeknights, I like going to see movies at the Laurelhurst Theater. It's in my neighborhood, movies are $3, and they serve pizza, beer & wine. Sometimes they have special features (this week they're playing Princess Mononoke), and it's fun to go see a cheap flick with friends there. I have a deep weakness for those Judd Apatow comedies or anything with Aziz Ansari in it. Raaaaaaaaaaaaaandy!
MP3: White Hinterland :: Icarus
——————
+ Download White Hinterland via eMusic's 25 free MP3 no risk trial offer
____________________________________________________________________________________