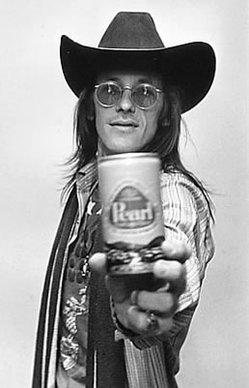 Most folks, particularly those from Texas, know a little about Doug Sahm. Twice on the cover of Rolling Stone, he was the original cowboy hipster and a Texas icon. Fans revere Doug for his genre-defining work with the Sir Douglas Quintet, who in the 60s forged the sound of Tex Mex music, and they admire the seemingly reckless diversity of the solo work recorded until his death in 1999. But prior to Jan Reid's new biography, only those lucky enough to have been personally caught in his whirlwind knew Doug as the constantly stoked "little guy" with the huge personality, the consummate (and constant) road-tripper, the baseball fanatic, the devoted father with girlfriends stashed all over town, and of course: purveyor and connoisseur of the finest in both enchiladas and Mexican weed.
Texas Tornado: the Times & Music of Doug Sahm traces Sahm's tremendous career, from childhood performances in the early 50s as "Little Doug Sahm," a born talent on pedal steel, fiddle, guitar, and you-name-it, through his rise to national stardom and Summer of Love sojourn in San Fran with the Sir Douglas Quintet, his friendship with the likes of Dylan and Garcia, his forming of the Grammy-winning supergroup Texas Tornados in 1990 (the "Mexican Beatles" as Doug originally envisioned it), to singing the latter half of his own "Give Back The Key To My Heart" on Uncle Tupleo's   Anodyne. Reid analyzes the San Antonio-based influences that made Sahm such a relentless, eclectic and dynamic performer: sneaking out to midnight juke joints as a youngster, cutting his chops gigging country, blues and rockabilly in the smoke filled bars. Though Doug eventually made Austin home base (dubbing the town "Groover's Paradise"), it was San Antonio's musical landscape-a mash of Mexican, German and Polish folk traditions, alongside a thriving pop scene-that exposed Doug to Tejano elements like conjunto and norteî±o music, which he then infused with country and rock, sparking the invention of Tex-Mex.
In 1974, Jan Reid documented the emerging music scene in Austin in his outlaw country "bible," The Improbable Rise of Redneck Rock. Though the name didn't tickle many of the artists covered, Reid established himself as the chronicler of the movement. Reid's writing and first-hand experience, alongside stories and images contributed by collaborator Shawn Sahm, make Texas Tornado an in-the-know treasure.   The pair dive deep into the good stuff, dusting off classic tales, skipping back and forth between Doug's recorded chronology and odd, more intimate factoids. Reid's words flow with authenticity, revealing a spirit in tune with the artists he covers.
According to Reid: "Among Texas musicians, only Buddy Holly, Roy Orbison, Janis Joplin, and Stevie Ray Vaughan rival Doug's importance in the evolution of rock and roll." Through interviews with the key figures in Doug's life (lifelong bandmate Augie Meyers; Freddy Fender, whose career Sahm would help reignite; legendary producer Jerry Wexler; and Doug's children, Shawn, Shandon, and Dawn), the case for this statement is well made. But the soul of the book is in Reid's portrayal of Sahm's one-of-a-kind personality. Texas Tornado reveals the story of an exceptional but elusive man, boisterous but uncertain, a man who changed the face of rock and country music but who has yet to get his due. words/ b. mcgrath
MP3: Doug Sahm :: Sometimes You've Got To Stop Chasing Rainbows
MP3: Sir Douglas Quintet :: At The Crossroads
Only the good shit. Aquarium Drunkard is powered by our patrons. Keep the servers humming and help us continue doing it by pledging your support via our Patreon page.