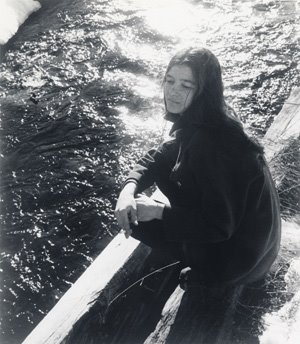 The first time you hear her voice, you'll know what I mean. Karen's is a voice with "whoa" factor. She has been lauded by the likes of Bob Dylan, Fred Neil, the Holy Modal Rounders, and surely must have inspired (Joanna Newsom). Yeah, the first time you hear that voice, it can transfix you.
Cover songs are hit or miss, only some manage to surpass the original, but this sophomore LP comprised solely of covers will dash those preconceptions. Karen didn't write songs, she interpreted really good ones. Her voice is described elsewhere in a million similar words and comparisons ("to describe it would take a poet" -Fred Neil), but all I'll say about it, she's got soul. It's almost like how Miles used to say it's not the notes you play, it's the notes you don't; she phrases in a way that owns every tune.
Songs by Dino Valenti, Richard Manuel, Paul Butterfield mix with traditionals and pop classics recorded at the legendary (Bearsville Studios), even featuring a couple players from the Bobby Charles sessions. The sound is akin to that of The Band on some takes, but stripped to just clawhammer banjo on others. It's something special though to close your eyes with this record and let her take you. Hard to get all the way through to "Are You Leaving For The Country" without feeling something. This one's a mover.
Light in the Attic's digipak reissue from 2006 is the best way to hear this. The package includes excellent liners and an additional disc of alternate takes that are truly different versions, proving the strength of the material and versatility of the band. There's a strange backwards cut of "Leaving for the Country" that seems out of place, but it sure would explain why this might get the occasional psych-folk tag. Her only other album, 1969's It's So Hard To Tell Who's Going To Love You The Best
will be essential for fans, but the above record is essential for everybody. words/ b. mcgrath
MP3: Karen Dalton :: Something On Your Mind
MP3: Karen Dalton :: Are You Leaving For The Country?
———————
+ Download Karen Dalton via eMusic's 25 free MP3 no risk, legit, trial offer
____________________________________________________________________________________