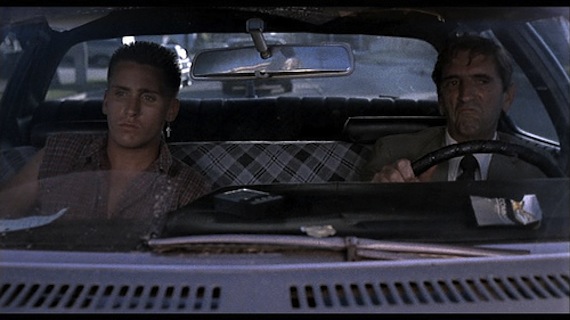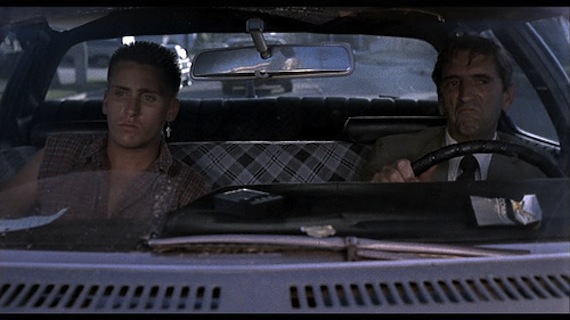 "But the truth is that L.A. was never entirely real anyway, as Steely Dan, Randy Newman, Warren Zevon, Larry David and Alan Ball all understood." – Barney Hoskyns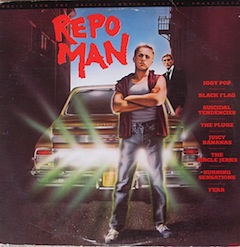 The above quote is from the 2009 forward of author Barney Hoskyns book Waiting For The Sun: A Rock & Roll History of Los Angeles. It's a quote that anyone who has spent a decent amount of time in the city should fully grasp, as L.A. has always felt slightly off the map somehow, as if it could slide into the Pacific without warning. Things here are not as they appear. The light here is different, time feels peculiar; reality itself skewed…bent somehow. A quality that while impossible to put your finger on, exists just the same. Hoskyns describes the phenomenon as L.A.'s "noir undertow; the menace lurking behind the palm tree facade." And that's a pretty good descriptor too, for a town whose weather plays tricks, stretching from the arid desert out to the sea.
As coincidence would have it, I found myself watching Repo Man, for the first time in years, while in the midst of reading Hoskyns book. Released in 1984, Repo Man is an L.A. story, a non-traditional story, yes, but an L.A. story all the same. In 2008 the film was deemed the eighth best film set in Los Angeles in the last 25 years by a group of LA Times critics. The criteria for the films chosen were that they "had to communicate some inherent truth about the L.A. experience." Repo Man does that…and then some. Warts and all, it feels like L.A. and breathes like L.A.: the gritty LA "river," the concrete, the towering, swaying palms that dot the horizon at dusk—all here, all players in this tale.
A punk rock adventure, a B-movie, science-fiction romp and a tale of teenage apathy and rebellion. The film is all of these at once. Following Otto (Emilio Estevez), a "white suburban punk," though a modern-day wasteland set almost entirely in and around downtown L.A., Repo Man quickly developed cult icon status. And for good reason. With its subversive, anti-establishment ,message (a combined tale of punk rock, Eastside car culture, alien conspiracies, desperate youth and Harry Dean Stanton) how could it not? And then there is the music.
Besides providing the background to the film, and Otto's, disjointed worldview, Repo Man's soundtrack also acts as a defacto snapshot of West coast punk rock at the time. Black Flag, Circle Jerks, FEAR, Suicidal Tendencies and the Plugz are all represented with none other than punk godfather, Iggy Pop, supplying the film's title track, "Repo Man." If you haven't caught this flick in awhile, do it. And remember: The life of a repo man is always intense.
Related: L.A. Burnout :: A Compilation
MP3: Iggy Pop :: Repo Man
———————
+ Download DRM free music via eMusic's 25 free MP3 no risk trial offer
____________________________________________________________________________________