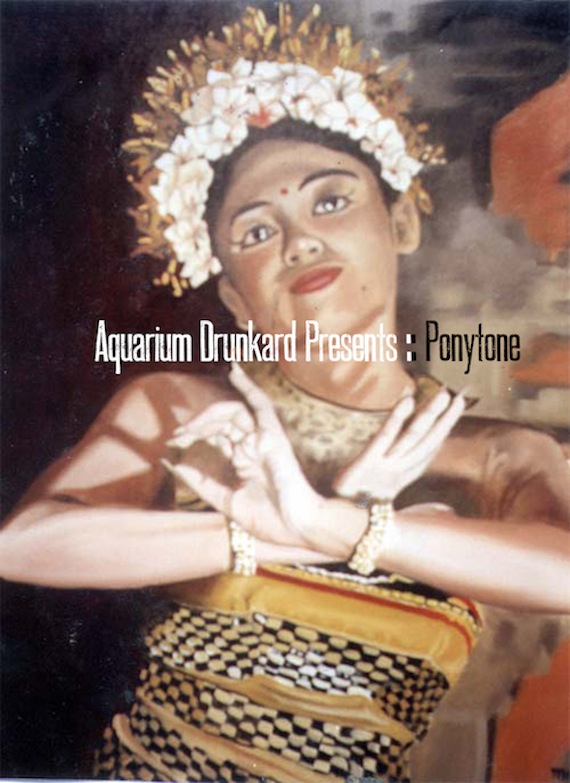 Like a ghost ship hovering somewhere off the coast, broadcasting crackly pirate-radio blasts into the ether, Ponytone is as mysterious as it is unrivaled. And by that I mean it is an aural treasure. Reportedly based in the Con Dao Islands off the southern coast of Vietnam, Ponytone's founder/editor, Lucie, digs through crates of vinyl in the darkest corners of the globe with an emphasis on jazz, disco, rock, soul, psychedelia and off-kilter pop from around the world. Much of the music featured has never before been available online.
Grab the two-part mix, below, and be sure to bookmark Ponytone. You will thank me later.
Henri Texier – Les "lî -bas"
These Trails – Garden Botanum
Usha – Welcome, Test Tube Baby
Reuben Wilson – We're In Love
Janey & Dennis – Take It From A Friend
Ronnie McNeir – Wendy Is Gone
Djalma Dias – Nada Sei De Presonceito
Professor Harold Boggs & The Boggs Specials – God's LSD
Alpay – Gonullerde Bahar
Dennis The Fox – Piledriver
Vatche Yeramian – She's Mine
Charlie Starr – Solitary Woman
Third Wave – Eleanor Rigby
5000 Volts – Doctor Kiss Kiss
Canarios – Trying So Hard
Vainica Doble – Caramelo De Limon
Medical Mission Sisters – Howl My Soul
Moacir Santos – What's My Name
Janine – Does The Sun Still Shine?
Pageant Theatre – The Hollow Men
Judy Nylon – Carlotta
Bhuvan-Hari – Aa Khelen Chhuppa-Chhuppi
The Newday – Wait A Minute
Mina Aoe with Masahiko Sato – Goodnight
Christine Adams – Loneliness Is Always Around
Harry Forson – Aya
Ray Williams – Cosmopolitan London
Dave Sarkys – Rhythm Punch
Henri Salvador – Pauvre Jesus Christ
Blossom Dearie – Somebody New
Jimmy Stone – Family Affair
Blue Mink – Eyeballs
Margo Guryan – California Shake
Mistral – Starship 109
Scott Fagan – In My Head
Ana y Jaime – Nina Nana
Georges Happi – Hello Friends
Edith Hill & Selah – The Corner
J.O.B. Orquestra – Only Faith And Hope
Yaphet Kotto – Have You Ever Seen The Blues
Aquarium Drunkard is powered by its patrons. Keep the servers humming and help us continue doing it by pledging your support via our Patreon page.