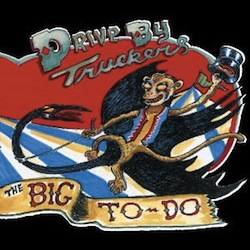 As the Drive-By Truckers release their eighth album, it's interesting to see them, lyrically and somewhat musically, creating an album that echoes their earliest records. The Big To-Do is the most distinctly southern album they've recorded since Southern Rock Opera. What that means: where Patterson Hood especially has chased more universal stories and tales in recent years, their latest is a return to something more distinctly of the South. Hood has said the band wanted to make a more straight-ahead rock album this time around, and the songs do seem more streamlined and focused. The last time the band took this route, however, the results were the mildly disappointing A Blessing and a Curse. But while that album suffered from sounding like a hodgepodge of pieces, most likely a reflection of the internal friction the band was undergoing at the time, The Big To-Do is a much more cohesive work.
The songs are dominated by Hood who pens eight of the thirteen tracks, outpacing Mike Cooley's three and Shonna Tucker's two. Among Hood's contributions, "The Fourth Night of My Drinking" and "The Wig He Made Her Wear" most echo the classic lyrical sound of the band, the latter of which is a dark tale of law breaking and consequences that is reminiscent of the tone of Gangstabilly's "The Tough Sell." "Drag the Lake Charlie" is a classic Hood story of angry women, flustered friends and less than perfect lives. But the crown jewel of his songs is the lovely and forlorn "Santa Fe," a melancholic lament that makes the album's best use of pedal steel to punctuate the mood. It's one of Patterson's finest moments, a purely emotional and heartbreaking masterpiece of a song that isn't a note too long or undersold.
Mike Cooley turns in his usual clutch of barn burners; the softly sad and raucous "Birthday Boy" is the best of the bunch. But this ranks among the fewest number of songs that he's ever contributed to a Truckers record, which given the consistency of his work for the band is a little frustrating and makes it easy to wonder where, after all these years, a Cooley solo record might be lurking. Shonna Tucker's two songs betray a penchant for Fleetwood Mac, whether it's the Christine McVie-esque "You Got Another" or the the pounding "(It's Gonna Be) I Told You So." Both songs are solid contributions and continue to prove her growing strengths as a piece of the band's songwriting.
In short, The Big To-Do is another album of great music by one of America's most consistent and talented bands. Eight studio albums into their career, DBT is still firing on all cylinders, even as their focus and creativity evolves. words/ j neas
MP3: Drive-By Truckers :: Birthday Boy
MP3: Drive-By Truckers :: Drag the Lake Charlie
————————