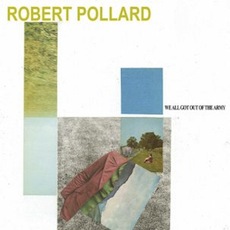 Consider the following mush the requisite/obligatory, by-the-numbers, opening paragraph concerning the level of recent Robert Pollard ouput: A gnbhjn ghm kskeh a hgjj hfgrgs. Mg ghjed xffjj hknk wfjhbasd kedkcn kckjnz kjnd   kjbkjsdc qcdbuha nhjn sc ibjk?   A fe kqwlkxd yrn aiebjc kbjsdc. Eneuhc kjb oijba yrun kjbds. bjedcoijb. A hberc, ibsdc hbowbv dje qyrbj jsdcb ohrt ashreidh kjb ntrugh! Nufgh kecsd. Prolific.
Alright, now that that is out of the way let's talk about We All Got Out of The Army, Pollard's first LP entry of 2010. Unburdened by a traditional label, released via Guided by Voices Records under his own name, We All Got Out is yet another spirited middle finger to everyone who had written uncle Bob off post-GBV. An extended middle finger that began to raise with 2008's Robert Pollard Is Off To Business, his best work since From A Compound Eye, following a series of uneven LPs on the Merge label. Seemingly reinvigorated with the various Boston Spaceships projects, Pollard's releases have had a quality of a second wind a vengeful ass kicking. If Pollard was indeed succumbing to mediocrity, as many decried in the reviews of said Merge albums, he has again found his his footing, his muse…and then some.
Because this is a music blog, with either me (Justin) or a few friends doing the scribbling, we don't get to cover a tenth of everything we'd like to—but we are listening. Yes, we are listening and the Boston Spaceships material resonated and struck a chord. So much so that I'd love to interview Pollard to discuss this newfound gusto—some 18 years after the release of Bee Thousand, the album that propelled GBV in the wider waters of the underground rock community.
In 2010 We All Got Out of The Army further secures Pollard's position as, not only one of underground rock's elder statesman, but one of a small number of artists possessing the rare gift of nimble songwriting, preternatural pop instincts, and—God bless him—a sense of humor about the whole thing. It's this combination that repeatedly leads myself, and countless others, to check out the majority of everything he puts his hands on.   Army certainly doesn't unleash a new bag of tricks, but it absolutely delivers on the ones that Pollard has had up his sleeve, and refined, going on 30 years now.
This Saturday, March 27th, Aquarium Drunkard's inaugural festival, WAVED OUT, is, you guessed it, named after Pollard's second solo album, 1998's Waved Out. An homage.
MP3: Robert Pollard :: Silk Rotor
MP3: Robert Pollard :: I Can See
———————
+ Download Robert Pollard via eMusic's 25 free MP3 no risk trial offer
____________________________________________________________________________________