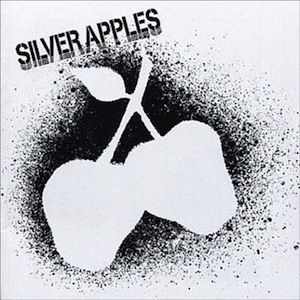 Of all the records that are considered "ahead of their time," this may be the most en vogue contender. There are thousands of albums from the sixties that didn't jive with the times, and many that are still too ahead of their time (what happens in the evolution of music since then ultimately ends up determining what we consider to be the most influential). In terms of popular electronic music, nothing really touches what the Silver Apples started up in '68.
To best understand what the Apples are all about, you have to check the diagram in the liner notes. They are only a duo, comprising equally complicated setups: Danny Taylors' expansive drum kit and Simeon's boggling assortment of electronic treats. Several custom oscillators drone over sequenced looping bass lines, while tape machines implement found sound recordings (predicting the method of sampling and adding even more their legendary status). Taylors' drumming seals the deal with programmatic beats that would influence kit players from Can's (Jaki Liebezeit) to hip hop drummers like ?uestlove. The Silver Apples were staggeringly prescient in their technical setup, but perhaps even more influential was their use of the drone. Hypnotic and trance inducing, I can't imagine any modern day electronic pop that shouldn't show some allegiance to this groundbreaking record.
Period vocal stylings sometimes distract modern day electro fiends, but they are surely missing out. The tunework and lyrics are the match of most good psych records from the time, and this record consistently continues to blow minds just as hard today as it must have back then, to the few who listened. The new Phoenix vinyl reissue carries a pretty high price tag, but looks like its worth the price, limited to 1,000 copies. For those looking to dive in at cost, check out the MCA twofer CD reissue, which also contains their next album, Contact. Positively essential for electronic and psych listeners. words/ b mcgrath
MP3: Silver Apples :: Oscillations
MP3: Silver Apples :: Lovefingers
Only the good shit. Aquarium Drunkard is powered by our patrons. Keep the servers humming and help us continue doing it by pledging your support via our Patreon page.