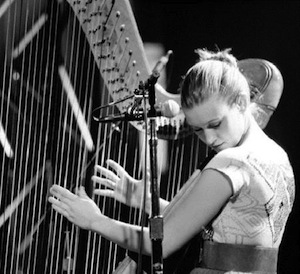 To say that Have One On Me, Joanna Newsom's new two-hour triple-disc, is a challenging listen is an understatement. It's a well-wrought record to be sure, and Newsom's songwriting–both lyrically and structurally–are more ambitious than ever, and she's inched just close enough to the borders of indie-folk to keep the untrained listener happy. But it's these same leaps forward that keep the listener at bay: the sprawling songs, intricately woven symbolic structures, and an unshakeable sense that there's some grand narrative going on below the surface that somehow remains inaccessible can make Have One On Me's two hours feel interminably frustrating.
Turns out, when you see her live, none of that stuff seems to matter anymore. The popular (and lazy) rub on Newsom's personality as it appears on her three full-lengths always wanders between wood-nymph and fairy-girl with touches of quiet pretension and dainty precociousness. Live, though, she turns out to be charming, commanding frontwoman. Her band–a sextet led by Have One On Me arranger Ryan Francesconi–semi-circled her harp, which stood at center stage, a stringed and imposing monolith.
A strange thing happens when she plays that harp. It's how she opened the set: alone, sitting at her instrument and plucking through Have One On Me's "Jackrabbits." The lyrics, which seem to get lost on the album version, popped and pulled as she sang out in a voice much stronger than her records suggest. Perhaps it's the advantage of live music, but it felt like an intimate, immediate moment, almost as if she were making it up on the spot. To call it compelling would be an understatement.
She spent most of the night at the grand piano, where she led her band through a rollicking "Inflammatory Writ" that dispensed of The Milk-Eyed Mender's cutesiness in favor of rolling drums, thumping percussion, and barreling honky-tonk piano. The ten-song setlist was heavy on Have One On Me, though, and with good reason; freed of the weight of their total project, the album's individual tracks unwound and revealed their own intricacies, their own power. But it was Ys standout "Emily" that won the night; with its relatively stripped live arrangement, the song burst and popped in its revels and flowered into its ending, the remaining vapors of the backing string duet tracing out the lights. Like the set itself, it was beautiful without being insistent, a serious artistic achievement tempered with humility. words/ m garner
Related: Joanna Newsom :: Have One On Me
+ Download Joanna Newsom via eMusic's 25 free MP3 no risk trial offer
____________________________________________________________________________________