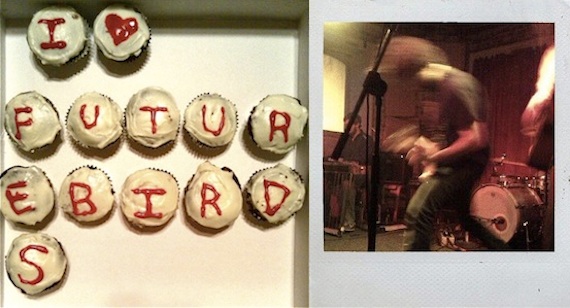 In the span of 48 hours I managed to catch five Futurebirds shows during SXSW: the band's official showcase, several day parties and a crazed, impromptu, house party somewhere off South Congress. These guys are, in a word, the truth. As I mentioned last Fall, Futurebirds inhabit a space somewhere in between Tennessee Fire era MMJ, a cornbread-fed Spiritualized and Goose Creek Symphony. And as for the lo-fi aesthetic of the EP? It did nothing to prepare me for the live show.
After the jump, AD catches up with Futurebirds' Daniel Womack, Thomas Johnson, Dennis Love, Brannen Miles, Payton Bradford and Carter King just prior to the band's performance at the 40 Watt day party.
AD: Like so many bands at SXSW you've played a ton of shows, all full of energy — but you've played a ton of different kinds of places to really different crowds. How have you been able to adapt?
Carter: Yeah, we found that a lot of things are spread thin, in terms of how sound guys go and things move real fast, times are strict. We usually find ourselves with too little power and too few mics, it's like turn the amps up loud and just go for it.
Payton: It's gotten to the point where if we just had sticks and maybe something to beat on with a hammer, we could make it work.
Thomas: You just gotta roll with the punches with something like this. Sound spread thin, gear spread thin, the venue is spread thin — people are happy at least. We've had decent crowds. The best shows have been in smaller places, people all up front. It's been really fun.
Carter: Yeah, we've pissed off a lot of people so far.
Dennis: They pissed us off first!
Carter: Yeah! There are a few Austin sound guys who aren't fans of Futurebirds.
AD: You've got an EP out, a new record this year. In terms of new material, does it all feel fresh?
Dennis: The old ones still feel fresh but the new ones just feel right, just natural.
Thomas: Some of the new songs, too, we've been playing for so long — we'd already played them before we released the EP.
Payton: There's a lot of stuff that we've been playing since we started touring last summer, which was only two months after we put out the EP.
AD: In terms of this crazy experience, how are you able to pound through it each time and keep up the energy, save your voice.
Dennis: Put everything behind you before you get up on the stage.
Thomas: When you get there to play, there's nothing you can do. I wouldn't say we've been saving our voices, per se. We've had some help from outside sources in the form of, uh…, non-people. More like things.
Daniel: Like green tea and honey!
Thomas: And beer, and other things.
AD: Were there any bands you've really wanted to check out while here or any bands you've seen that made you really stoked?
Carter: Gift Horse is pretty awesome. They're from Athens, we've seen them a bunch of times, but it's good to see your hometown bands out in a different city.
Thomas: It's hard. I got the feeling, coming out here, since we're playing so many times, that we're not gonna be able to see anything we wanted to and only what we can see. You just gotta be sure you can play your shows and your sets.
Carter: You gotta put your "fan" on hold for a while when you're playing a bunch.
AD: So what are your "goals" for the year?
Thomas: We already made the record, we just gotta master it. I think we want to play as much as we can in as many places as we can to as many people as we can. We've traveled before, but we'd like to get on with someone else, have a guaranteed crowd and get the word out. It's hard to play headlining shows in towns you're not from. It'd be great to get support someone so we can get out there.
Payton: We'll play to six people and twenty empty chairs and a cat if we're given the opportunity to do so. We did something here in Austin last year, there was a heckler, but it was still awesome. No matter how many people are out there, it's a blast.
Dennis: I'd like to be a millionaire before the year's out.
Carter: I'm thinking a Wal-Mart exclusive record, that's not out of the question.
Payton: My standards are lower: as long as we can play every nursing home and country fair in the lower-48, I'm okay. words/ b kramer